Amar'e Stoudemire wants Steve Nash in New York next season
Amar'e Stoudemire wants his old pick-and-roll buddy to take his talents to Madison Square Garden.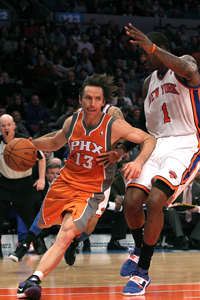 Steve Nash

has options this summer.
(Getty Images)
The best days for
Amar'e Stoudemire
happened when he was running with Steve Nash. So with Nash being a free agent, you can see where this is going.
Via the New York Daily News
, Stoudemire wants to join up with his old buddy.
"Everyone knows that Steve loves New York and that New York loves Steve," Stoudemire said. "I love Steve. It would be great to have him here next year."
Nash lives in New York during the offseason, has long been rumored to be going there and the
Knicks
haven't been all that shy in their interest.
A couple of problems:
1. Jeremy Lin.
If you sign Nash, you're saying goodbye to Linsanity. There's no sense in keeping both and you let walk the cash cow that is Lin. Plus, Nash only has two, maybe three years left. Lin conceivably has many.
2. Money.
All the Knicks could offer would be their full mid-level exception. Meaning $5 million a year for Nash. That's likely not what Nash could command on the free agent market from other places. In fact, one report has the
Suns
prepared to
offer Nash a two-year, $20 million deal
. The Knicks can't come close to that.
3. The Knicks.
They could be their own problem. Nash very clearly wants to walk on to a contending team and spend these last few years competing for a title. Are the Knicks really that close? Does Nash feel like he would put them over the top? If Nash were going to take less money to hunt for a ring, why not take your talents to South Beach where your chances are very high?
Plus, you have the Melo problem.
Kurt Helin of Pro Basketball Talk made the fine point
that in Game 5 against Miami, Stoudemire got seven shots to
Carmelo Anthony
's 31. So you can see why Stoudemire would like to have Nash. He's the best pick-and-roll man in the game, so if you have Nash, that means Melo doesn't have the ball in his hands.
It seems like an ideal fit, but Nash likely has better spots to pick from. Dallas, Los Angeles (Lakers), Miami, Orlando -- all are probably better fits than the Knicks at this moment. Still, Nash obviously is drawn to the Big Apple and if he were to take his talents to MSG, the Knicks would certainly be a much better team. How much better is the question.
Trump rescinded Curry's invitation to the White House after Curry said he wasn't interested...

Silver said he was hoping Warriors would get chance to share their views directly with the...

Along with the Thunder, those were the three teams most involved in the Anthony trade talk...
LeBron said he was frustrated by the President's recent actions

A look at the various actors and elements in the latest sensational blockbuster trade in the...

Blockbuster deal doesn't change the Thunder's projected finish in the West