Amid free agency lightning, don't forget about the Thunder
With Oklahoma City still very much a contender, it's time to remember where the Thunder stand in the title chase.
Out of sight, out of mind, apparently. 
The NBA world is wrapped up with what they've seen recently. The Warriors are defending champions and are bringing everyone back. The Cavaliers made the Finals and pushed the Warriors without two key players, and brought back everyone. The San Antonio Spurs added LaMarcus Aldridge, the splashiest free agent on the market. Those are really the only three teams that are being discussed as serious title contenders going into next season now that the dust starts to settle on free agency. 
And still, there's a team that deserves, that demands attention when we talk about the NBA superpowers. The Oklahoma City Thunder are on their way back, and the retribution will be swift. 
The only conversation that fans and media are having about the Thunder are about their decision to match Enes Kanter's max offer sheet from the Portland Trail Blazers or not. (Spoiler alert: They shouldn't, but they will. I will dig into why this could be their absolute doom at a later time.) But based on both talent and history, there's every reason to think that we need to slot the Thunder back into the title picture, firmly. The implications of how that works out are far-reaching and dramatic. 
For starters, let's put a little historical context for this team we're talking about. The Thunder missed the playoffs by a tiebreaker to the New Orleans Pelicans, after Russell Westbrook missed 15 games and Kevin Durant played just 27 games. Think about that. They nearly reached the postseason in the brutal Western Conference, winning 45 games, with their two-best and max-contract players out for a significant chunk of the season. 
Here are the Thunder's finishes during the Durant-Westbrook era. 
2010: First round
2011: Western Conference Finals
2012: Finals
2013: Second round (Westbrook misses most of playoffs with meniscus tear)
2014: Western Conference Finals (Serge Ibaka misses first two games of WCF and isn't the same after suffering calf injury)
2015: Misses playoffs (Durant misses all but 27 games, Westbrook only plays 67)
So when fully healthy, the Thunder have not missed the Western Conference Finals since 2010, their first playoffs appearance. This was part of why I argued against firing Scott Brooks, which I maintained was a case of letting perfect become the enemy of "incredibly awesome." Obviously after 2012, the James Harden trade changes things. But even with a lesser roster, they still returned to the Western Conference Finals in 2014, and pushed the Spurs to six games after Ibaka came back. That's not to take anything away from the Spurs, who were a great team and better than OKC overall that year, but if the Thunder had won that series, no one would have been surprised. 
Say what you want, but the reality is that in the toughest conference, when Kevin Durant and Westbrook are healthy, that team makes it to the NBA's Final Four. That's all that's happened during their run. They deserve a little bit of faith based on that. 
Then there's this roster. It was overlooked because of Durant's injury which took them out of serious title contention, but the late-season trade the Thunder made and their free agency signings last year significantly improved this team. They added Kanter, who gave them a serious post-up presence. I still believe he's ultimately expendable because he is not just a minus defensively, but an outright liability that teams target, and they still have the very good combo of Steven Adams and rookie Mitch McGary. But Kanter's a nice component they're going to have regardless. 
The Thunder added Anthony Morrow last year to give them the wing shooter they've needed in key playoff situations. Morrow defended much better than expected even if he's still a defensive negative (it's much easier to hide a bad defensive wing than a bad defensive big). The trade was the key component, though. It gave them a capable backup point guard after trading Reggie Jackson in D.J. Augustin, the kind of great firebug backup OKC needs to run the offense and score a little bit. 
Oklahoma City kept Kyle Singler this year on a $5 million per year deal which seemed like an overpay, but I covered his impact in this piece on Morrow. Basically, Singler may not be great, but he's way better than Dion Waiters, the key mistake Oklahoma City made last year. 
This is before we talk about Serge Ibaka who has played at a Defensive Player of the Year level the past two seasons and has expanded his range to 3-point territory. It's before we talk about Steven Adams who's a superb defender that does the dirty work and makes plays, like a Kendrick Perkins that can actually be on the floor. It's before we talk about Nick Collison's savvy, or Andre Roberson's defense or first-round pick Cameron Payne's ability to run the pick and roll. 
The Thunder are stacked. 
The question of course is whether they will be healthy. 
Durant's on track to return in August. There's no reason to suspect at this point he'll miss any of the season to start. The specific toe injury he suffered has a high rate of recurrence and is difficult to get over. A player of Durant's size (he may not be seven feet tall but he sure feels like it when you see him) on a foot injury is concerning as all get out. Westbrook has had multiple knee surgeries over the past two seasons but finished the season strong even after having his face dented, because he's a killer cyborg. Ibaka has missed time and that's honestly a more concerning trend. 
These same injury concerns can apply to any team, however. Tim Duncan misses time and the Spurs are going to be in much more trouble this season than last. The Warriors were blessed with unbelievably great health last year, it contributed greatly to their title. If that luck doesn't hold, their future would be uncertain. The Clippers, the Grizzlies, on down the line, there isn't a team that injuries wouldn't derail. 
There's no one on OKC to compare to Yao Ming or Tracy McGrady, to Brook Lopez or Brandon Roy. That's not what we're talking about. There's every reason they'll at least have as good a chance as any team at staying healthy. 
And if they do... look out. 
It should also be noted that the injury struggles they've had the past two seasons could be a blessing in disguise. Both Durant and Westbrook have seen what it's like without the other one. Durant had to try and carry his team against the Grizzlies' stifling defense in 2013, and learned how aggravating that can be. Westbrook put up astronomical numbers with Durant on the shelf last year, exhausting him and costing him wins, defensive energy, and the playoffs. The two probably have a greater understanding of the other's value than they have ever shared, having had to carry the burden alone. Those things help with balancing chemistry. 
The wild card in all of this is Billy Donovan. The new coach is expected to be an upgrade over Brooks, who again, led his team to the Western Conference Finals three times in four years. If Donovan is the refreshing change of pace and X's and O's upgrade so many have billed him as, the Thunder could be even better this season. If there are struggles that so many college coaches have in their attempts to transition to the NBA...well, let's wait to see what happens on that front before going down Pitino Road. 
Still, as high as the expectations should be for the Thunder, as good as their championship chances seem, there's also huge risk in this season. The summer of 2016 and the inevitable Kevin Durant drama awaits. What was once unthinkable, that Durant might leave this team that has built a super-contender around him, where he won MVP and that he seems to love so much, now seems like a coin flip. There will be suitors, including his hometown Wizards, offering him the world. Durant's star may have risen to a point he feels he's outgrown Oklahoma City, no matter how much the internet has made small market stars relevant. Maybe he re-signs easy, no matter what, but the conversation is at least going to continue. 
The easiest way to settle that? Win a title this year. The odds aren't good for OKC; there are questions. From Durant's health to Westbrook's health, to whether the roster is really as good as it looks on paper, to Donovan, there is uncertainty in the Sooner State. There is also a phenomenal team that everyone seems to have forgotten has two of the five best players in the NBA, a stacked roster, and playoff experience. 
The storm's on the horizon. You had better take your free agency wares and get inside before the Thunder hits.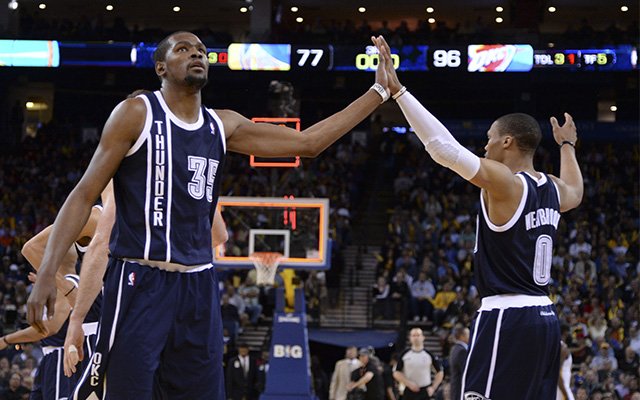 CBS Sports HQ Daily Newsletter
Get the best highlights and stories - yeah, just the good stuff handpicked by our team to start your day.
Please check the opt-in box to acknowledge that you would like to subscribe.
Thanks for signing up!
Keep an eye on your inbox for the latest sports news.
Sorry!
There was an error processing your subscription.
Ball should be ready to go on opening night for the Lakers

Keep checking back for the latest updates as NBA free agency continues

Cambage needed just 22 shots to put up her ridiculous number
Now we're waiting on Chuck's diss track

Here are the top prizes left in the 2018 NBA offseason

Things could get a little awkward in Las Vegas for the disgruntled Spurs star and his coac...