An emotional Rivers finally exhales as Clippers move on
As the final seconds ticked away in the Clippers' 126-121 victory over the Warriors in Game 7 of their first-round series, Doc Rivers finally let his emotions show. One thing we know for sure is that the Clippers couldn't have done this without him.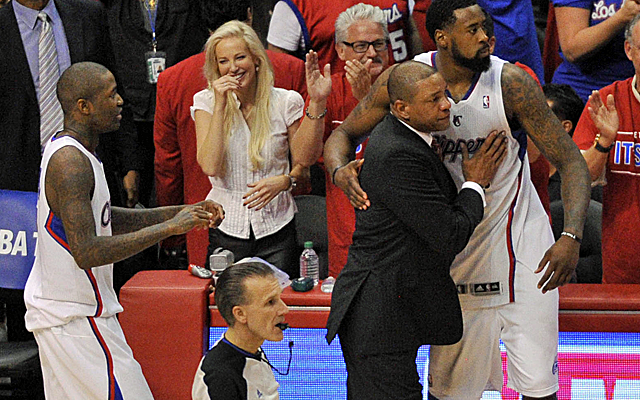 More postseason coverage: Playoff schedule, results | Latest news, notes
The emotion finally came out at the end for Glenn "Doc" Rivers, who stood in front of the scorer's table, wildly pumping his fists, pointing to the crowd and screaming.
It was that kind of game, that kind of series, that kind of week.
With DeAndre Jordan igniting the Clippers at both ends of the floor in the final minutes, with Chris Paul enduring a body full of injuries, and with Blake Griffin taking charge of the paint, the Clippers escaped their emotionally draining first-round series with a 126-121 victory over the Golden State Warriors in Game 7 on Saturday night.
The NBA is an unforgiving business. One week to the day after the Clippers' world was turned upside down by the revelation that owner Donald Sterling had spewed racially charged comments that got him banned from the league, the Clippers moved past the Warriors and into the conference semifinals. In two days, they will be in Oklahoma City dealing with Kevin Durant and the Thunder.
But first, after this week of turmoil, Rivers needed to breathe.
He needed his team and its fans to breathe, too.
"My excitement was not for me at all; it was for everybody," Rivers said at the interview podium in Staples Center. "I wanted the fans to get excited. They were almost sitting there in shock, and I wanted them to exhale for a second. And we only have a second; we play Monday."
They play Monday in Oklahoma City as a different team than the one that was jostled in the middle of the night a week ago Saturday by the TMZ report about Sterling and his hateful comments. For the NBA and the world at large, the Sterling fiasco moved quickly. Within 72 hours of the comments becoming public, commissioner Adam Silver had banned Sterling for life and started the process by which the other 29 owners will force him to sell the team.
How expeditiously that works out, nobody knows but the lawyers, and perhaps Sterling himself. As far as how the Clippers endured, there is no doubt at the moment.
"We never splintered, and that's what you don't know," Rivers said. "... They're committed. I know that now."
Before he came to LA, with its idyllic weather and Paul to execute his championship vision, Rivers had won a title with the Celtics and been to three conference finals and another Finals. I can't say I've been in the arena for every series-clinching game Rivers won there, but I've never seen him as emotional as he was on Saturday night. My guess would be, no one has.
Emotion can only carry you so far in the NBA playoffs. As Paul said at the postgame interview podium, Game 7 was strictly about basketball. It was more about surviving Stephen Curry and Klay Thompson and Draymond Green than anything else.
But there is more to this Clippers team now that anyone thought there was. A tough series like this can bring that out in a team. An unprecedented week such as the one that these Clippers endured can bring it out, too.
"I needed to exhale some, too," Rivers said. "This was a hard week. Was it  a week? I don't even know; it feels like two months. Yeah, I needed to be able to smile and laugh and cheer and be proud of something."
After the game, Rivers said Matt Barnes walked into the locker room and said to his teammates, "Thank you for trusting each other." With a challenge like this -- the tangible challenge that the Warriors presented and the emotional one that hung over the Clippers all week -- you learn something if you are a coach as astute and in tune with his team as Rivers has always been.
"I just think every time you go through one of those tests, your team starts believing," Rivers said. "It starts trusting more. ... With all this stuff, this team just needed this game."
Whether he realizes it or not, the team needed Rivers, too. There's no way the Clippers would've done this without him.
Thomas took to Twitter to let the Celtics know he doesn't want to ruin Pierce's night

The Hall of Famer's jersey was retired by the Celtics in 1982

It's rare to see a legit punch in an NBA fight, but this was definitely one of them
We've got all the scores, highlights and news from an NBA Tuesday

The former Slam Dunk Contest champion will take his talents to Tri-State

Do NBA players have look-a-likes from famous paintings? We found out on the new Arts & Culture...