Analysis: Eastern Conference Playoff Matchups
A look at the developing playoff matchups Wednesday night.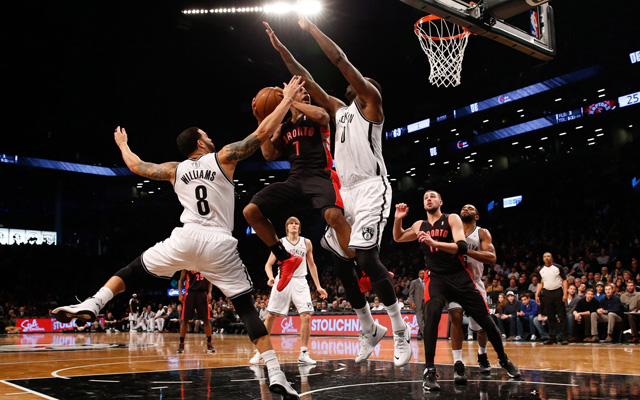 More NBA: Power Rankings | Expert Picks | Latest news, notes
Here's a rundown of the Eastern Conference Playoff Matchups updating with the results Wednesday. 
Locked: 
Indiana Pacers (1) vs. Atlanta Hawks (8)
Analysis: The Pacers have struggled headed into the playoffs and split the season series 2-2 with the Hawks. The Hawks actually finished with a positive net rating after their last blowout win in Atlanta. 
But the matchups still favor the Pacers. If Al Horford was playing it would be a whole different series. One thing to keep an eye on? Small ball lineups featuring rookie Pero Antic at center, stretching the floor and forcing Roy Hibbert out of his comfort zone. 
Miami Heat (2) vs. Charlotte Bobcats (7)
The Heat won the season series 4-0, and were +10.5 per game vs. Charlotte. Most notably, LeBron James dropped 62 on the Bobcats' defense. Don't think the Bobcats are a pushover, though. They play great defense, grind, and have a top-level interior player in Al Jefferson. 
They'll struggle to score, though, and the Heat's trap on Kemba Walker should give the Heat guard problems. Guarding Chris Bosh from range will likely prove problematic, and the Bobcats' younger players may have issues with nerves against the champs. Best case for Charlotte, a tough, hard-nosed six-game series that gives them something to build on. Worst-case: Miami hits the jets and leaves them in a dust to be swept away.
Toronto Raptors  (3) vs. Brooklyn Nets (6)
The Nets tanked down to grab this matchup, so they got what they wanted. The Nets and Raptors split the season series 2-2, with the Raptors finishing with a +2.8 point differential in the four games.
It's an intriguing matchup of youth vs. experience. The Nets can grind it out and have veteran players with playoff experience. The Raptors have been the better team and have youth and a deeper talent pool. It should be a fascinating first round matchup.
Chicago Bulls (4) vs. Washington Wizards  (5)
The Wizards were caught between the Bulls and the Heat. They chose wisely. There are some interesting matchups going on here. We're talking John Wall vs. D.J. Augustin and Nene vs. Carlos Boozer. The Bulls can't shoot, the Wizards are inconsistent all over. Marcin Gortat is big and versatile but Joakim Noah is a tank. 
The Bulls should win this series with execution and savvy, but don't be surprised if the Wizards make some noise.
Cheese Chisholm and Jet Rivers said they'd be happy to welcome the Ball brothers as teamma...

SportsLine's advanced computer model simulated Monday night's Celtics-Pacers game 10,000 t...

Kerr also chimed in on what an MJ vs. Kobe one-on-one game might look like
The former NBA player plans on making more money in retirement than he did while playing

SportsLine's advanced computer model simulated Monday night's Lakers-Warriors game 10,000...

Galin Dragiev has his finger on the pulse of the Nuggets and locked in a strong pick for Monday's...