Anderson Varejao says LeBron James could return to Cavaliers
Cavs star also says he wasn't a fan of the Decision, because so many people were big fans. Wait, no.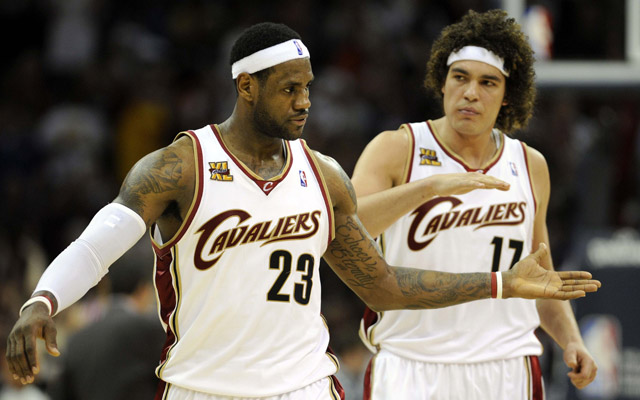 Anderson Varejao played with LeBron James for seven seasons before James shocked the world and took off for South Beach. With James set to make yet another return to his home state (and have some Thanksgiving grub with his teammates), Varejao says he can see the possibility of James returning in free agency this summer, and that he wasn't a fan of how The Decision went down.
"It could happen," Varejao said. "Bron is from Akron. Akron is not too far from here. Eventually in his career, he probably wants to play at home."

And then unprovoked, the normally quiet Varejao said he didn't like the way James left the Cavs via the one-hour television special.

"Going back to that, I think the way he left was wrong," Varejao said. "But regardless … He helped me a lot, helped my game and helped me as a person. I have nothing against him. It could happen."
via Anderson Varejao believes LeBron James could return to the Cavaliers - Cleveland Cavaliers - Ohio.
I wouldn't call this tampering as PBT described it (HT them, by the way). Varejao's simply stating he can see the situation coming to bear. He didn't say he's called LeBron to advocate for it, or that he will talk to him about it. It's like admitting that the sun could crash into the Earth today and destroy us all and then saying you're tampering with the sun. Related: That situation is more likely than LeBron joining the Cavaliers considering how awful they look. 
 As for The Decision, hint: bringing that up isn't likely to pull him back into the fold, there, Andy. Maybe don't bring that up. Pro tip. 
James can opt out of his contract and become a free agent this summer. The Cavs, Lakers, and Heat are expected to be the main suitors for him. 
Kris Dunn somehow took a chunk of the Bulls court out with his teeth, but didn't lose any in...

The fallout from the Rockets-Clippers tussle continues; no Clippers were disciplined

DH12 is picked for free throws after a teammate gets ejected. He makes both, and lets Scott...
Bell was injured defending a Robin Lopez dunk and had to be taken off the floor in a wheel...

Trevor Ariza and Gerald Green are reportedly both suspended two games

We've got all the scores, highlights and news from Wednesday night