Andray Blatche needs a job and is willing to consider the D-League
Former Washington Wizards forward Andray Blatche says he is open to playing anywhere, even the D-League.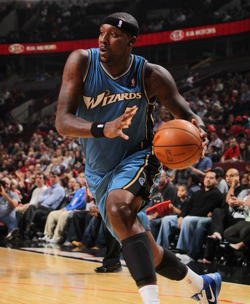 Andray Blatche is open to any basketball opportunity.
 (Getty Images)
After the party, it's the after-party. After the after-party, it's the hotel lobby. After the hotel lobby, it's the amnesty clause. After the amnesty clause, it's the public relations rehabilitation tour and the desperate plea for a job. 
Andray Blatche, an unrestricted free agent forward after the Washington Wizards released him using the amnesty clause earlier this summer, says he is ready to play anywhere, including the NBA's developmental league.
In a lengthy Syracuse.com feature, Blatche cops to some immaturity over the course of his career in Washington and admits to conditioning issues that wound up getting him shut down last season. He says that he's rededicated himself to the sport, losing 14 pounds and working with mentor John Lucas to get his career turned back around.
"My dream destination right now would be back on the court. For real. Just to get back on the court," he said. "It's something I love to do. It doesn't matter if it's the Heat or the Spurs or the D League. Whatever. As long as I'm back on the court playing ball.

"I mean, I love the game. I'm a fan of the game. I love playing basketball. That's the only thing I've been doing since I've been little. Basketball is something that is very, very important to me."
Any time a 25-year-old forward two seasons removed from averaging 16.8 points and 8.2 rebounds is paid $23 million to not show up for work by a basement-dwelling team that's desperate for improvement, you know bridges were absolutely torched. When that same player clears the amnesty waiver pool and then goes a month without signing any sort of deal, even a veteran's minimum contract, there's little doubt things were even worse behind the scenes than they were in the headlines, which included arrests, punching a teammate, spats with coaches, and the infamous "Lapdance Tuesday" promotion.
Paying his dues in the D-League wouldn't be the worst idea at this point. With 5-to-10 potential years of basketball left and with salary already coming his way thanks to Washington's amnesty, Blatche needs to move deliberately here, finding positive environments where he can turn the attention of NBA decision-makers back to the merits of his game rather than his lengthy list of off-court exploits.
Blatche showed that he was completely incapable of handling leadership responsibilities in Washington and the Wizards' losing ways likely made it harder for him to remain focused on his game, as climbing out of the lottery with such a young, immature and disjointed roster of teammates probably felt like an impossible task.
If Blatche is going to succeed in creating a second chapter for himself, it will likely need to come on a veteran-dominated, playoff-bound team where he can play a specific role as a productive reserve. No real pressure, no real responsibilities, no real expectations. That's the realistic end goal. Who knows if he will make it there.
Shaquille O'Neal and Sir Charles cruise to an easy victory over some hot peppers

If Charlotte indeed moves its star guard, there's going to be more people impacted than just...

Trading Kemba Walker (and dumping salary in the process) may be harder than expected for C...
Our advanced computer model simulated Friday's Jazz-Knicks game 10,000 times

There was some explosive guard play this week in the NBA's rookie class

With half of the season in the books, there were some clear favorites for our Midseason Aw...