Andre Drummond expects Greg Monroe back in Detroit
Pistons big man thinks teammate will be headed back to Detroit despite free agency standoff.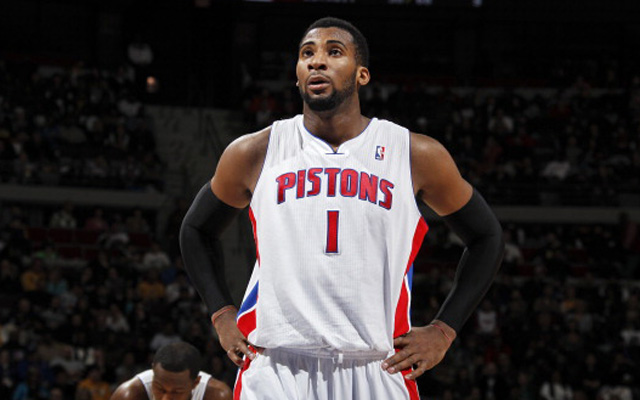 Offseason: Free Agency | Latest from Ken Berger | Rumors
Detroit Pistons center Andre Drummond told the Detroit Free Press that he believes Greg Monroe, still stuck in restricted free-agency limbo, will wind up back with the Pistons. 
"Greg knows what it is," Drummond said at the Mendenhall Center on the UNLV campus. "I've told him multiple times that he needs to come on home.

"I need him there, and all the guys would love to have him back as well. At the end of the day, he's got to do what's best for him and his family.

"I still have high hopes, and I'm pretty sure he is coming home, so I'm excited for this season."
via Detroit Pistons' Andre Drummond, on Greg Monroe: 'I'm pretty sure he is coming home' | Detroit Free Press | freep.com.
Monroe remains stuck between the Pistons, in no hurry to shell out for him and unwilling to trade Josh Smith (which is a longstanding point of contention for Monroe) and free agency. No one has cap space or motivation to offer him a deal now because the Pistons will just match. That leaves Monroe with the hanging threat of signing his qualifying offer and risking injury to hit unrestricted free agency next season.
An interesting question is why Drummond wants him back so badly. That's not to say it's black and white, but let's be clear: the Pistons did not play well with Monroe and Drummond.
The Pistons were minus-2.5 per 100 possessions with Drummond on the court and Monroe off, and minus-6.4 with both players on the floor. And individually, Drummond shot better and scored more with Monroe on the floor but rebounded and blocked more shots at a higher clip with Monroe on the bench. Of course, the question then is what happens when you take Josh Smith, who at this point is an ominous shadow over all things Pistons, drug down those numbers. And sure enough, NBAWowy.com reports that with Monroe and Drummond on the court and Josh Smith off, the Pistons shot 48.5 percent from the field vs. 45 percent with all three on the floor.
Monroe may be back in Detroit next season, but if he's back on the qualifying offer he won't be happy and if he's back with Smith, that situation could be bad. Still, it's good to see Drumond sticking up for a teammate and telling him he wants him back. It's another sign that Drummond is the kind of player you want on roster, which makes his pre-draft concerns that much sillier.
Warriors' forward doesn't understand the reasoning behind the all-too-common double technical...

Hardaway Jr. gave a 'safe' call like he was an umpire in baseball

Barnes hits the trey with less than a second left to lift Mavericks to dramatic 95-94 vict...
Kevin Durant was once again back in Oklahoma City

Gregg Popovich has never seen an injury lead to the issues that Kawhi Leonard has been fac...

Kobe Bryant, of course, had his 81-point game against Rose and the Raptors back in 2006