Andre Drummond keeps close relationship with owner Tom Gores
Pistons phenom and owner Tom Gores communicate regularly about how things are going with the team, according to a report.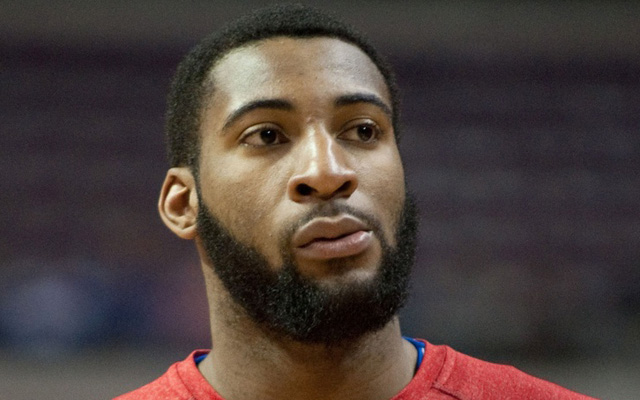 There are a lot of reasons why the Pistons fired Mo Cheeks on Sunday. Their record, their fourth-quarter woes, Josh Smith shooting 3.5 three-pointers per game, lots of things to point to. But it should not be considered coincidence that less than a month after phenom center Andre Drummond was upset with being yanked in a game quickly that Cheeks found himself on the street. 
Especially when you read something like this from MLive.com which reveals the close relationship between Drummond and owner Tom Gores, along with a host of other maladies in regards to Cheeks and the team.
Along with several other players who have questioned their roles, Greg Monroe's fourth-quarter usage has been sketchy. And even star center Andre Drummond had a moment of disconnect when Cheeks yanked him 11 seconds into the second half of a Jan. 26 game at Dallas after a misunderstanding on how a pick-and-roll should be run.

That was an opportunity for a teaching moment but assistant Henry Bibby, not Cheeks, was the one who approached Drummond.  The center shooed him away.

One player later said the problem was that Drummond did exactly what he thought he was supposed to do and Cheeks didn't understand that it was a product of miscommunication, not defiance.

Drummond and Gores communicate every couple of weeks about things, the player said, and seeing the franchise player unhappy probably didn't go over well with the owner.  Within a couple of days, Gores was in southeast Michigan, and the process of dismissal began to take shape.
via Column: Maurice Cheeks' firing forewarned by Pistons owner Tom Gores, who was right | MLive.com.
This isn't a surprise, a lot of players have close relationships with owners. Even Michael Beasley, who revealed in an interview with Bleacher Report that he used to "hang out" with Suns owner Robert Sarver, which is pretty much the weirdest thing I've heard all day.
"I mean, the whole organization was friendly, was nice," Beasley said. "I was particularly close to the owner. Me and him spent a lot of nights together." 

What sort of conversations did he share with Robert Sarver?

"We just talked about life, man," Beasley said. "I mean, we were friends." 

Beasley remembered one night when "we were kicking it at his house." 
via Miami Heat 'Fast Five': Michael Beasley, Greg Oden, Udonis Haslem and More.
I mean, you own the team, you pay these guys tens of millions of dollars, you should probably form a relationship with them, right? It seems strange on the periphery but not when you factor how much time these guys spend together during draft visits, training camps, free agency recruitment, etc. 
It should be noted there's no indication anywhere that Drummond requested Cheeks' dismissal, and that seems out of character with Drummond's approach. He hasn't really shown any signs of diva behavior. Cheeks was let go for a plethora of reasons, it's just kind of an interesting note that the phenom center is so close with the billionaire owner. 
DH12 is picked for free throws after a teammate gets ejected. He makes both, and lets Scott...

Bell was injured defending a Robin Lopez dunk and had to be taken off the floor in a wheel...

Trevor Ariza and Gerald Green are reportedly both suspended two games
We've got all the scores, highlights and news from the night's games

Jonah Keri talks with NFL and NBA broadcaster Ian Eagle

SportsLine simulated Wednesday's Nuggets-Clippers game 10,000 times