Andre Drummond out 4-6 weeks with stress fracture in vertebrae
Andre Drummond out 4-6 weeks with a stress fracture in his fifth lumbar vertebrae.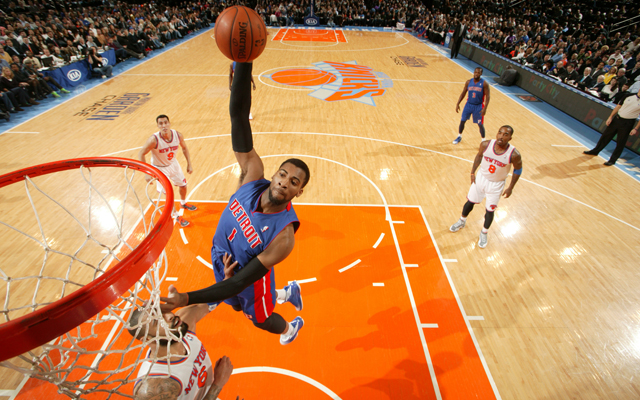 No jams from Drummond for a while.
(Getty Images)
Andre Drummond will miss 4-6 weeks with a stress fracture in his back. Scary stuff. From the Pistons' press release: 
The Detroit Pistons announced this evening that Andre Drummond will be out of the line-up for approximately 4-6 weeks due to a stress fracture of the fifth lumbar vertebra. The injury was diagnosed following examinations conducted on Thursday, February 7 by team medical personnel.  

Drummond has been placed in a custom brace and activity levels will be modified while the injury heals.  He will be re-evaluated on a regular basis.  Team doctors anticipate a full recovery with rest and rehabilitation. 
Drummond's injury severely sets back the Pistons' dim playoff hopes. He had been the most exciting part of the season. It also damages what was looking to be a very possible late push for rookie of the year for the very raw big man. 
Drummond was averaging 13 points, 14 rebounds, and 3 blocks per 36 minutes this season, despite Lawrence Frank's reluctance to play him extended minutes. Hopefully his recovery goes smoothly and we get to see the monster back on the floor this season. 
Cavs star chose to be very secretive when talking to Lakers rookie after Thursday's game

New York announced Porzingis would not return shortly after star forward left game

Teletovic missed the final three months of 2014-15 season with Nets recovering from same i...
Keep it right here for all of the news, notes, scores and highlights from around the leagu...

The NBA's City edition Nike jerseys are bold and very different

The Wolves may be smoke and mirrors, but the Pacers have the look of a team that can hang in...