Andre Iguodala backs Derek Fisher in NBPA dispute
Andre Iguodala backs NBPA president Derek Fisher in the union's dispute with executive director Billy Hunter.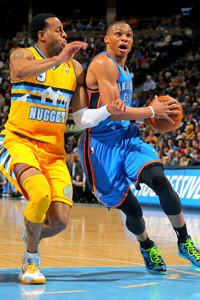 Iguodala
playing D.
(Getty Images)
DENVER -- On Friday, the NBPA executive committee voted unanimously to place executive director Billy Hunter on an indefinite leave of absence, following a report outlining various instances of misconduct regarding conflicts of interest, a lack of oversight, and inappropriate spending of union funds. Hunter's lawyer has responded by questioning the authority of the committee to place his client on leave. So the whole thing's turning into a soap opera. 
Ken Berger of CBSSports.com has spoken with several players who are outspoken on the issue and calling either for Hunter's immediate removal or a vote by the players in pursuit of his dismissal. Roger Mason Jr., vice-president for the union and a member of the executive committee in charge of the review process at this time, advocated patience in comments to CBSSports.com on Friday morning.
Friday night, Nuggets NBPA representative Andre Iguodala stood behind NBPA president Derek Fisher and suggested it was time for the players to handle the issue internally, without "outside influences."
"I'm really behind Derek Fisher," Iguodala said. "He's been in the league a long time and done a really good job representing us as the head player rep. I think it's a smart decision [to place Hunter on leave]. We didn't let him go; we just placed him on leave. Now we get a chance to sit down with no outside influences, just the players, and really discuss what we're going to do next. And I think Derek's going to do a really good job leading us in that direction."
Iguodala didn't elaborate on what outside influences those might be. But earlier in the week, NBA power agent Arn Tellem issued a letter to the players advocating for a change in leadership prior to the removal of Hunter.
Jared Dudley had openly advocated for a vote on whether to remove Hunter permanently. Iguodala suggested the same while also indicating an unrest with so much power being in the hands of the executive committee. Many of the committee members have worked for years with Hunter and others in the NBPA power structure.
"I think [a vote] would be something that needs to be talked about and looked at as far as more players having a percentage of a vote, as far as eight guys," Iguodala said. "We need to avoid conflicts of interest, and who's close to who."
Iguodala credited the more vocal opinions of the league's elite in these matters as one of the positives coming to light in recent events.
"One thing that's postive about this is our superstar players are stepping up and voicing their opinions," he said. "They need to because they really keep our league going."
Green helped KD through the tricky situation but not without enjoying his teammate's blund...

Vonleh reportedly suffered a shoulder strain during a pick-up game at the team's facility

OKC and Westbrook have until October 16 to agree to the deal
The league is implementing the 'Zaza Rule' and 'Harden Rule' in 2017 geared toward player...

Thunder GM Sam Presti went on to say the procedure on the MVP's right knee was "nothing se...

Hayward credited the Cavs guard as a big reason why he chose Boston in free agency