Andre Iguodala signs four-year deal with Warriors
The Warriors signed Andre Iguodala to a four-year deal worth $48 million.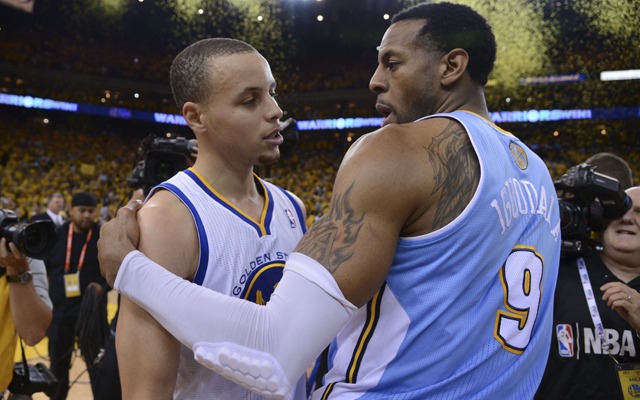 Andre Iguodala to the Golden State Warriors is complete. 
The deal for Iguodala is a three-team sign-and-trade between the Nuggets, Jazz and Warriors. As part of the deal, the Warriors sent center Andris Biedrins, forward Richard Jefferson and guard/forward Brandon Rush, along with two future first-round (2014 and 2017), two future-second round (2016 and 2017) draft picks and cash considerations, to the Jazz, as well as a future second-round (2018) draft pick to the Nuggets.
The Nuggets also received Randy Foye in a sign-and-trade with Utah with the Jazz receiving a 2018 second-round pick.
Iguodala's deal with the Warriors is worth $48 million over four years. 
"Andre Iguodala was a free agent that we targeted from Day One and we are thrilled that he chose to join our team," said Warriors general manager Bob Myers in a release. "His versatility as a player should help us tremendously on both sides of the court and we feel that his specific, unique skill set blends very well with the players already on our roster. Additionally, he will serve as a great asset to our young team as we continue to grow and develop in the coming years."
Iguodala, 29, averaged 13.0 points, 5.3 rebounds, 5.4 assists, 1.7 steals and 34.7 minutes this past season.
Another day, another social media beef for Embiid

We have all the latest scores, highlights and news from Wednesday's NBA games

Thomas spent a day with a 10-year-old girl whose family is also new to Cleveland
Barkley did not hold back with his opinion of the Big Baller Brand patriarch

LaVar Ball also made it clear he thinks his sons are being placed in 'a great situation'

The Thunder are just 12-14 on the season, despite the addition of Paul George and Carmelo...