Andre Iguodala's offense is a perfect complement to his defense
Whatever the Golden State Warriors need Andre Iguodala to do, he's doing it this season, especially on offense.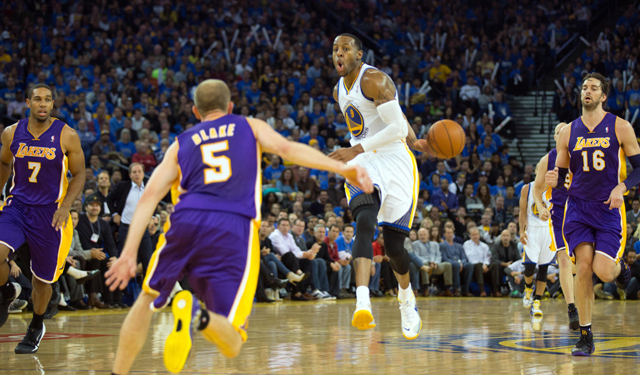 Andre Iguodala may be the ultimate role player.
He's more than talented enough to be one of the top players on almost any team in the league. We know he's one of the best defensive players in the league, even if All-Defensive Team voters refuse to give him the credit he deserves every year. Want him to defend Tony Parker? Done. Want him to chase Stephen Curry and Klay Thompson around screens (obviously before this season)? No problem. Need him to body up Carmelo Anthony or Kevin Durant for 40 minutes? He'll do it with a smile.
He's like a more durable, more intense version of what we used to see from Andrei Kirilenko. But he's capable of being so much more than just a defensive role player. He has an all-around game that few in this league can match. He can score. There was a three-season period in which he averaged over 18 points each year. He can pass. He's averaged at least 5.3 assists in seven of his last eight seasons. 
So far this season, he's also been able to shoot and shoot with deadly accuracy. Iguodala is known for doing a lot of things well but we've rarely seen him as a consistent shooter. As a member of the Warriors, he not only doesn't have to shoot all that often but he only has to take good shots if he wants to. They typically have so many weapons with him on the floor at one time that he can use his handle and quickness to move into the heart of the defense and find a safety valve.
When Iguodala was with the Philadelphia 76ers in 2011-12, 18 percent of his shots came in the last four seconds of the shot clock. Moving to the Denver Nuggets in 2012-13 didn't change that much either; 17 percent of his shots happened in the final four seconds of the allotted 24. Through the first eight games of the season for Andre Iguodala, he's no longer the guy who has to fall on the sword at the end of the shot clock. Just 4.0 percent of his field goal attempts have come at the end of the clock.
It's a big part of the reason Iguodala's field goal and 3-point percentages are so high this season. He's made 58.1 percent of his shots from the field and 46.9 percent of his 3-pointers. He simply doesn't have to shoot unless it's a great look. Nearly one-third of his field goal attempts come on catch-and-shoot opportunities. Over half of his 3-point looks are catch-and-shoot. 
He's shooting 65.2 percent from the field on all catch-and-shoot attempts and 61.9 percent on catch-and-shoot 3-pointers. He currently exists in a perfectly complementary offensive situation with the Warriors as their fourth option. The fact that they can spread the ball around and don't have to rely on one player creating shots for himself is a big reason why all five of the Warriors starters have made at least 50.0 percent of their shots this season.
These results are unlikely to trend over the course of an 82-game season. However, setting career highs in field goal percentage (50.0 percent in 2005-06) and 3-point percentage (39.4 percent in 2011-12) are easily attainable goals for Iguodala while he provides them with his Swiss Army Knife player.
Iguodala's ability to perfectly adapt to what the Warriors want to do centered around Stephen Curry, Klay Thompson, and David Lee along with the putrid bench scoring of the Warriors have given him an incredible impact on the offense end of the floor. The Warriors score just 77.6 points per 100 possessions with him on the bench, as opposed to 111.6 with him on the floor. Those numbers scream of small sample size and will come more toward the middle as the season progresses.
However, as of right now Andre Iguodala is fitting in perfectly with whatever the Warriors need him to do. Pass the ball? He's doing that. Incredible defense? That's always a lock from him. Be an efficient scorer for a team with incredible offensive potential? He can apparently do that too. 
Stats for this article via nba.com/stats and 82games.com
Greek Freak scores career-high 44 points and reaches scary level to finish the game

It was an ugly finish as the Warriors fell to 1-2 on the season -- both Curry and Kevin Durant...

Mirotic was hospitalized with facial fractures after an altercation with Portis during pra...
Irving had some choice words for a fan who heckled him in Philadelphia

Several teams were reportedly interested in Nelson after he was waived by the Nuggets

Cousins got into a heated exchange with a fan during the Pelicans' season opener