Andre Miller explains his ugly departure from the Nuggets
Something went down with the Nuggets and Andre Miller which led to him being suspended and eventually traded. So, what was it?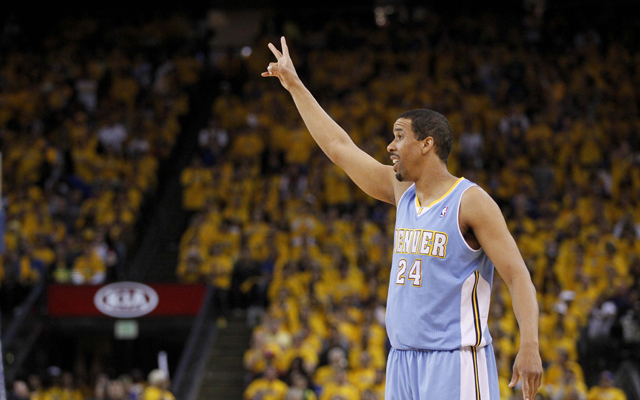 Something went down with the Nuggets and Andre Miller which led to him being suspended, then unsuspended but bench, and then eventually traded to the Wizards. 
And with the Wizards playing the Nuggets on Sunday, Miller gave his perspective of the ugly situation.
"I spoke up in a team meeting, privately, behind closed doors, about communication and brought it to the coaching staff because the players on the team asked me to," Miller said, according to the Washington Post. "That's why I think I was benched. That's the only reason. I know what the issue was about and I don't think it was handled the right way." 
The contentious situation became public when Miller lashed out at Nuggets coach Brian Shaw at the end of a game, one in which Miller didn't play. 
However, via the Washington Post, Shaw had a different perspective.
When asked recently about the incident, Shaw described it as a "tough situation" because the first-year coach was in the process of developing other young players at the same position, which made it difficult for Miller to get the minutes he was accustomed to receiving.

"I have all the respect in the world for Andre," Shaw said. "His reputation as a player has been great throughout his career, and he's a guy that wants to play and be out on the floor all the time. I've always heard as players get older, it's more and more difficult to coach them, and I remember. I played until I was 37. In our minds we may think we're one thing, but in reality, it could be something totally different."
Miller, as you might guess, saw it differently:
"Me having the amount of years in the league, there was no communication that I was going to sit out a game or be benched or whatever you want to call it," he said. "For everybody on the team to get in the game and the team is losing and I'm over there sitting down and didn't get a chance to contribute, that's what I was upset about. That's what I took personal."
With the Nuggets suffering a rash of injuries to point guards Ty Lawson and Nate Robinson, the team tried to reconcile with Miller. But he wasn't interested.
"They were like, 'If you come back and apologize, it'll be all good.' I wasn't willing to make that decision. Because of my morals, what I felt was the right thing to do for me," Miller said. "I was ready to go. You can tell when a team is thinking about possibly going in a different direction. Wasn't any communication there, and I could just feel the vibe where I was at in the organization, and it was time to move on.
"We both made mistakes. That's just a part of the business when you're coming in, first-time coach and a veteran and me not approaching him and establishing a communication either way. It's whatever. I'm glad to be where I'm at now."
Known for his 'take that for data' rant, the Grizzlies coach touched on a number of important...

Wade's days with the Chicago Bulls appear to be numbered

Misty Suri will reportedly keep his job with the New Orleans Pelicans
The MVP has better things to do with his time, but the former NFL receiver isn't taking 'no'...

Randolph was arrested last week in Los Angeles on felony marijuana charges

Bagley wants to be in the 2018 NBA Draft and should be the No. 1 overall pick