Andre Miller is not a happy camper, thinks he could be traded
Andre Miller doesn't think the Nuggets are contenders, thinks he could be traded, and isn't happy with his minutes. Makes sense. So why did he re-sign there?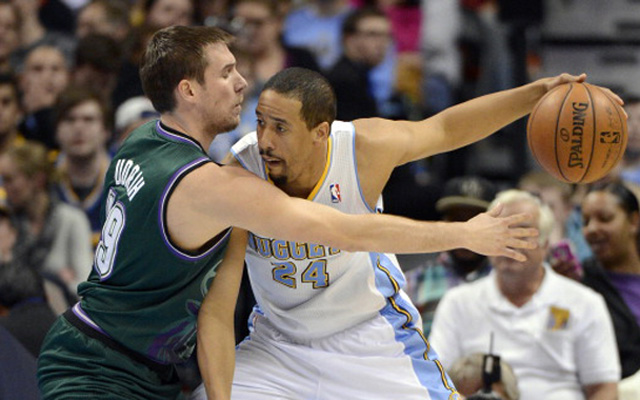 Andre Miller is unhappy in Denver.
(Getty Images)
Update 2:37 p.m.: Denver general manager Masai Ujiri told the Denver Post the Nuggets have "no intention" of trading Andre Miller, and Miller's agent has downplayed talk that the is unhappy, despite the quotes to the Colorado Springs Gazette. The Nuggets are going to stand pat for now, it seems.
---------
When the Nuggets' Andre Miller hit free agency last summer, he talked extensively about wanting to sign with a championship contender. He seemed fed up with being a part of near-contenders and, as veterans are prone to do, wanted to bolt for the greener pastures of Miami or Boston or L.A. He was also upset at being a backup behind Ty Lawson, despite playing heavy minutes especially late in games. 
So color us a little surprised when he re-signed in Denver for three years for $12 million. The market apparently either wasn't strong enough to give him the money that he wanted or the minutes. And everything seemed to be fine. He knew he was re-signing to a team without a superstar and to a team where he'd back up Lawson. So all's well, right?
Oops. 
From the Colorado Springs Gazette: 
"I want more minutes," Miller said. "If we were losing I would really be complaining. But it's going as it goes."

"I don't know how much longer they want me here. I definitely would like to contribute more," Miller added when I asked if he wants to finish in Denver. "I'm not just going to sit back and settle in and be a backup and let my career just fade away. I'm competitive in that way."
via Red-hot Nuggets still missing one key ingredient, veteran says | klee, veteran, missing - KLEE - Colorado Springs Gazette, CO.
So there's that, which is fun. 
Miller also took shots at his team's ability to really contend, despite an eight-game winning streak and a stellar record since mid-December. 
"You can't win a championship. I don't even think you can even advance in the playoffs without that marquee player."

"I think we have enough here to play well during the (regular) season," Miller said. "The goal right now is to position ourselves for homecourt advantage (in the playoffs). Maybe that will help; I'm not sure. But we'll have to play a lot smarter."
via Red-hot Nuggets still missing one key ingredient, veteran says | klee, veteran, missing - KLEE - Colorado Springs Gazette, CO.
Whom do you think that insults more, Andre Iguodala, whose play has helped lift the team to being one of the better defenses in the league, or Lawson, who has willingly surrendered control of the offense late in games to Miller and has played spectacular lately?
It's a fair opinion. No one's cracking down on the thought process. But what's the win in saying that? 
Miller has taken to walking off the floor early after home games and is usually splitsville by the time the media even hit the locker room. 
The whole situation is bizarre. Was Miller under different assumptions about how his situation would play out when he re-signed? Did he expect to start over Lawson? If so, was he high when he expected that? Because that was never going to happen. Did he think they were going to trade for that marquee guy?
There are teams that could use a veteran point guard (ahem, Boston), but Denver's not ready to hand over the backup reins to Julyan Stone, and George Karl does nothing but effusively praise Miller. The situation is odd and, as the trade deadline gets closer, could get more so.
The players and referees are working to fix a relationship that has recently been deterior...

The locker room heist is going to lead to plenty of fines and maybe some suspensions from the...

Larry Hartstein has his finger on the pulse of Boston basketball and locked in a pick for...
The always consistent Spurs take on the rebuilding Lakers in a national TV contest.

The lack of urgency from the front office has some players doubting their chances of reaching...

SportsLine's Mike McClure, a DFS pro with more than $1M in winnings, gives optimal lineup...