Andrew Bogut may miss all of training camp, preseason
Bogut says he may miss training camp and even preseason games to make sure he's "110 percent" for the regular season opener.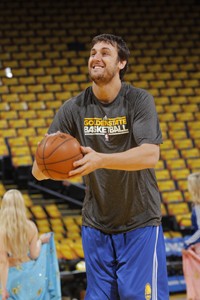 Well, he's had such good luck with injuries so far...
(Getty Images)
Andrew Bogut insists it's not because he's behind in recovery from ankle surgery last spring. His doctors tell him that he's ahead of schedule. But in an interview with the Contra Costa Times, Bogut says he may miss training camp and even preseason games to make sure he's "110 percent" for the regular season opener. From the Times: 
"It's about being smart with my ankle," Bogut said via a conference call with local media. "There's no point in trying to get ready for October 1st, when another week could significantly help. I'm trying to get ready for camp, but my main goal is for the first game of the season to be 110 percent."

Bogut said based on the timeline given by the surgeons, he might be a bit ahead of schedule. He has already been shooting and lifting weights. He was recently cleared to start light jogging on the treadmill. Plus Warriors head athletic trainer JoHan Wang spent last in Australia working out Bogut: "He pretty much smashed me in the gym." Bogut said his ankle has responded well to the increased activity, with little to no swelling or soreness.
via Warriors' Andrew Bogut Determined to be Ready for Season Opener, Even If It Means Missing Some Training Camp - Inside the Warriors - with Marcus Thompson.
The problem is that if you follow these things enough, you know that any time a player says he "might" not be available for preseason you should be sure to leave that opening night slot blank. Bogut's "main goal" is to be ready for the first game. But people miss those. And that's OK, the Warriors don't need him in each and every game. And they do have to absolutely make sure he doesn't come back too soon. 
But if he's cutting it this close, you have to be worried about how he'll be in that first game back. Bogut's going for his first fullly healthy season since his rookie season. He played in 69 games in 2010, but just 77 total since then. They've almost all been freak injuries. If he can get past them, the Warriors could be a dangerous squad. Without him.. it's going to be another failed rejuvenation plan for the franchise that contention forgot. 
Wade opted in to his $24 million player option earlier this summer

Barkley spoke to the NFL Today crew about the response the president received in his home...

The restricted free agent has a deal in place that will keep him with the Bulls after a st...
James' support continues his trend of social activism on social media

The newly-acquired All-Star thinks the addition of Anthony boosts the Thunder in the NBA's...

The Knicks were asking for the house in discussions for Carmelo Anthony