Andrew Bogut out longer than original 7-10 day timetable
Andrew Bogut will not make it back within the original 7-10 day timetable.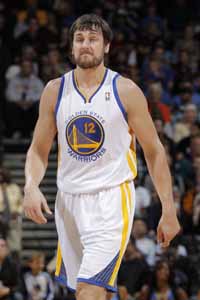 Bogut will be out longer than expected.
(Getty Images)
Andrew Bogut was supposed to be out 7-10 days starting about a week ago. On Tuesday, the Warriors confirmed he won't be making an upcoming three-game road trip and that his 7-10 day window is going to be extended. Cue the 70s family movie dad saying "Here we go again!" From CSN Bay Area: 
Warriors coach Mark Jackson announced on Tuesday that Bogut would not play in the team's upcoming three-game road trip, which begins Friday in Minnesota.

"No, he won't make the trip," Jackson said after putting the team through a 90-minute practice. "We're going to stick true to the rehab and try to get him as strong as possible and when he's ready to play, he'll play. But he won't be on the trip."
via Warriors' Bogut will miss more than seven to 10 days.
They're taking precautions with Bogut, playing it safe, which is for the best. But this team really wanted to make the playoffs and be in a position to make some noise, finally. It has a hefty payroll and finds itself looking like a lottery team early on without Bogut. The big guy wasn't making them into a title contender or anything, but his impact at covering for the slip when opponents get past the aggressive wing ball pressure the Warriors are using was key. 
The Warriors are 19th in the league in points allowed in the paint per game this season. They need Bogut back in a big way, but can't afford to rush him. So we're back to this same situation with the Warriors, waiting and watching. 
An ongoing investigation continues to reveal details about the Mavericks' workplace

Larry Hartstein has his finger on the pulse of Kings basketball and just released a play for...

One reported proposal has seeds 7-10 playing for the final two spots in each conference
The longtime Maverick says he's disappointed by all the negative news surrounding his beloved...

Larry Hartstein has nailed 17 of his last 22 NBA against the spread picks and locked in a play...

The NBA is reportedly entertaining the notion of a play-in tournament for the postseason