Andrew Bogut says he's talking extension with the Warriors
The Warriors don't want to let Andrew Bogut get to free agency next summer, so they're negotiating a contract extension.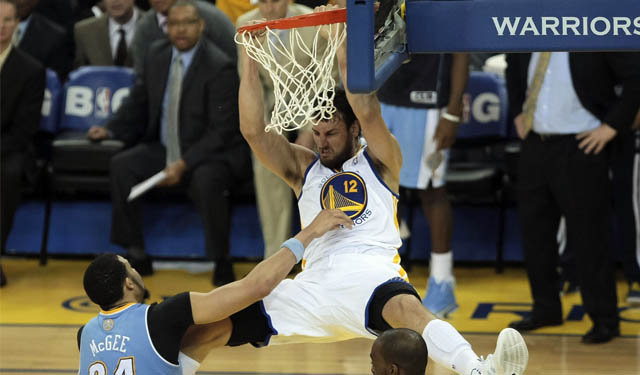 Andrew Bogut has already said he wants to stay with the Warriors past this season. 
And he might get his chance to put his money where he mouth was. 
According to NBA.com, the Warriors and Bogut have opened talks about a possible contract extension that would prevent him from becoming an unrestricted free agent next summer.
The Warriors and Andrew Bogut have opened negotiations on a contract extension designed to keep him off the free-agent market in July, he told NBA.com, with Bogut willing to make major concessions to stay but also looking for payback from management for pursuing Dwight Howard last offseason.

[...]

Bogut said the initial numbers from the Warriors, "weren't insulting. But they weren't what I'm looking for. Nothing concrete has been actually formally written up. We've just been going back and forth, but nothing too crazy."
Bogut is in the final year of his current deal that pays him $14 million this season. He's still an elite defensive big man when healthy, but that's the problem -- he's not often healthy. He's battled injury issues the past few seasons and at 28 (turning 29 this season), he may not have many great years left. 
But big men in the NBA get paid and Bogut would almost certainly command a solid deal on the open market, so the Warriors will have to pay up. 
Even with health concerns, Bogut says he wouldn't take a partially guaranteed contract, though. 
"Just based on the fact that my last two injuries I can't control," Bogut said. "If these were chronic injuries from lack of conditioning or not working out in the summer or being a fat slob, I can understand the caution. But would I do things to the extent that Andrew Bynum's done with his contract? Hell no. The clauses that he has, there's no chance I would sign a contract. But basically having game incentives — whatever the number is, 60, 70, whatever it is — I have no problem. I think that's only fair."
So it seems likely the Warriors will get something done with Bogut. When he's on the floor, he makes them better. Pretty simple.
He speaks out at a LeBron James Family Foundation event; he tweeted about Charlottesville on...

Smith was at the event to support his Cavaliers teammate

Trade talks involving Irving have seemingly stalled in recent weeks
The three stars were joined by a number of other NBA players

After meeting with the club, Kentucky star was surprised the Knicks passed on him in the d...

Cleveland wants to stock up with biggest possible return for their disgruntled point guard