Andrew Bynum active, could make NBA return tonight
Cavaliers center could play for the first time in over 500 days.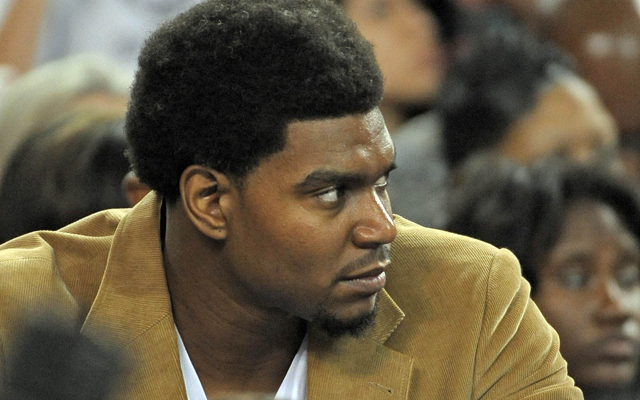 Update 7:12 p.m. ET: Yahoo reports Bynum is expected to play about fifteen minutes Wednesday night. 
Cavaliers new center Andrew Bynum expected to play around 15 minutes tonight, source tells Yahoo Sports.

— Marc J. Spears (@SpearsNBAYahoo) October 30, 2013
Word started circulating Wednesday afternoon that the Cavaliers were being extra careful with discussing Andrew Bynum's condition, indicating that could mean he's ready to go. 
The veil of secrecy around Andrew Bynum's status leads me to believe he will play tonight for #Cavs. Just a hunch, though.

— M.S. Boyer/J. Valade (@PDcavsinsider) October 30, 2013
Mike Brown later confirmed he "could" play, but you know, it's Bynum. I could sprout wings from my feet and fly to the sun, it's just unlikely.  Well, then he was warming up pre-game. 
And then, finally, it was announced he's active for Wednesday's game against the Nets. So, while nothing is official, this could actually be the first game Andrew Bynum will play since the Lakers' second-round loss to the Thunder in 2012. That was 528 days ago. 
Bynum, if healthy, could completely change the makeup of the Cavs. While it's unlikly he'll go long minutes, the Nets are going to be in a tough spot trying to match up with Brook Lopez and Kevin Garnett, and Bynum defensively could be a problem as well. 
Things just might be coming up Cavs. Excuse me, I'm going to go outside, turn around three time, and spit to avoid jinxing them.
OJ Mayo, banned from the NBA for positive drug test, is considering playing overseas

The King? 'LeBron, it turns out, is Aquaman,' or so the account via Dwyane Wade's wife goe...

From Penny to Thunder Dan to Pistol Pete to Agent Zero, guys who would be better in 2017
Griffin said recently he thinks it's more likely that LeBron James goes to New York than L...

Mayo was suspended for two years last summer for violating the league's anti-drug program

The NBA broke its silence with a statement related to the Lakers-Paul George tampering cha...