Andrew Bynum done with Pacers, team announces
The Andrew Bynum era in Indiana was short and sad.
• 1 min read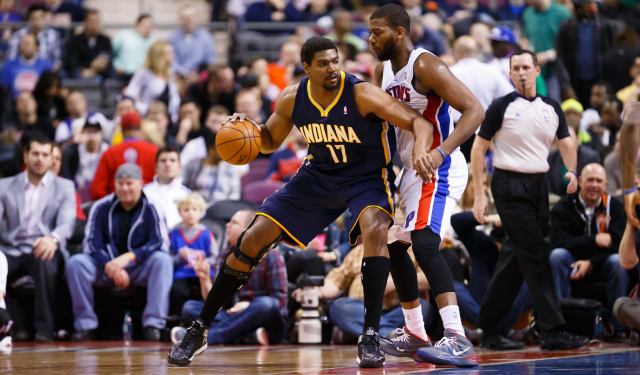 More postseason coverage: Playoff schedule, results | Latest news, notes
Andrew Bynum will not be with the Indiana Pacers for the remainder of the playoffs, the Pacers announced on Wednesday morning. Bynum signed with Indiana on Feb. 1 and played just two games with the team. 
Dealing with chronic knee injuries, he managed 16 minutes against the Boston Celtics on March 11, scoring eight points and grabbing 10 rebounds. The 7'0 center had 15 points and nine rebounds in 20 minutes in Detroit on March 15, and that was it.
Indiana announced Bynum was out indefinitely less than a week after that Pistons game, and ruled him out for the first round of the playoffs just before its series with the Atlanta Hawks started. Since he joined the Pacers, it's been the same sad story. 
"We want to thank Andrew and our medical staff for trying to get the issues with his knee resolved," Pacers president Larry Bird said in a statement. "We wish him the best in the future."
After missing all of 2012-2013 as a member of the Philadelphia 76ers and flaming out in Cleveland, Indiana was widely seen as the best environment for Bynum to revive his career. Unfortunately, that did not come to pass. His future in the NBA is uncertain. 
Thomas took to Twitter to let the Celtics know he doesn't want to ruin Pierce's night

The Hall of Famer was a seven-time All-Star with the Celtics, and was MVP of the 1976 Fina...

It's rare to see a legit punch in an NBA fight, but this was definitely one of them
We've got all the scores, highlights and news from an NBA Tuesday

The former Slam Dunk Contest champion will take his talents to Tri-State

Do NBA players have look-a-likes from famous paintings? We found out on the new Arts & Culture...