Andrew Bynum is considering season-ending arthroscopic surgery
Andrew Bynum could be done for the year if he decides to get arthroscopic surgery.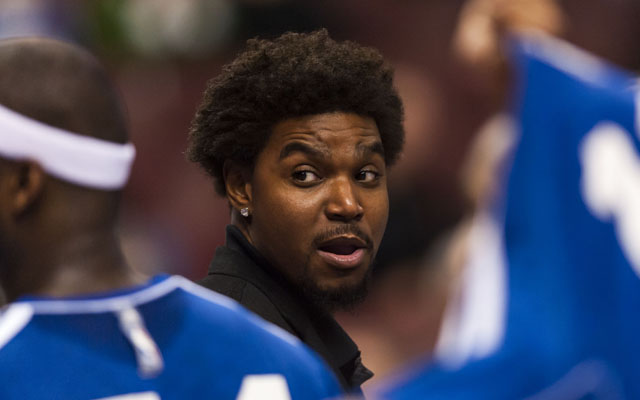 From USA Today: 
Philadelphia 76ers general manager Tony DiLeo said that Andrew Bynum is considering arthroscopic surgery on his balky knees and that the organization has yet to decide whether to attempt to sign the one-time All-Star center once he becomes a free agent after this season.

...

Building around Bynum remains the team's preferred option, if he's healthy.

"He is Plan A," DiLeo said Sunday before the Sixers played the Washington Wizards at the Verizon Center, speaking publicly for the first time since Bynum on Friday announced a setback in his rehab from what could be career-threatening knee injuries.
via USA Today.
So that's not good. 
The Sixers gave up two promising young prospects in Nikola Vucevic and Moe Harkless, along with former All-Star Andre Iguodala, in the four-team Dwight Howard deal last summer. They built their entire team around the concept of Bynum being the building block. He has yet to log a single minute in a Sixers uniform. 
We're talking "biblical proportions" of disaster here if he winds up playing somewhere else. The Sixers would have given up a mountain of assets and walked away with nothing. Bynum experienced knee soreness over the summer, then injured his other knee bowling. That's pretty much the definition of things "not going well." 
Everything has fallen apart for the Sixers, and Doug Collins' sanity doesn't seem far behind. The Sixers might still be able to get something for Bynum if they don't re-sign him, in the event of a sign-and-trade, but that would require a team with cap space to absorb him and return assets. Bynum has previously said he's interested in playing for Houston, which has the assets, but would the Rockets want to take on the risk of Bynum, given his health?
Bynum is not worried about getting the deal he wants nor should he. It's a weak free-agency class, and he's a top-quality center in a terrible time for centers. 
But, for everyone else, the risk is severe and complicated. We'll keep you updated on whether Bynum goes in for surgery. 
Stephen Curry, who grew up in North Carolina, wants to be part of the next Panthers ownership...

Vince Carter is destined for a Raptors reunion; he doesn't know when it'll happen

Thomas has a target date for his return, and with the Cavaliers scorching, this could be h...
LeBron James once again is using his platform to be socially active

Not many games, but still plenty of action and intrigue Sunday in the Association

Kobe Bryant had a solid piece of advice for back in 2016 when he left OKC for Golden State