Andrew Bynum non-update: Still no timetable for return
Cavaliers center still has not been able to establish a timetable for his return from knee injuries.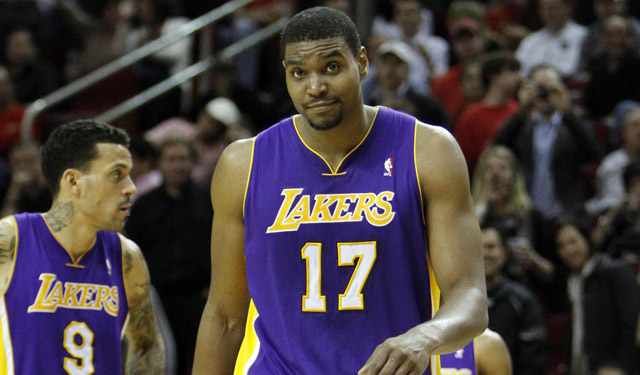 When Andrew Bynum was signed by the Cavaliers, everyone expressed the same two thoughts. It will be great if it works out, and it's a good thing his $12 million a year contract is only guaranteed for one-year at $6 million. Because it has been what feels like the same length of time as the Cretacious period since he was seen on the court. 
The Cleveland Plain Dealer reports that there's also no substantial sign of Bynum's imminent return. 
#Cavs GM Chris Grant says Andrew Bynum has worked hard and made significant progress but there is no actual timetable for his return

— M.S. Boyer/J. Valade (@PDcavsinsider) September 24, 2013
After Bynum signed, he started working out at the Cavs' arena, and all the reports were super positive. "Boy, he looks great!" "He sure is working awfully hard!" And those are all good signs. But there has to be, at some point, something tangible to point to. Bynum was "getting closer" all of last season for the Sixers, too, and yet didn't play a single minute of basketball for them. 
We'll see Bynum sometime this season... right? I mean, he can't miss two entire seasons with knee injuries, not after being traded for in one instance and then signing for $6 million guaranteed with the other... can he? I mean, it's not up to him, it's how his knee responds to treatment. But there's no question that work ethic concerns accompany Bynum, who has always faced scrutiny over his rehab efforts. 
For right now, the non-updates continue and it sure doesn't look like he'll be ready for training camp or preseason. Wait and see, just like we have for the past year with Bynum. 
McCollum hurled a clever insult at the French forward

Hosts Bill Reiter and Reid Forgrave are joined by Blazers guard CJ McCollum

Check back throughout the night for the latest updates from Monday's NBA games
Garnett has worked with Maker and says he is reminded of himself

It might be a good time to place a bet on the Boston Celtics

SportsLine's Mike McClure, a DFS pro with more than $1M in winnings, gives optimal lineup...