Andrew Bynum still aiming for return 'right after All-Star' break
Andrew Bynum set to return after All-Star break, probably, maybe, hopefully.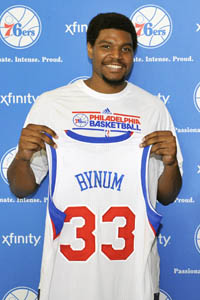 Bynum
(Getty Images)
As the Sixers continue to founder without their franchise center, who has yet to play a game for them, there's at least light at the end of the tunnel. Recently both the team and Andrew Bynum have at least been willing to talk to the media about Bynum's return, and as of Monday, the timeline still suggests a return "right after" the All-Star Break. From PhillyBurbs.com: 
"I talked about that for a while," said Bynum prior to Monday night's game against the Grizzlies. "I think giving myself a full other week of training camp is going to be better than trying to come back before that. To me, it doesn't really matter when I come back."
(via Bynum eyes playing 'right after' all-star break - phillyburbs.com: Sixers: doug collins, philadelphia 76ers, sixers)
So it's possible he could return, but he likely won't -- because he wants to be careful. That last line is nice, though. He's trying to say that it's more important he comes back fully healthy than save a few regular-season games, and that makes sense. But given the widespread sentiment that he doesn't really like or care about basketball, it's kind of a warning sign. 
The Sixers offense is a mess, and adding Bynum isn't going to instantly fix it. But it will help, and that might be enough to close the gap for Philadelphia on the Celtics for the eighth spot in the East. 
The Bulls lead by three with 10 seconds left but lost 116-115

Larry Nance Sr. starred for Cleveland from 1988-94

The hotline comes in the wake of the 'Sports Illustrated' investigation into the Dallas Ma...
Giannis, who spent last weekend in L.A. for the All-Star Game, says he loves 'low-key' Mil...

We have all the scores, highlights and news from the first day back from the All-Star brea...

Smart, set to return Friday, said doctors told him he was very lucky that the glass did not...