Andrew Bynum to have season-ending surgery on both knees
We all knew it was likely, but it's reality now: Andrew Bynum is done for the season. A season in which he never played a game for his new team.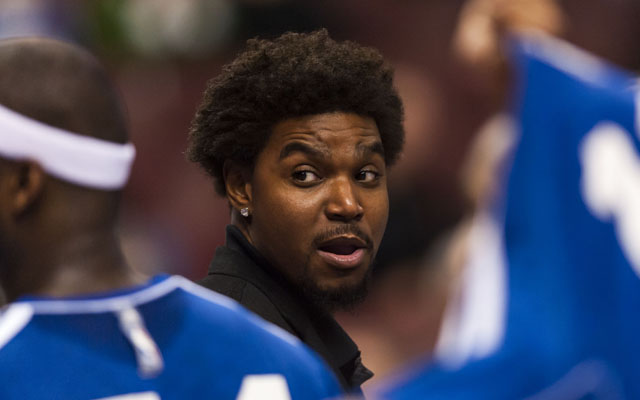 Season-ending surgery for a season that never actually began? That's the story of the 2012-13 campaign for Andrew Bynum and the Philadelphia 76ers.
According to multiple reports and confirmed by CBSSports.com's Ken Berger, Bynum will have season-ending arthroscopic surgery on both knees to clean out debris. The surgery is reportedly set for Tuesday in New York.
The team announced the surgery late Monday.
"After many months of rehabilitation and consulting with numerous doctors, Andrew and the doctors treating him determined that this is the best course of action at this point," Sixers general manager Tony DiLeo said in a release. "We will continue to monitor and evaluate his status moving forward."
Bynum was said to be considering the surgery a couple weeks ago, but went ahead with it as it's obvious the 76ers are going nowhere.
Bynum, 25, was dealt to the 76ers as a major piece in the four-team Dwight Howard trade in which Philadelphia sent Andre Iguodala to Denver and rookies Moe Harkless and Nikola Vucevic to Orlando. The Sixers obviously thought Bynum would help them contend in the Eastern Conference but now must accept that their blockbuster trade may never yield a single game in uniform for Bynum.
The seven-footer is an unrestricted free agent this summer and with questions about his health, it appears unlikely the Sixers will be players to re-sign him. Which means that, yes, the 76ers gave up valuable young assets and one of the premier defenders in the league for a one-year rental for a guy to sit on the end of their bench in a suit.
Bynum's health has consistently been a question mark in his career. Through last season with the Lakers, he appeared in 72 of 78 games, including the postseason. He then had a procedure in Germany to try to strengthen his knees, but a bone bruise was discovered in his right knee in September. Then a similar bone bruise in his left knee, after an evening of bowling.
What will the market be for Bynum? He's still young and when he plays, he's a major difference-maker. But he's a big man with health concerns and is coming off a season where his troublesome knees prevented him from playing a single game. Will he be able to pull off a multi-year deal? Or will a team be conservative and offer him a one-year deal with a team option for two? It's honestly one of the most fascinating offseason storylines to watch.
In the present, though, what a dose of disappointment for the Sixers. Their season has been long over as they've rapidly faded from the Eastern Conference playoff picture, so it's not like this news has any real impact on them anymore. But it's certainly a major slap in the face to remind them what a massive disaster the trade for Bynum was.
And not one the 76ers could necessarily anticipate either. It was a deal done with quality intentions, a deal that could potentially elevate Philly into another tier. If Bynum is healthy and performing at the level he's capable of, the Sixers have an imposing, versatile front line to go with a blossoming backcourt led by Jrue Holiday.
But seeing as Bynum likely will never play a game as a 76er, it's one of the more painfully bad trades in recent memory.
Davis left the Pelicans' game against the Nuggets in the third quarter

Popovich was upset about an out of bounds call

Wall went 3-for-12 from the field, and had just eight points in the Wizards' loss
Noah was reinstated from his 20-game suspension on Monday, but is yet to play for the Knic...

In his first season with the Cavs, Rose has not played since Nov. 7

Keep it right here for all your Friday NBA scores, updates and highlights