Andrew Bynum will play in Philadelphia against the 76ers Friday
The Philadelphia 76ers never got to see Andrew Bynum play for them, but they'll see him play for the Cleveland Cavaliers against them on Friday.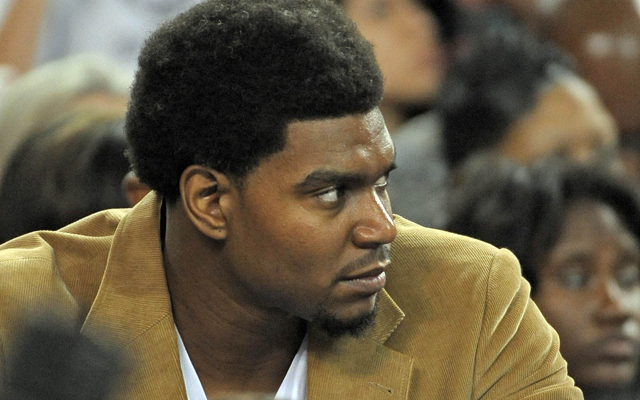 Andrew Bynum was supposed to bring a franchise player to the Philadelphia 76ers when he was included in the Dwight Howard trade in the summer of 2012. The Sixers were a competitive, scrappy team without a true No. 1 option. Bynum was going to be their go-to guy after learning next to Kobe Bryant and Pau Gasol for years in Los Angeles. Unfortunately, injuries kept him from ever putting on the Sixers uniform and getting on the court. Instead, he missed the entire season and then left via free agency to sign with the Cleveland Cavaliers this summer.
Friday night, the Cavaliers visit Philadelphia to take on the 76ers, marking Bynum's return to the team that paid him to rehab last season. If you were wondering whether or not Bynum would give it a go and make sure he plays against the Sixers, he tells Jason Lloyd of Ohio.com that it's just another game but he'll play the front-end of Cleveland's back-to-back in Philadelphia. 
Andrew Bynum will finally play a game in Philadelphia. Unfortunately for the Sixers, he'll be in a Cavs jersey.

Bynum said Wednesday morning he plans to stay consistent with the plan of playing on the front end of back-to-backs and sitting out the back end, meaning he will play in front of what will presumably be a hostile Sixers crowd on Friday night and then sit out Saturday's home game against the Sixers. 

"Just another game," he said. 
Bynum has only played in 37 minutes over three games for the Cavs this season but his impact has been unreal. The team is 22.5 points per 100 possessions when he's on the court. His size and ability to control the paint even without his explosiveness has made him a matchup problem early in games for their opponents. He's averaging 6.0 points, 3.3 rebounds, and 1.7 blocks in just 12.3 minutes. However, he's only made 27.8 percent of his field goals. 
He's prepared for a negative reaction from Sixers fans, who have enjoyed the surprising start of this year's team while still lamenting the Bynum experience during his one season in Philadelphia. 
"I think they'll probably boo, but that's their choice," he said. Asked if he felt badly about the way it all unfolded in Philadelphia, he said, "It wasn't my choice to get rid of me. I don't feel bad at all. ... If I was not hurt, I would've played. That's really the end to that story."
He has a point on it not being his choice for them to get rid of him. When Sam Hinkie took over the Sixers, there were comments early that made it seem like Bynum was not in their plans at all. They immediately shed a lot of the talent off last year's roster and ended up stripping the roster down in order to prepare for the NBA Draft. It doesn't change the sour taste Bynum's time with the Sixers left in the fans mouths, especially when it wasn't looking like he was taking his time there seriously.
Our advanced computer model simulated Saturday's Thunder-Cavs game 10,000 times

The Jazz are reportedly looking into trading Rodney Hood before the Feb. 8 NBA Trade Deadl...

The Cavaliers are ready to reset everything if they have to. Their interest in Lou Williams...
It sounds like the Cavaliers are going to be active before the NBA trade deadline on Feb....

We've got all the scores, highlights and news for Friday night

George Hill, who is unhappy in Sacramento, could be a solution to Cleveland's backcourt si...