Andrew Wiggins' defensive abilities and potential being tested nightly
Three recent impossible defensive assignments for rookie Andrew Wiggins allowed us to see his incredible ability to defend in the NBA.
"On defense, I love challenges and the great scorers that come at you all game."
Just three games into his NBA career, Minnesota Timberwolves rookie Andrew Wiggins was being asked to stop Joe Johnson over and over again. Wolves coach Flip Saunders joked that putting Wiggins on Johnson was either going to be a great learning moment for his young franchise cornerstone or "demoralizing." The Wolves ended up winning that game and while the Nets' guard got his fair share of scoring against the rookie, Wiggins caused enough stops late in the game to help the victory happen.
Since that early stretch in Wiggins' first season, the season has been tough for the Wolves. Various key injuries to veterans depleted an already shaky roster as they began their latest rebuilding effort they're hoping will be more fruitful than the previous two. No matter what the lineup has looked like, they've asked Wiggins to be the star on the court on both sides of the ball. 
Wiggins has responded well, finding his rhythm has a scorer averaging 18.6 points on 46.6 percent shooting since December 23 (36 games). More impressively, he continues to take on the best scorers around the league and makes them work for every bit of success. The recently turned 20-year old rookie is the Wolves' leading defensive option.
Over his last eight games, he's had to defend James Harden, Jimmy Butler, and even Chris Paul. Those players have had good games, but it's the way Wiggins has approached each defensive match-up that has been fascinating in showing his growth as a defender. Let's take a look at each of those very different match-ups to look at where he's excelled and where he needs a little more work and experience.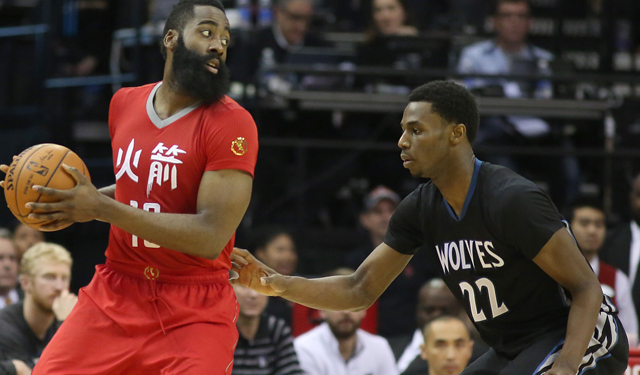 DEFENDING THE VOLUME SCORER
In a recent 113-102 loss to the Houston Rockets, Wiggins was tasked with being the primary defender on James Harden. At the time, Harden was the leading scorer in the NBA. He's known for his ridiculous handle and a crafty ability to turn the littlest mistakes by defenders into trips to the free throw line. While some detractors mention the flopping that he certainly does, he's often selling calls that are correct and he baits defenders into committing.
Most people will remember this highlight of Wiggins not biting on any of the moves Harden tried to put on him, only to force an air ball and get a dunk plus the foul on the other end. It went mildly viral and showed off some of the defensive prowess this incredible rookie is capable of doing.
As great as this play was, it didn't tell the entire story of the defensive effort from Wiggins on Harden in this game. There were plenty of great moments by Wiggins from a defensive standpoint, and there were plenty of moments in which Harden taught him lessons to help build his defensive knowledge moving forward.
There are two keys defending someone like Harden. First, you have to be able to handle his pick-and-roll wizardry. Secondly, he can be a nightmare in isolation. Just ask the Wolves' point guard or ask the Cavs' most iconic basketball player of all time just how that can go. The isolation defense is so key against Harden.
In the video, you can see Wiggins is almost flat-footed at times, but sitting down enough in his defensive stance to remain responsive and quick against jab steps while maintaining his length advantage to quickly contest jumpers. The dribbling illusions Harden throws at a player work only if you react to them. Wiggins is too busy concentrating on the waist and hips of Harden because much like Rasheed Wallace said about the basketball and Shakira sang about the hips, neither of them lie.
One of the times when Harden showed the ball to try to entice a foul, Wiggins slapped it away. He was also great at keeping solid angles against the Rockets' scorer, rarely letting him turn the corner and get Wiggins on his back shoulder. Even on the last shot of the video, which Harden makes, Wiggins is right in his face and forces him to hit a tough shot. You can live with the process of that defense even if the results don't yield success.
There have been 18 players in the NBA this season that have defended at least 80 possessions in isolation and Wiggins is the sixth best defender on that list. He rarely fouls in those situations (5.9 percent of those possessions end up at the free throw line) and opponents score only 38.8 percent of the time.
Where Wiggins was really tested was defending Harden in the pick-and-roll.
Even though it can yield some pretty atrocious results, the Wolves often send the man getting screened in a pick-and-roll under the screen and ask them to recover. This can be tough for Wiggins because his slight frame can make it easy for the screeners to pick him off with good screens. Wiggins then has to recover from being screened and get back into the play. Success in this style of defending is contingent on the big men covering the play long enough to allow Wiggins back into the picture. 
They did a solid job of this for much of the game against Harden when Wiggins was defending him. Even on the play in which Wiggins was called for a questionable foul, he had cut Harden's angles off and forced him to force a shot attempt and hope for a whistle. Again, it's about process over results. 
It wasn't all success in the pick-and-roll defense though. 
The Wolves are the third worst team at defending the pick-and-roll ball handler, mostly because of their big men doing a poor job of protecting the next level after the screen and forcing the primary defender to go under the screen as a strategy. They give up 0.85 points per possession with only Chicago and Washington giving up worse scoring efficiency. Wiggins is probably the Wolves' best defender in these situations, allowing just 0.67 points per possession on these plays.
However, against Harden he struggled to find consistency, as most defenders do. As you can see in the video above, he'd float through the screen situation and either get caught on the picker or not recover well enough to get into a quality position to defend Harden. This would lead to fouls or easy passing opportunities for Harden, who picked the Wolves apart.
When Harden wasn't using the pick-and-roll, he was either coming off screens or trying to catch Wiggins off-guard with quick perimeter shots. By cutting off Harden and doing a good job of keeping the Rockets' MVP candidate in front of him, he was able to use his length to contest shots as well as you can hope. Sometimes, that's all you can ask of a defender, especially a rookie.
Wiggins still struggled at times keeping the focus necessary to try to be successful at a nearly impossible task like defending Harden. Because he can score in volumes, pick you apart with the pass, and get to the free throw line as often as anybody. He'd give Harden passing lanes when not recovering well, he forgot to stick with Harden on an offensive rebound, he let Harden go completely and lucked out with a layup miss in transition, and he fouled him by trying to block the right hand on a left-handed shooter, which ended up being the final dagger.
It's only fair to point out the mistakes when lauding the great plays by Wiggins. It's odd to say Wiggins did a great job on Harden in that game. The Rockets' All-Star finished with 31 points, 10 assists, and 11 rebounds in the game, but he only shot 7-of-20 on the night. Against Wiggins, he was just 2-of-12 shooting. You'll take that defensive effort and process from Wiggins while trying to help him iron out the lapses he had.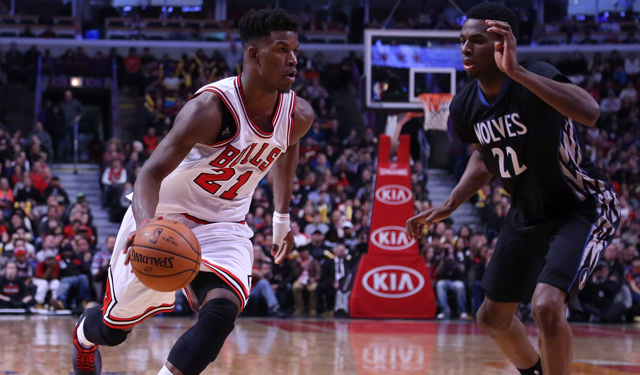 DEFENDING THE BULLY ON THE WING
Two games after the Wolves' loss to the Rockets, Wiggins was asked to take on a different primary target. Chicago Bulls' All-Star wing Jimmy Butler has been abusing defenders all season long. His ability to hit spot-up jumpers, get to the free throw line, and use his incredible strength to bully defenders has been entirely impressive. 
With Wiggins being able to match the length of Butler and use his athleticism to cut off angles, Butler was going to have to use that strength and bulk advantage to make life hell for the Wolves' rookie. He had great success doing that throughout the game.
Wiggins is a solid player denying the ball and floating around bigger match-ups to make post-entry passes uneasy, but if someone is just going to decide to move him out of position, there isn't much Wiggins can do yet. In various instances in this game, Butler was able to do just that. He'd push his way (legally, I might add) into deep post position and force Wiggins to foul.
He'd almost walk into offensive rebounding position and be quicker to the ball than Wiggins could react. Once he got Wiggins on his back, Butler just needed a proper pass or carom off the rim to give him the advantage in creating a scoring opportunity. It was something Wiggins had to constantly adjust to throughout the game. 
To try to counter the bulk, Wiggins would lean on Butler and hope to keep him off-balance. Sometimes it worked and sometimes it was exactly what Butler and the Bulls were hoping for. If Wiggins lost focus for a second, Butler was crashing the glass or spinning his way for a lob at the rim.
There were times in which Butler was quicker to the ball as Wiggins was caught watching instead of reacting, but the Wolves were bailed out by Butler simply missing the shot. Wiggins also had a couple of missteps in defending the pick-and-roll in which he looked as if he was watching the play, rather than trying to cut Butler off. The Bulls' scorer is too savvy at this point in his career to not take advantage. 
It wasn't all nightmares of bullying for Wiggins though. When he was attentive, he was great at denying the ball to Butler. He'd orbit him to make the passer feel uneasy about letting the ball go. He'd use his length to pick off passing lanes. He eventually protected against that spin away from the defender and didn't allow the lob to be thrown.
Much of this was to not putting his body too much on Butler and trying to allow the space to let his quickness take over. It was a great adjustment throughout the game and a necessary one to keep Butler from torching him. 
The key to "stopping" Butler was cutting off driving lanes and not letting Butler pin him with deep position. He caused Butler to troubleshoot scoring ideas to get him when he couldn't get into the advantageous positions, and it mostly worked out in the Wolves' favor when that happened. The majority of Butler's damage came away from Wiggins, although he did get the rookie into foul trouble at times.
Butler shot 5-of-12 against Wiggins with two missed tip-ins that he should have probably made due to carving out good position against Wiggins. He was 6-of-7 against the rest of the Wolves' defenders and finished with 28 points and 12 rebounds. The test for Wiggins was a primary scorer attacking the one main weakness of Wiggins defensively early on in his career: his strength. And Wiggins still managed to hold his own and make the scorer work for his points, which is often all you can ask.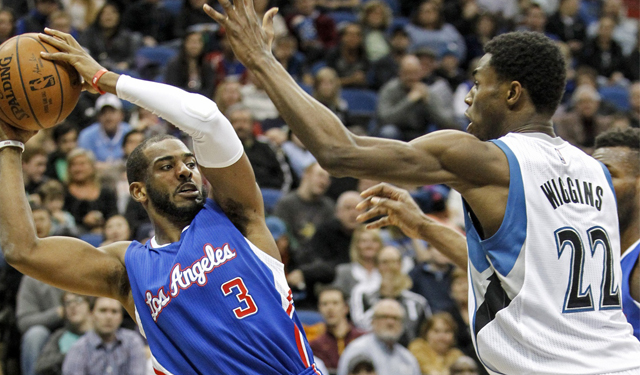 DEFENDING THE CRAFTY POINT GUARD
In the early parts of the season, Saunders told me it would be unlikely the Wolves would ever feel the need to put Wiggins on the opposing point guard. With Ricky Rubio being such a nuisance as a defender, the Wolves have the luxury of a quick, handsy, long point guard who can bother the rest of the opposing point guards in the NBA.
"No, Ricky is our defender," Saunders said. "The least amount that you can cross-check defensively, the better you'll be. Will there be a situation where you can switch a pick-and-roll? You might be able to do that. But I doubt very much that we'll be in a situation where Ricky's not going to be able to defend against somebody on a regular basis."
Once Rubio went down with an ankle injury that cost him 43 games, things changed for Wiggins' defensive assignments. The Wolves have still avoided throwing Wiggins out there for multiple stretches against the best point guards in the NBA, but they tried something recently in a home game against the Los Angeles Clippers. They started out Wiggins on Chris Paul and used Ricky Rubio as a help defender and someone to chase J.J. Redick around.
The results were mixed, but mostly not in Wiggins' favor. It put Wiggins in pick-and-roll defending a lot in this game and against someone as crafty as Paul, he had to be at his best. There were moments in which he chased and recovered well against the Clippers' point guard.
The frustrating thing for Wiggins and the Wolves is even when he defended the situation properly, Paul found a teammate for an open shot or he made a tough shot himself. CP3 was brilliant in this game at picking apart the Wolves' defense and it didn't seem to matter whether or not Wiggins was able to keep a body on him and bother shots and passes available to Paul.
And for the most part, when Wiggins made a mistake, Chris Paul took advantage of it. 
With the Wolves going under the screen so much, the technique in recovering is key to Wiggins figuring out how to recover and bother whatever scoring opportunity the Clippers were trying to create. Sometimes, Wiggins would do a slow turn away from the screen and have his back to Paul. That was a huge mistake because it gave Paul too much time to pick his spot on the floor and get the shot he wanted. If he got caught up on a screen for too long, he was toast.
Even when the Wolves tried to use Wiggins off the ball in order to switch him onto Paul following a screen, he didn't recover quickly enough to get through screens and properly contest the shot. It didn't always lead to points for the Clippers, but the process was poor and the results varied.
To keep Wiggins on the court even when Paul took a breather meant he'd have to chase Jamal Crawford around. It's a welcome sight to not have to defend CP3 but Crawford brings about another set of problems and that's working well off the ball. 
They didn't stick with this strategy of him defending Crawford much, keeping Wiggins on the primary ball handler for much of the game and giving him a breather while keeping him in the game by sticking him on Jordan Hamilton. But when Wiggins was on Crawford, he had the same issues of getting around screens set by DeAndre Jordan.
Wiggins did have some success as a ball hawk against Paul. His size advantage allowed him to recover at times and it allowed him to bother shots and passing lanes. It was these possessions that were the confidence building moments for Wiggins while the rest of the game was simply a teaching moment for the Wolves' assistants and veterans as they tried to help Wiggins through such a tough assignment. 
When Wiggins didn't bite on fakes and stayed grounded against Paul, he succeeded most of the time. He was able to recover and trap the ball with an active big man like Kevin Garnett or even fellow rookie Adreian Payne. And that's usually all you can hope for when it comes to defending someone like Paul. The ball is alive so much that if you minimize the recovery time, you hope to win those dozens of battles throughout the game. 
Overall, Paul shredded the Wolves' defense. He finished with 26 points on 12-of-20 shooting and had 14 assists. While Wiggins had success in keeping Harden and Butler to poor shooting percentages against him, he didn't have that same success against Paul. Wiggins allowed a handful or two of assists to Paul and the point guard shot 5-of-7 from the field against the rookie.
While the Wolves lost all three of these games, you can stand to lose the battle if you're setting yourself up to come away with a chance at winning the war. Developing Wiggins has been the key goal for the Wolves all season long. The offense is coming around and he's been a mostly reliable scorer. More importantly, he's been a reliable defender despite not knowing what he's doing from an experience standpoint.
It's not something he's just accepting as his role; it's something he loves to do. 
Curry was visibly frustrated as he limped to the locker room, and will undergo an MRI on S...

We have all the scores, top plays and news from Friday's NBA games

Clark was shot by police in his grandparents' backyard Sunday night in Sacramento
After a strong start, the Magic are heading to the lottery yet again

This is not what Danny Ainge envisioned when he signed Gordon Hayward and traded for Irvin...

The Spurs recently held a team meeting in which Leonard was questioned about when he would...