Andrew Wiggins: 'I can play anywhere'
No. 1 overall pick doesn't exactly light a lot of fires with first public comments since a reported deal was agreed upon to send him to Minnesota, but does talk.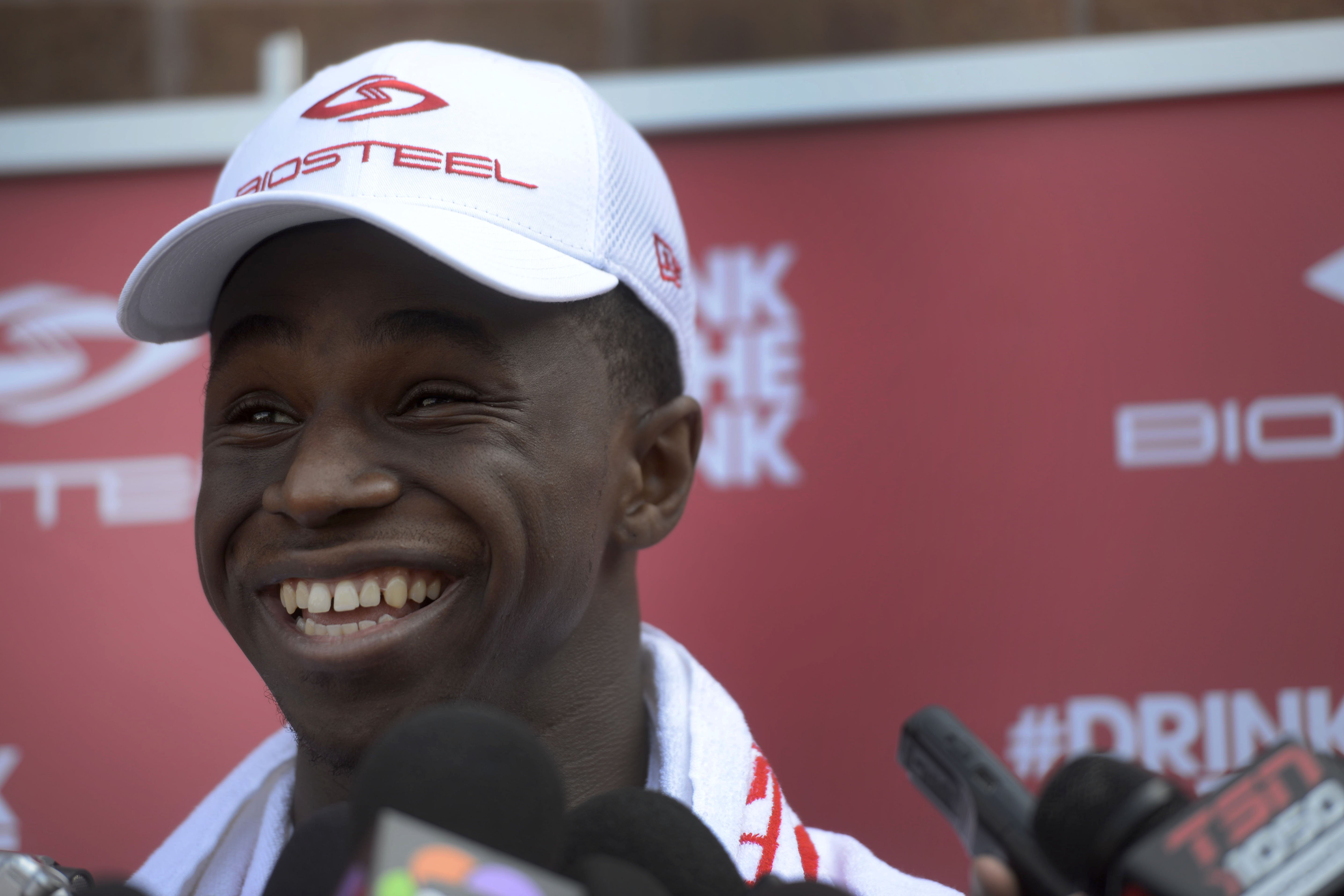 Offseason: Free Agency | Latest from Ken Berger | Rumors
The AP caught comments from Cleveland Cavaliers No. 1 overall pick Andrew Wiggins for the first time since a deal was reportedly agreed to which would send him to Minnesota in a deal which would net the Cavs Kevin Love. He didn't actually say anything, but he did comment. 
"Whatever happens is out of my control," he said. "I'm not worrying about it right now."

Surrounded by more than a dozen reporters and nine television cameras at a promotional event at his former grade school in suburban Toronto, Wiggins acknowledged that life as a first overall pick has brought him extra attention.

"There's more eyes on me, more criticizing, stuff like that," he said.

After Wiggins attended Jayhawks coach Bill Self's basketball camp Sunday, Self said Wiggins told him he'd welcome the trade to Minnesota, where he could be the face of the franchise, rather than playing in the shadow of LeBron.

"Even though in a weird way everybody would love the opportunity to play with LeBron because you're guaranteed winning, for the longevity of his career, he needs to develop that mindset to be the guy, for him to be great, and I think being Minnesota will help him do that," Self said Sunday.

Wiggins wouldn't bite when asked Monday for a response to Self's comments.

"Anywhere, any team," he said. "I can play anywhere."
There you have it. The situation is out of his control, and he can play anywhere. News at 11. 
But really, Wiggins' agent and the Cavs are no doubt advising him to simply not respond. The deal is already complicated by its timing. Technically, teams aren't supposed to do deals during the moratorium period after Wiggins signed with the Cavaliers, and there's already talk of the league potentially blocking the deal if there's an agreement on a future contract with Love in place. It's a good sign for Minnesota that Wiggins is handling it as a pro, not taking shots at Cleveland or speaking out of turn. 
He's doing what he needs to do. He's staying quiet. He can let his game speak for him in November, no matter who he's playing for. 
Butler didn't put any pressure on his right leg as he was helped to the locker room on Fri...

We've got all the scores, top plays and news from a busy NBA Friday

Our advanced computer model simulated Saturday's Magic vs. 76ers game 10,000 times
Several playoff contenders could use the services of Ilyasova, who's nearing a buyout agre...

Durant says he probably wouldn't have gone to college because he 'needed the money'

Ball, who has missed the last 15 games with a sprained MCL, will be on a minutes restricti...