Andrew Wiggins: 'I just want to play for a team that wants me'
No. 1 overall pick says that he's not taking trade talks personally, and that he hasn't spoken with the Cavaliers or LeBron James about his situation.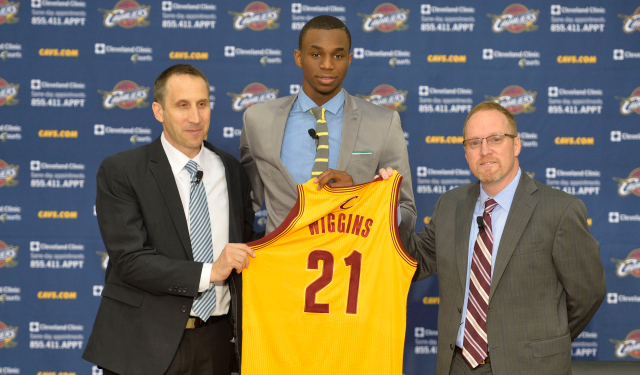 Offseason: Free Agency | Latest from Ken Berger | Rumors
Cleveland Cavaliers forward Andrew Wiggins told ESPN on Sunday he's not taking trade talks involving him for Kevin Love personally and all he wants is to be somewhere he's wanted. 
"I just want to play for a team that wants me. So whichever team wants me I'll play for," he told ESPN's SportsCenter, from Tarrytown, N.Y., where he was taking part in a photo shoot for trading cards.

Wiggins said Sunday he isn't taking his name being mentioned in trade talks "personal."

"At the end of the day you have to remember that the NBA is a business before anything. I'm a rookie. I really don't have too much say," he said.
via Andrew Wiggins of Cleveland Cavaliers -- I want to play where I'm wanted - ESPN.
Wiggins signed his contract with the Cavs on July 24, and can't be traded for 30 days after that. Wiggins did say in the interview that he hasn't spoken with LeBron James at all and said he didn't really know what he'd say to James about the situation. 
Interestingly, Wiggins said the Cavaliers haven't spoken with him about his situation. That has to be concerning for the prospect of Wiggins staying in Cleveland. On Saturday, Timberwolves owner Glen Taylor acknowledged Kevin Love's trade demand and hinted Love could be 'likely' happen in the next month.
It must be confusing for Wiggins to be drafted No. 1 overall and have so much uncertainty about the start of his NBA career. Instead of starting out on a title contender with the best player in basketball he could be headed to the snowy north (not that Clevelan'd balmy) to play on a rebuilding team where the second-best player is a point guard who can't shoot.
Strange start for the young man who's already facing enormous pressure.
Durant labeled the Cavs' situation as a regular problem in the NBA

James takes to Instagram for a better look at the Cavs' new Nike-made uniforms

Kevin Durant says he doesn't agree with what President Donald Trump agrees with
Evaluating where the future Hall of Famer might land up if he is freed from Chicago's rebuilding...

Adam Silver said his piece with the schedule out; we address that and what the slate looks...

The Hawks and Sharecare reportedly agreed to terms on a five-year deal