Andrew Wiggins pens letter to Huntington community
Andrew Wiggins, No. 1 prospect and future Kansas star, has never been your normal high school basketball player. And here is more proof.
• 2 min read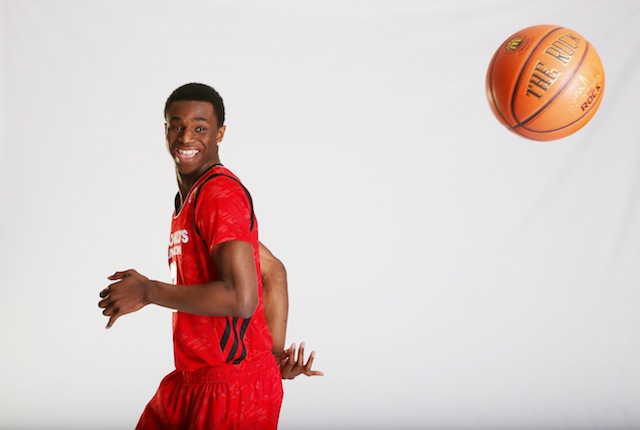 It was midway through his eighth-grade school year when Andrew Wiggins first came up in conversation. Even then I had heard that he wasn't a big fan of attention and would rather keep to himself than engage in what would soon be a media frenzy about his unbelievable talent.
As Wiggins' popularity grew and the Canada native became a household name in America, the discussion was mostly the same: He was different than most star players. Wiggins wasn't going to talk to every media outlet that approached him. He wasn't going to throw hints in all sorts of directions about his college plans. He was going to make a decision when he was ready.
Of course, he wasn't ready until just a few weeks ago, when Wiggins finally announced he was headed to Kansas.
Now, here's more proof that Wiggins just isn't the regular high school basketball superstar: He wrote a letter to the community in The Herald-Dispatch -- the newspaper in Huntington, W.Va., where he has spent the last two years of high school.
Wiggins thanks the principal at his high school, the teachers, the janitor. He thanks his peers, his host family and mentions several friends by name. Naturally, Wiggins thanks all of his coaches and people in the community.
Here's an excerpt:
I just wanted to thank Huntington for your support for me and my Huntington Prep teammates and coaches these past two years. Without the community, none of what has been accomplished would have been attainable. I hope that when you hear or read my name, you are proud to say I played my high school days here in Huntington. Because I am proud to say I played here. 

I like to represent my hometown of Thornhill, Ontario, and my country of Canada in a positive light and I will do the same for Huntington and for my team and coaches of Huntington Prep. It has been such a positive experience and I would advise any player to come to Huntington Prep.

One of the best things about my experience here is St. Joseph Central Catholic H.S. where we all attend. There are a lot of good people in that building from the principal to the teachers to the janitor; I will never forget all the positive influences they have been in my development as a young man. My peers at St. Joe have also been supportive of me and have always treated me as one of their own. I am not different, just a kid, and at St. Joe I could be. Thank you.

[…] I am from Canada and I am going to Kansas to play college basketball. I will hopefully be drafted to a city that I enjoy. But I will always have a place for Huntington in my heart and memories. I will not forget all the sacrifices they made for me and my teammates. Thank you from the bottom of my heart. 

Sincerely,

Andrew Wiggins

Huntington Prep
Wiggins has been the No. 1 prospect in high school basketball for a few years now -- but it's clear the attention hasn't changed him. And that's refreshing. 
Two of the league's young, up-and-coming squads will square off on Tuesday in Minneapolis

Kawhi Leonard is set to make his season debut for the Spurs

Lonzo Ball will make his Madison Square Garden debut
Leonard, who hasn't played this season due to a quad injury, may return with more skills than...

James, who adjusted his shooting mechanics, is on par with Steph Curry's all-time great 2015-16...

Jordan Bell had himself a night against Portland