Andris Biedrins won't opt out; Warriors on hook for $9 million
Garbage-time center Andris Biedrins will not opt out of his $9 milllion for next season, leaving the Warriors in financial straits going forward.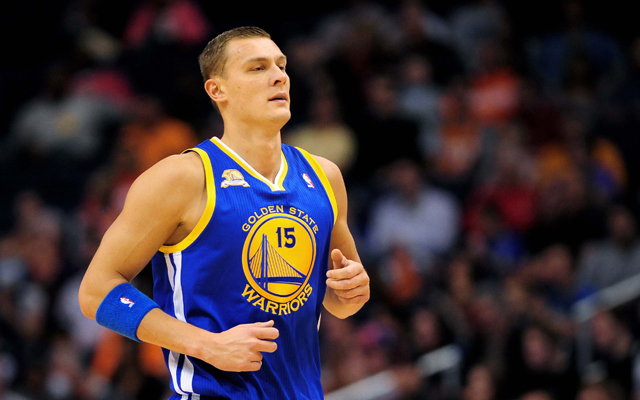 Everyone loves to talk about how not only was this Warriors playoff run great, but how bright the club's future is. All of their players are young, they'll only get better, etc. Well, here's the problem. Getting better's going to be an issue outside of developing the kiddos on the roster because they are capped out beyond all reasonable measure. And Andris Biedrins isn't going to be helping them out, either. 
The garbage-time center, who remains one of the worst contracts in the league, will not be opting out and will instead be taking his $9 million next season and going home. And by home, I mean the bench. From CSNNW: 
As was expected, Golden State Warriors center Andris Biedrins will exercise his player option and return to the Bay Area for the 2013-14 season, according to his agent Bill Duffy.

Biedrins, 27, held a player option for next season that will pay him $9 million for the final year of his six-year, $54 million contract the two sides agreed upon in the summer of 2008.

The seven-footer could have declined the option, becoming an unrestricted free agent this offseason. However, that will not be the case.

"He will not opt out," Duffy stated clearly to CSNNW.com.
via Biedrins exercising option, returning to Warriors | CSN Northwest.
So that's $9 million. Richard Jefferson has an option for more than $11 million. He's not going anywhere. Brandon Rush has a player option. Coming off surgery that forced him to miss the season, he's unlikely to go anywhere. So the team's going to be above the cap and headed towards the luxury tax, and that's before you look at Jarrett Jack, who will be an unrestricted free agent whom they want to retain, and Carl Landry, who has an opt out and can increase his value from the $4 million that he's owed. 
Did I mention that the Warriors used their amnesty provision on Charlie Bell in an effort to clear money to make room for a huge offer for DeAndre Jordan, who wound up re-signing with the Clippers? 
So to recap, the Warriors can't clear the bad players on roster off the books, and they can't re-sign their good free agents without going so far into the cap that they drown. 
So, yeah, might want to cool it with the whole "the Warriors' future is nothing but bright" thing. They can definitely improve based on Stephen Curry, Klay Thompson and Harrison Barnes improving, but this summer will be a struggle for them to make significant progress on the roster. 
Cuban weighed in on the ongoing feud between the basketball dad and the POTUS

Embiid has taken his trash-talk game to the next level this season, but he's not scared

Last year Durant said returning to his old home was 'never going to be a regular game'
The All-Star forward injured his wrist during Sunday's loss to the Lakers

Steven Adams believes he's the problem with the Thunder struggles in the clutch

LaVar claims that Luke Walton has been 'soft' on Lonzo so far