Anfernee Hardaway to Bust a Move: Journey down the rabbit hole
Last week, the Rabbit Hole journey ended with Anfernee Hardaway as the entertainment. That's exactly where it will start this week.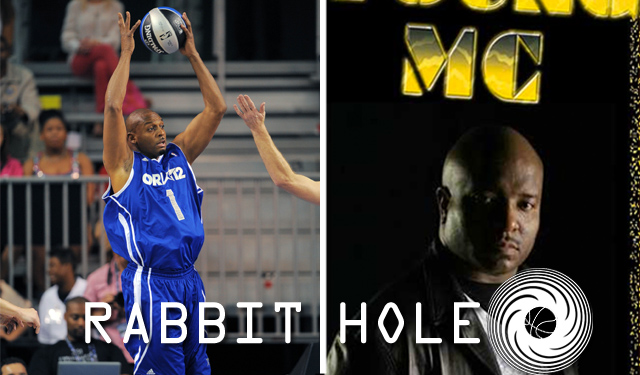 Previously on The Rabbit Hole posts, we were taking a look at some career highlights from Anfernee Hardaway after finding our way to his videos from a starting point of Bob Barker talking about LeBron James. That's kind of how things go with these posts. The tangents run wild and they lead to videos of our youth (well, my youth). We still have plenty of time to kill on this Friday so let's jump right into where we left off: admiring Penny Hardaway and seeing where it takes us. 
Let's journey down the rabbit hole, shall we?
First Stop: Penny Hardaway was really unbelievable
When you look at the makeup of Anfernee Hardaway, he was basically a My Player creation from heaven. He was a 6'7" point guard with an elite handle on the ball, great scoring ability, and he could do just about anything on the basketball court. We often see these really tall point guards come into the league with the potential of reaching greatness and changing the game but Penny actually did it. He was one of the rare ones that came through on that potential almost right away instead of having to transition to a different position because he couldn't handle point guard duties.
The first four years of his career were as exciting as anybody not named Michael Jordan during the 1990s. Over Hardaway's first four seasons, he averaged 19.7 points, 6.5 assists, and 4.5 rebounds while making 48.7 percent of his shots. He was All NBA First team twice in that span and made the Third team once as well. Penny was a problem on the court and he meshed perfectly with that Orlando Magic team.   
He was an instant star in the league and seemed to fit perfectly with Shaquille O'Neal in every way on the court. The inside-out attack the Magic employed was deadly and the fact that they were swept out of the NBA Finals in 1995 probably downgrades just how historically good that team was and should have been. There was a great spot on NBA TV with Shaq and Penny in 2012 in which they discussed their plan of attack on the court. 
It overstates the value of Shaq a little and the value of Penny a lot, but they should have been the modern day Kareem and Magic. Unfortunately, Shaq had his eyes on bigger prizes, left for the Los Angeles Lakers, and then Penny's body began to fail him. But before the Magic's plan careened off a cliff, we had some pretty incredible highlights:
Who doesn't like 90s basketball with Lil Bow Wow music played over the action?
The Penny Hardaway injuries that derailed his career
Back in March of 2012, SLAM Magazine had a pretty telling interview with Hardaway about his career, his place in the history of the shoe game, and the injuries that took a sure-fire Hall of Fame player to being nothing more than an afterthought for fans today. Khalid Salaam got some great answers from Hardaway:
SLAM: And then the injuries started, right?

PH: First off, to this day, I don't think people know how many I  had altogether. I had six knee surgeries, two in Orlando and four in Phoenix. Two got done at the same time. I was one of the first guys to get microfracture surgery. And I didn't handle the recovery well. It wasn't even heard of in the NBA yet. It took away my legs, my athleticism. They were left knee injuries, and it would be like, OK, I'd have the surgery and wait like five or six weeks and come back and then a week or two later, it wouldn't feel right. I tried to just force it. We'd go back in to get a MRI and it was torn again, and I was like, C'mon man, this isn't right. It was crazy.

SLAM: Did you feel you were misdiagnosed? How did the Magic respond?

PH: To me, there was a lot of confusion. Back then you played hurt, so they were like, "Oh, it's just in your mind." It was hard to believe. They kept asking me, "Did you hear anything? Did you hear your knee pop?" I would tell them, No, but it really does hurt. All of a sudden there was pain and I was very frustrated. I went from being very athletic, one of the best guards in the NBA, to barely making it. No speed, no agility. I had to change how I played because I couldn't exercise or train because my knee constantly hurt.

SLAM: Did any other players reach out to offer support?

PH: Nobody bonded with me at that time. No support. It was weird. Nobody would say, "Hey man, are you OK?" Nothing. It was more that people thought I was faking, and I have no idea why they would think that. When Grant Hill came back to Orlando after having all of his surgeries, I was the first person to call him and congratulate him for making it back. It seemed like nobody cared about what I was dealing with. That's just how it works, man.
Some of these guys just get caught in playing during the wrong era. If for some reason Penny had been able to come along in today's NBA, micro-fracture wouldn't have robbed him of everything he was capable of being on the court. He wouldn't have been able to be the same player we saw from 1994 to 1997 but he also wouldn't have been resigned to Isiah Thomas-built New York Knicks hell either in the later stages of his career.
While we didn't get the full career from Penny that would have satisfied basketball fans to the fullest, we did get some pretty incredible commercials from him while he was blowing up with the Orlando Magic.
The Lil Penny commercials were pretty spot-on
The ad campaigns behind Penny Hardaway were brilliant. They got Chris Rock to do the voice of Lil Penny, had cameos from stars like Tyra Banks (before she really blew up like she is today) and Spike Lee, and they did a lot for even poking fun at the industry itself. One of the more famous ones was when Lil Penny was screaming at Anfernee, "That was Tyra Banks, fool!"
They were even putting campaigns inside campaigns with Hardaway, Nick Anderson, and Lil Penny watching a Nike ad about Ken Griffey Jr. running for president with the Mariners' moose mascot as the running mate. The commercials became pretty meta pretty quickly.
They poked fun at their own campaign with Penny going away from the ad franchise of including his pint-sized friend: 
But maybe the commercial they executed the best was making fun of those frozen moments in time commercials. With Lil Penny narrating, Tyra Banks resuming her recurring cameo, ice cream falling off cones, and toy rockets being launched as we waited for Hardaway to throw down on the court, the ad continued to promote an incredible shoe while looking at the industry in a humorous way.
The Lil Penny phenomenon was so huge that they even used it for a lead-in on NBC for a game between the Chicago Bulls and the Orlando Magic back in 1996. 
As great as those ads were, Nike had a better basketball campaign.
That era of Nike ads took us into the Fun Police era
As good as the Lil Penny commercials were, I don't think I took to a commercial campaign as much as I did with the Fun Police ads. That could be because Kevin Garnett was my favorite player at the time and I loved Tim Hardaway's killer crossover, so I naturally gravitated toward the Fun Police ads. 
How old are those Fun Police ads? Kevin Garnett is at the very end of his career, Tim Hardaway now has a son in the league, and Terry Porter is in the 12th season of his coaching career. Yet, they still manage to hold up for the basketball nerd in all of us.
The investigation into why a kid didn't pass the ball was one of the best ones too. Gary Payton talking to the kid, delivering the facts. Jason Kidd dusting the ball for fingerprints. Damon Stoudamire finding a stash of basketballs. Actually, they probably should have asked Damon a couple years later why he wasn't passing the ball. 
As a Timberwolves fan, the interrogation with Tom Gugliotta and Kevin Garnett trying to get Cherokee Parks to be much more engaged in being fun on the basketball court were as good as it got for me. 
"And your facial expressions when you dunk are very limited!" KG knows how to deliver a line, right?
Cherokee, this is what's so fun about Tom Gugliotta
Tom Gugliotta was a really good player in the league for a few years. He teamed up with Kevin Garnett and Stephon Marbury to form a pretty promising, young Big Three in Minnesota but it quickly deteriorated as most Marbury-involved things tend to do. If you're wondering what's so fun about him, he was ejected from the stands during an NC State basketball game back in 2012.
You know Googs was a fun player during his time because there's the video mix of him set to Young MC's "Bust a move." It doesn't get more fun than that:
Bust a Move
When I'm not watching the fine quality programming on CBS and CBS-related channels, I do manage to watch an episode of television shows on Netflix from time to time. One of those shows happened to be "Scrubs." Why is this relevant? Because they once had Young MC on there as Old Young MC and it was a moment in which comedy and great old music collided. 
By now, this song is stuck in your head so we might as well this music video that isn't dated at all:
Don't just sit there reading this; bust a move. 
Jordan Bell had himself a night against Portland

The younger Ball brothers are heading to BC Prienai, but that could spell trouble

Not many games, but still plenty of action and intrigue Monday in the Association
SportsLine's advanced computer model simulated Tuesday night's Lakers-Knicks game 10,000 t...

The Reno Aces are concerned about the new WNBA franchise stealing their thunder

Hinkie parted ways with the 76ers in 2016 after drastically changing the direction of the...