Anonymous GM: 'No reason' to give up assets for Bledsoe or Monroe
An NBA general manager said it would be complicated to get a deal done for either Eric Bledsoe or Greg Monroe.
• 1 min read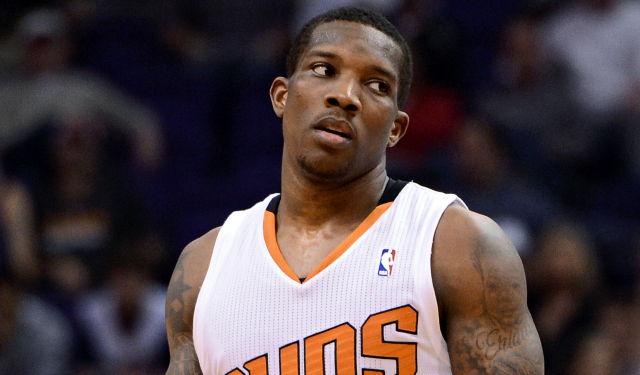 Restricted free agents Greg Monroe and Eric Bledsoe haven't been able to agree on new contracts with the Detroit Pistons and Phoenix Suns, respectively, and there have been reports that both of them have been dangled in trades. An anonymous NBA general manager told The Sporting News' Sean Deveney that getting anything done on that front is a longshot:
"I think any one of us would be wary of getting involved in a trade for either player," the GM said. "Their teams overvalue them in terms of making trades, they don't want to give them away for nothing. There's no reason to give up significant assets for players who probably will be available next summer. That doesn't mean a deal can't get done, but it is complicated."
Complicated is a good word here. These are two young, talented players who have proven to be productive. They are not necessarily franchise players, but neither is Gordon Hayward, and the swingman managed to get a $63 million offer sheet from the Charlotte Hornets, which the Utah Jazz chose to match. Both believe they're worth more than what they've been offered, and their teams don't have much incentive to give it to them. As the anonymous GM said, it'd be tricky to work trades out that would satisfy all parties. 
Let's say you're the Milwaukee Bucks, who reportedly considered giving Bledsoe an offer sheet earlier in free agency. You could try offering Phoenix a package including Larry Sanders in a sign-and-trade that would get Bledsoe closer to the maximum salary he wanted. Why do that, though, if you could potentially sign him next summer without giving up anything? The only way something like this happens is if Bledsoe is OK with it now, and Milwaukee doesn't think he will be next summer.
The Suns and Pistons want real value in return if they're going to explore trades, and teams are going to be reticient to offer that. If the situation was simple for either player, it would have been resolved by now.
Based on Gentry's tongue-in-cheek price, Boston is highly unlikely to acquire the big man

Larry Hartstein is 22-11 in ATS picks for or against the Timberwolves and has a play for T...

First they were fragile, now they're dealing with 'rotation' challenges
You could say the Brazilian big man marches to the beat of his own drum

Rivers says Ariza called him to hash everything out following the heated skirmish between both...

Larry Hartstein has his finger on the pulse of Philly basketball and locked in his pick