Anonymous NBA general manager admits plan to tank
An NBA general manager admitted that he and the team's owner has planned on the team intended to tank this season.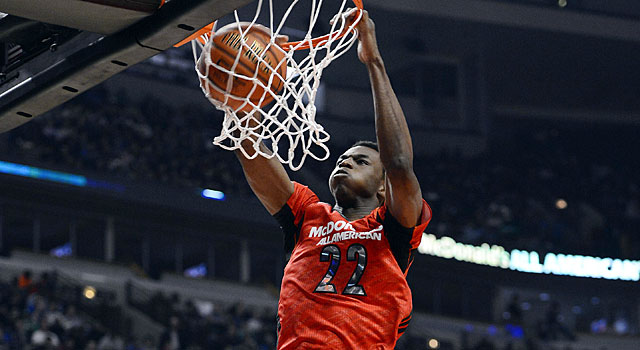 When the NBA season tips off Tuesday, everybody will be tied for first place. Everyone's in contention, at least artificially so. 
But things will change very quickly for a number of teams as they slip further and further away from first and it becomes obvious they're playing more for ping-pong balls than anything else. 
Tanking is a major issue in professional basketball and with such a strong draft class likely to be available next summer, it's only going to increase. 
In an anonymous piece for ESPN the Magazine, one general manager admitted that he and his owner had discussed a plan to tank this season, all for the greater good. 
Our team isn't good enough to win and we know it. So this season we want to develop and evaluate our young players, let them learn from their mistakes -- and get us in position to grab a great player. The best way for us to do that is to lose a lot of games. This draft is loaded. There are potential All-Stars at the top, maybe even franchise changers. Sometimes my job is to understand the value of losing.

[...]

We're not alone. Look at the 76ers. Since the draft in June, I don't think they've signed a player or made a trade to add a legitimate player. A bunch of us realize that our teams aren't good enough talentwise to do anything. You're going to be bad. There's no way around it. And even if you finish 0-82, there's still a 75 percent chance you don't get the No. 1 pick. We're just going to take our lumps and hope our number gets called.
The big question obviously is, who's the GM? The suspects this season to stink are the 76ers, Suns, Bobcats, Kings, Jazz and Magic. Could be one of them. Or it could be someone else that's approaching this season with a rebuild in mind like the Bucks, Raptors, or Lakers (just kidding).
The 76ers were named in the piece, so one would assume it's not them. But who knows, maybe that's misdirection. Whatever the case is, the important part here is the acknowledgement of pulling back in the win-loss column with an eye towards the future. The GM says he talked it over with ownership and the coach is in on it too. The idea is to "develop" young players, but really, it's to lose. 
It's not a secret. It's a method to rebuilding. And really, what's so wrong with it?
Oladipo may be getting most of the shine, but this second-year big man has been phenomenal...

SportsLine's Mike McClure, a DFS pro with more than $1M in winnings, gives optimal lineup...

The Lakers were just 2-14 from the stripe
The Cavs are reportedly looking to acquire numerous players -- even Teen Wolf?

SportsLine simulated Saturday's Rockets-Warriors game 10,000 times

Two underperforming squads will square off on Saturday afternoon