Another setback for Rose, and maybe, another long comeback
How long Derrick Rose is out depends on the approach surgeons take in addressing the torn meniscus in his right knee. Either way, it's another 'awful' setback for the former MVP.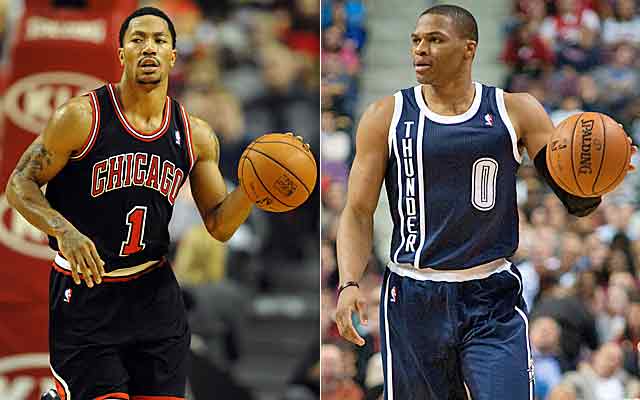 The news could've been worse, which is something we always say when terrible things happen to other people. The news Saturday was that Derrick Rose, who missed more than 500 days of competitive basketball because of a knee injury, will miss more time with another one.
It was a different injury to the other knee -- a torn meniscus in his right knee this time after Rose missed the entire 2012-13 season while recovering from a torn ACL in his left. Left, right, meniscus, ligament -- it didn't matter. This was another terrible blow for one of the NBA's purest, most dedicated superstars.
"Awful," was the only word one person close to Rose could muster in a text-message exchange late Saturday.
And I couldn't agree more. After all that Rose endured to get his body and game back in MVP form, this was a terrible setback.
The most important question here is which direction Rose decides to go with the arthroscopic surgery that will address the tear to his medial meniscus -- the shock absorber that encircles the knee joint on the interior side of the knee. A repair of the meniscus is ideal from a long-term standpoint, since the cushion will remain intact to prevent bone-on-bone contact, but requires a longer recovery -- approximately six months, which would jeopardize the rest of Rose's season. Depending on how badly the meniscus is damaged, and how much of it is damaged, repair may not be possible.
Removal of the meniscus makes for a quicker recovery -- as short as a few days, as in the case of Metta World Peace last season -- but is not the ideal long-term solution. This is especially true for a 25-year-old professional athlete who makes a living with his legs. The Bulls, their medical staff, Rose, and his representatives were still exploring all the options Saturday night and trying to determine the correct course of action, league sources told CBSSports.com.
When Russell Westbrook of the Thunder suffered a torn lateral meniscus (on the outside of the knee) during last season's playoffs, the Thunder, Westbrook and his representatives decided to go with the long-term solution of repairing it. Westbrook missed six months. He required a cleanup procedure on Oct. 1 to deal with swelling from a loose stitch, but returned weeks earlier than projected.
Given the grueling rehab he went through on his left knee and his deliberate approach to returning to the court, it is difficult to imagine Rose going for a quick fix this time. One thing the Bulls can -- and probably will -- do differently is specify a timeline for his recovery once it is decided whether to repair or remove the meniscus. The last thing Rose and the Bulls need now is another months-long soap opera over when he is coming back.
Rose's return this season was widely chronicled as the important event that it was, including by yours truly here and here. There are never any guarantees, and a comment from ACL survivor Jamal Crawford is haunting when you read it now: "The leg that you had surgery on is probably stronger than the leg that you didn't have surgery on."
Rose's right knee buckled on Friday night when he planted while in defensive pursuit in a 98-95 loss in Portland. As a footnote, this was Rose's first game at the Rose Garden since February 2011 -- due, in part, to the lockout-shortened 2011-12 season but also to his long absence while coming back from the left ACL tear he suffered in the first game of the 2012 playoffs against Philadelphia.
So with all that passes for news in today's NBA -- who's mad at whom, who wants to team up with whom, who wants to be traded, who's getting hired and fired, you can stab me with a fork any time -- this news on Derrick Rose cuts right to the heart of what athletic competition is about. Rose is not flashy, draws no attention to himself, asks for no sympathy and does not seek the spotlight. He just works seriously at his craft, tries to be a good teammate, plays the game with maximal effort all the time and is a joy to watch.
Once again, we'll be robbed of that joy as Rose deals with another knee injury, and the potential for another long recovery. But let's not forget that our own diminished enjoyment is nothing compared to what he's going through right now.
I'm not sure whether it's appropriate to wish Rose a speedy recovery, since in this case, fast may not necessarily mean best. However long it takes, though, I wish him a successful one.
George suffered a similar injury in 2014, and immediately offered Hayward encouragement

A certified athletic trainer says Hayward is 'hard-pressed to get back this season'

The two have been trained together in the past and still keep in regular contact
Anthony opened up about finally leaving New York after years of rumors

Jonah Keri talks to with Ringer author, and Grantland alum Shea Serrano

Green left the Warriors' opening night game vs. Houston with what the team is calling a knee...