Another Tony Allen performance with a lot of good and a little bad
Tony Allen, a career role player, has emerged as a difference-maker for the Grizzlies franchise in general and especially in this series with Oklahoma City. He does some silly things, sure. But the good again outweighed the bad in Thursday's win over the Thunder.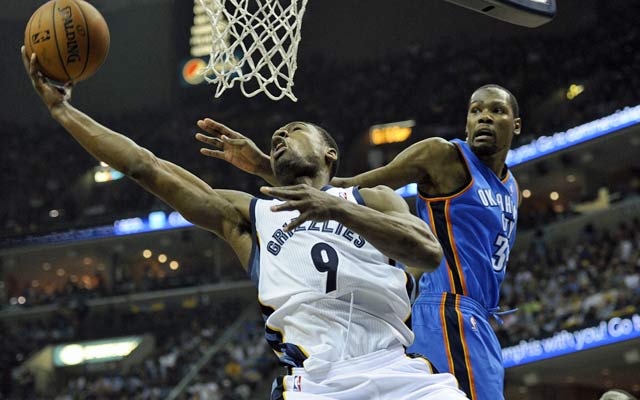 More postseason coverage: Playoff schedule, results | Latest news, notes
MEMPHIS, Tenn. -- There is a guy named Brian who is a team attendant for the Grizzlies, but all of the players call him Dirk. I assumed I knew why. But I still asked why.
"Because he looks like Dirk," said Ross Wooden, the basketball communications coordinator with the Memphis franchise, and, in fairness to me, that's pretty much what I figured because Brian does look like a 5-foot-10 younger version of Mavericks star Dirk Nowitzki.
Anyway ...
So "Dirk" was standing in the locker room late Thursday here at FedExForum, doing what he does, and Tony Allen was heading to the showers after a 98-95 overtime win against the Thunder that produced a 2-1 advantage in this best-of-7 series. But before entering the showers, Allen turned around and looked at "Dirk."
"Dirk!" Allen said. "I'm doing podium. Can you clean me up?"
Naturally, Dirk nodded of course.
Roughly 15 minutes later, Allen was on the podium, all cleaned up and on national television, discussing the good and the bad (but mostly the good) that makes him a beloved figure in this city and unconventional difference-maker, one way or another, in a series that could, at least in theory, end the soon-to-be Most Valuable Player's season in five more days.
"I just play hard and compete," Allen said. "It's a competition. So I just want to keep competing and do whatever I can to help my team win."
****
Tony Allen has never been an All-Star or as much as received a vote for an All-Star Game, and he barely earned in his first nine years combined the amount of money Kevin Durant has made in this season alone (and I'm not even including what the OKC star gets from Nike, Gatorade and Sprint). They are, Durant and Allen, on opposite ends of the spectrum. And yet they've somehow become the most intriguing matchup of these playoffs because Allen has spent the past two games making Durant look more human than he normally looks.
Yes, KD still got 30 points in Game 3.
(He'll probably never not get 30 in this series.)
But Durant is now 22 of 55 (40.0 percent) from the field and 5 of 20 (25.0 percent) from 3-point range in the past two games after shooting 50.3 percent from the field and 39.1 percent from 3-point range in the regular season, and a lot of that has to do with Allen's defensive approach that is both disruptive and frustrating. Combine those numbers with an underachieving bench and Russell Westbrook's erratic and questionable play (not to mention Westbrook's brother taking shots at OKC coach Scott Brooks on Twitter), and it's clear the Thunder are in trouble, and the odd thing is that the guy mostly responsible for putting them in this trouble is the same guy who almost let them out of the trouble in Game 3.
"It was a boneheaded play," Allen said with a smile afterward, and how else to describe a foul on a Westbrook 3-pointer in the final 30 seconds of regulation that produced a 4-point play and allowed Oklahoma City to tie the score 85-85 and eventually force overtime?
Boneheaded.
Reckless.
Ridiculous.
Any of those words will work. Also this one: Predictable.
It's impossible, obviously, to predict 4-point plays; so don't get the wrong idea. But Allen making brilliant plays on one end and ridiculous plays on the other to both win and possibly lose games is, at this point, fairly predictable, and the beautiful thing is that it's generally just accepted in this city as part of the deal, and fans aren't even really bothered by it anymore. I mean, Allen nearly cost the Grizzlies a win in the postseason because of a foul on a 3-point shooter (who happens to be a terrible 3-point shooter, at least lately) in the final 30 seconds of a game in which Memphis led by four points, and that's exactly the type of thing that would get another player murdered by the home fans. But not TA. Instead, folks merely shake their heads, grin at each other and trust that he'll somehow make up for it soon, and the wild thing is that he almost always does.
Simply put, the good outweighs the bad.
For every nonsensical foul there's an incredible steal.
For every ill-advised jumper there's a backdoor cut for a layup.
For every coach who commits to ride the roller coaster there are rewards.  
"People are gonna see the highlight of Westbrook hitting the three and getting fouled, but 99 percent of the things [Allen] did on the floor tonight were spectacular," said Grizzlies coach Dave Joerger. "That's the guy that we all love."
In that regard, Joerger speaks for an entire fanbase.
Make no mistake, that's the guy who irresponsibly fouled Westbrook at the end of regulation, then inexplicably tripped him at the end of OT. But that's also the guy who dictates the spirit of the roster and culture of the team, and the latter undeniably cancels out the former. So, no, Tony Allen wasn't made for the podium like Durant was made for the podium, and no reasonable person would suggest otherwise. But after registering 16 points, nine rebounds, three assists and two steals, and then hollering at a team attendant nicknamed after the kind of star he'll never be, TA sure did look like he belonged on that podium -- talking about some good things, some bad things, and the great thing about being just two wins away from again advancing in the Western Conference Playoffs.
The investigation detailed a corrosive workplace environment

Also, when -- or rather, will -- the Warriors flip the switch?

The versatile forward has one glaring weakness, but Toronto can see it turning into a stre...
The investigation detailed a hostile workplace environment

Cousins suffered a torn Achilles tendon on Jan. 26, and will miss the rest of the season

Ingram has become one of the team's go-to players with Lonzo Ball sidelined with an injury