Antawn Jamison: Michael Jordan can still score double figures
Los Angeles Lakers forward Antawn Jamison says Michael Jordan could still score in double figures if he was to play in the NBA today -- at the age of 50.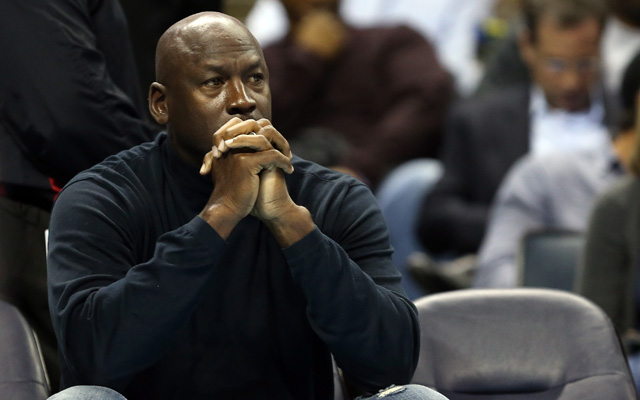 Could this soon-to-be 50-year-old score in double figures?
(Getty Images)
Do you remember Michael Jordan? If the name doesn't ring a bell, look down and see if you're wearing his shoes. See the little Jumpman on your kicks? Yeah, it's this guy in the photo.
He used to play in the NBA and he was pretty good. Some would even call him the greatest player to ever play the game. Jordan terrorized the NBA for 15 seasons (yes, even the last two) with his unmatched competitive intensity, his quickness, strength, and incredible athleticism that allowed him to defy gravity and help turn the game into an aerial assault.
Like Jordan, Los Angeles Lakers forward Antawn Jamison played at North Carolina and believes the man who will turn 50 years old on Sunday can still put up points in the NBA. Via ESPN LA:
"I wouldn't doubt that in the right situation with a LeBron (James) on his team or with a Kobe (Bryant) on this team, he could get you about 10 or 11 points, come in and play 15-20 minutes," said Antawn Jamison before the Lakers played the Bobcats on Friday. "I wouldn't doubt that at all, especially if he was in shape and injuries were prevented and things of that nature."

"He wasn't joking," said Jamison of Jordan's declaration at the HOF ceremony. "You hear stories still to this day, especially last year, him going to the practice facility and playing 1-on-1 with the guys and still they can't stop him."
Jordan is the greatest scorer of all time. He has the top points per game average (30.12) of anybody who has ever played in the NBA. Wilt Chamberlain is second at 30.07 points per game. But could MJ still score 10 points per game in today's NBA?
When Jordan returned to the NBA with the Washington Wizards from 2001-03, he averaged 21.2 points over the course of those two seasons. At the time, he was 38 and 39 years old, respectively. Fast forward a decade and it seems impossible to believe any 50-year-old could actually score effectively in the NBA.
Although if you're running isolation plays out of the post (where he still dominates Bobcats players after select practices), then maybe he could make two or three shots in those 15-20 minutes and get to the free throw line roughly five or six times each game to get those 10 points. Now whether or not he can still play defense or run up and down the court is an entirely different matter.
I doubt anybody is expecting Jordan to give up his ownership of the Bobcats just so he can prove he's capable of lacing up his own sneakers at the age of 50, like he once threatened during his Hall of Fame retirement speech in 2009. But if he did, the Internet would probably light itself on fire.
I don't think we can handle that kind of story.
As a point of reference, Nat Hickey at two days shy of his 46th birthday was the oldest player to get on the court. Hickey played for the Providence Steamrollers on Jan. 28, 1948. He actually was the Steamrollers' coach and put himself in a game where he promptly committed five fouls and missed all of his shots from the field.
CBS Sports HQ Daily Newsletter
Get the best highlights and stories - yeah, just the good stuff handpicked by our team to start your day.
Please check the opt-in box to acknowledge that you would like to subscribe.
Thanks for signing up!
Keep an eye on your inbox for the latest sports news.
Sorry!
There was an error processing your subscription.
The Clippers will have cap space for two max contracts next summer

Butler reportedly thought about playing for the Lakers before LeBron signed with them this...

Minnesota, once a team surrounded with much hype and potential, appears to face tough times...
It's a two-year plan that looks about as obvious as Butler wanting out of Minnesota in the...

Cuban will donate to organizations committed to promoting women in leadership and combating...

The four-time All-Star reportedly wants out out Minnesota, so here's what could happen nex...