Antawn Jamison to have surgery, won't return to the Lakers
Antawn Jamison is having surgery on his wrist and is done in Los Angeles.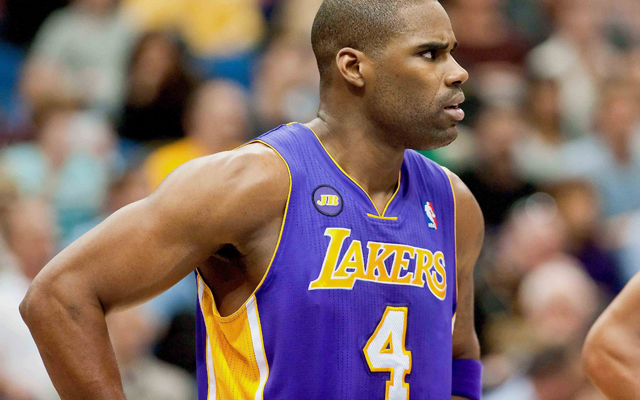 Like almost all of the Lakers, Antawn Jamison did not have a great season. He was also injured. Jamison sustained a wrist injury in March, bad enough to cause ligament damage. But he played through it because if he hadn't, the Lakers were going to wind up starting guys like Andrew Goudelock. Wait, they did. 
Anyway, Jamison's getting surgery, and after that, Los Angeles is in his rearview. From the L.A. Times: 
Lakers forward Antawn Jamison is set to undergo wrist surgery at 7 a.m. Tuesday.

The Lakers veteran forward sustained an injury on March 22 in a loss to the Washington Wizards. An MRI revealed ligament damage, but Jamison played through the discomfort to help the team finish the season. Injuries hindered the Lakers all year -- especially in the playoffs as they were swept by the San Antonio Spurs, with Kobe Bryant, Steve Nash, Steve Blake, Jodie Meeks and Metta World Peace all missing time.

Despite the Lakers' efforts to contact him, Jamison skipped his exit interview with the team on Monday, according to a team spokesman.

After coming to the Lakers on a one-year, veterans minimum contract $1.35 million, Jamison is not expected back.
via Lakers Antawn Jamison to undergo wrist surgery Tuesday morning -- latimes.com.
Not surprising that Jamison's done in Los Angeles, considering how poorly he played, the need for them to bring in other players and him skipping exit interviews. The question is whether this is the end for Jamison's career or if he'll try once again to find a spot on a team to ring chase with. 
Should Mike Miller retire after this season, it's not inconceivable that the Heat would consider him, and there are always contender teams looking for a guy on the bench like him. 
But, and this is not grounded in reality at all, Jamison was a member of the Wizards team that imploded with Gilbert Arenas' gun charge, then was traded to Cleveland, where he was witness to the fall of the LeBron empire with the Cavs. Then he was on the team that lost 26-plus games in a row the following year, and now the Lakers' epic disaster of a season. 
Guy needs some mystical healing to get rid of that spiritual monkey on his back. 
The NBA broke its silence with a statement related to the Lakers-Paul George tampering cha...

The Clippers big man thinks LeBron will reunite with the banana boat crew at some point

Have the Clippers reportedly found their next GM?
The NBA stayed to the point in their response to the Greek basketball federation

The Pacers believe the Lakers tampered with Paul George before they traded him

Among the questionable decisions by Jackson was signing Noah to a long-term, lucrative dea...