Anthony Davis, Kyle Lowry lead All-Star snubs
With only 12 available roster spots on both sides, it's an exclusive team to make. Which means there will be more than a couple players that feel like they had a good case and were overlooked. Here are the top three for each conference.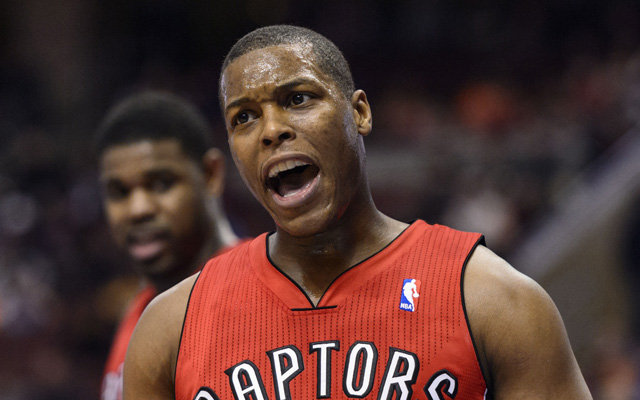 The Eastern and Western All-Star teams are set. Sort of. (With a couple players likely out due to injury, the commissioner will have to make a few selections.)
With only 12 available roster spots on both sides, it's an exclusive team to make. And quite difficult too. Which means there will be more than a couple players that feel like they had a good case and were overlooked. Here are the top three for each conference:
EAST
The Atlantic Division leaders had to have an All-Star this season, because the team itself earned it. But the question is: Was the right one selected from the Raptors? DeMar DeRozan is a worthy candidate and has had some explosive scoring games.
But Lowry has a strong case as being the best point guard in the Eastern Conference. Lowry's averaging 16.8 points, 7.6 assists and 4.3 rebounds with a stout PER of 20.43. As the Raptors have made their recent push, he's upped those numbers to 18.6 points, 8.3 assists and 4.8 rebounds. 
Plus, when you consider the kind of bulldog defense he plays on a nightly basis, and the fact he's the clear heart and soul of the 24-21 Raptors, he had a strong case. And probably is the biggest snub of all.
It's pretty obvious what hurt Afflalo's case. He plays for the Magic. 
Because the numbers are undeniable. In 43 games, he's averaging 20.0 points on 47 percent shooting with 4.3 rebounds and 3.7 assists. He's got a 43-point game to his name this year and consistently faces the focus of defenders as he's Orlando's top scoring option every night. 
He's a quality defender and a very good perimeter shooter (42.0 percent from 3), but again, he plays for a team that's 12-35. Hard to make a great case with that.
The league leader in triple-doubles, and a critical part of the league's best record, had a strong case to be made. His numbers don't especially pop -- 14.2 points, 5.3 assists, 7.1 rebounds -- but there's no denying his impact to the Pacers. 
Plus, he even had a spiffy All-Star video. 
But if Stephenson would've made it, that's three Pacers on the roster and while that team is good, I'm not sure it's three-players-on-the-All-Star-team good. Yeah, yeah, the Heat have three. But Stephenson doesn't have the starpower of a Wade or Bosh, despite his solid season.
WEST
The numbers are absurd -- 20.4 points, 10.4 rebounds, 3.3 blocks and 26.81 PER -- but he's missed a handful of games and the Pelicans aren't all that good. 
But come on. Davis' has clearly made an incredible leap this season and is the only player in the league averaging 20-10-3. If he can sustain it, it'll only be the 34th time in NBA history someone has posted those numbers, joining the likes of David Robinson, Shaquille O'Neal, Kareem Abdul-Jabbar, Hakeem Olajuwon and Alonzo Mourning. Not bad. 
It's without question that Davis should've been an All-Star. Who do you want to leave off? I don't care. Make it Chris Paul, make it Dwight Howard, make it Dirk Nowitzki, make it Tony Parker. Davis is having a better season than all of them. 
There's a common theme with most of these snubs -- their teams stink. Cousins plays for the 15-30 Kings, who currently have the worst record in the West. Plus, he's been a headache throughout his career, dusting up with coaches, officials and management. 
But forget all that. He's played wonderfully. A nightly 20-10 double-double guy, Cousins is having the best season of his career and showing signs all over that he could be a franchise guy. He's averaging 22.6 points and 11.6 rebounds and while that hasn't translated into a bunch of wins for the Kings, it has illustratd that he's turning a positive corner. 
Serge Ibaka/Russell Westbrook, Thunder
Here's the case: The Thunder have the best record in the West by 3.5 games currently. And they only have one All-Star. The Clippers have two. The Pacers have two. The Trail Blazers have two. The Heat have three. 
Making the case for Ibaka is a bit tougher as his numbers aren't overly impressive -- 14.7 points, 8.8 rebounds and 2.5 blocks -- but when you compare him to Roy Hibbert, who made the team mostly because he's the defensive anchor for the Pacers, why not? Hibbert's averaging 11.8 points, 7.8 rebounds and 2.5 blocks. Obviously they're in opposite conferences, but if the reasoning was there for Hibbert, why not for Ibaka? 
Then there's Westbrook. Yes, he's missed 22 games, but comparing him to Chris Paul, who has missed 14, Westbrook's got a strong case to still be named to the team. Obviously Westbrook might not have even been able to play in the game because he's still not back from injury, but the Thunder should've had more than one All-Star. Heck, put Derek Fisher or Hasheem Thabeet on the team for all I care. The best record in the West deserves more than one.
Kevin Durant was once again back in Oklahoma City

Gregg Popovich has never seen an injury lead to the issues that Kawhi Leonard has been fac...

Kobe Bryant, of course, had his 81-point game against Rose and the Raptors back in 2006
Keep it right here for all your Wednesday NBA scores, updates and highlights

A season-ending injury kept the Celtics guard's time at Duke very brief before he jumped to...

Here's a look at what has brought fans the most joy so far this season