Are Heat on cruise control or hurtling toward disappointment?
The Heat can't rely on Dwyane Wade and can't depend on their defense, either. With the Spurs and Thunder coming to town, it's time to find out if the defending champs are bored, coasting or simply flawed.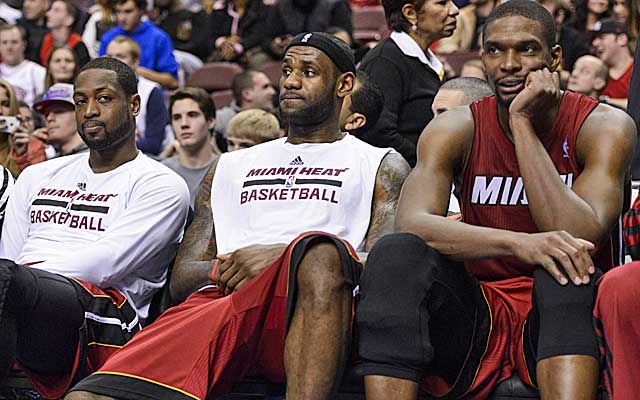 More NBA: James headlines Team USA roster | Harper: Contenders and pretenders
MIAMI -- We've reached the inevitable point in the NBA season when it's time to ask, "What's wrong with the Heat ?" Such is the burden of the two-time defending champion. Such is the life of the best player on the planet, LeBron James, who is currently being eaten alive in the MVP race by Kevin Durant.
James is not one to panic, yet there was a serious tone in his voice Tuesday night when the Heat -- or what passes for the Heat without Dwyane Wade -- survived for a modest yet much-needed victory against the scattershot, rebuilding Boston Celtics. 
With Wade resting his troublesome knees and Rajon Rondo on his way to a one-point, 0-for-8 performance in which he missed everything except one free throw, the defending champs found themselves in a tie game with four minutes left at home. These, mind you, were not the Celtics of Rondo, Kevin Garnett, Paul Pierce and Doc Rivers. These were the Celtics of Jared Sullinger, Kris Humphries, Phil Pressey and Chris Johnson.
Had Rondo emerged from a stint on the bench with 4:01 left, say, 30 games into his comeback from ACL surgery instead of three, the Heat might've been in danger of sinking into full-on crisis mode before the All-Star break even arrived. A fifth loss in seven games would've had a bored basketball media on full alert with the Lakers, Spurs and Thunder coming to town.
James wasn't necessarily on full alert after the Heat salvaged a 93-86 victory over the punchless Celtics, but he was certainly realistic about where the champs stand at the midway point of the season.
"That's the only way we're going to be able to win games, if we defend," James said. "... When we defend, we're a very good team. When we don't, we're not that good."
Not that good. That's not panic; it's reality. And in the context of defending the paint and running jump-shooters off their sweet spots, James is right on the money. The Heat are 25-1 when they hold the opponent below 100 points; 5-11 when they do not.
They also are 6-6 in the 12 games Wade has missed -- 11 to rest his weary knees and one due to illness. So with 40 games to go, are the Heat bored, coasting, or simply flawed?
As with any nagging illness, this one could be nipped in the bud or it could fester and become something worse. 
The Heat are 20th in the league in opponent field-goal percentage (.459) after being tied for fifth last season (.440). They're allowing nearly two points per 100 possessions more this season (102.1) than last season (100.5). They weren't a good rebounding team last season (grabbing 49 percent of available rebounds), but they're worse this season (47 percent). 
All (or most) of this speaks to an Achilles heel that will haunt the Heat when they inevitably face the Pacers in the playoffs for the third straight year. With no rim protector, Miami has no answer for Roy Hibbert -- and no room for error in its defensive rotations.
"If we're late in our rotations, because we're small, we pay for it," defensive mastermind Shane Battier said -- touching on a topic that it doesn't take a Duke degree to grasp. "So we have to be sharp in our rotations. We have to be sharp in our assignments, like every other team in the league. But since we don't have the eraser in the paint to make up for some of our errors, we really have to be on point with our defense."
Even in a glamour market like Miami, the NBA's new financial landscape does not leave room for such luxuries when your top three players' salaries push right up to the cap all by themselves. So the Heat's latest attempt to find affordable gold in the form of a defensive big man is Greg Oden, who is courageously trying to make himself a serviceable NBA player again on a one-year minimum deal that affords no risk and the iffy prospects of reward.
The 2007 No. 1 pick has appeared in three games spanning a total of 19 minutes as he tries to make it back from a litany of catastrophic knee injuries. He looked instinctive if rusty, serviceable if unreliable in his home debut Tuesday night against Boston. The hope is that, come April and May, Oden's body will be able to at least take up space in the paint and offer some resistance so the Heat don't have to ride their risky small-ball approach all the way to a third straight championship and fourth straight trip to the Finals in the Big Three era.
"It's been great, first of all, to be able to see him come out and play," James said. "... Every minute, every possession is just going to help him. It's going to help his confidence, and it's great seeing him out there. I'm so excited for him and hopefully he can continue the progress."
It's worked with Chris "Birdman" Andersen, and the early returns are positive for Michael Beasley. James and the Heat love reclamation projects, and Oden is the most ambitious one yet.
"It takes a strong person to be able top stay positive throughout what he's been through and to be able to get back in an NBA uniform and give what he's got," James said.
If it doesn't work? Another reclamation project is out there, ready to be reclaimed: Andrew Bynum. For now, the Heat have invested enough time and patience in Oden to see it through. They may not have time to try to save someone else. But while the rest of the East isn't challenging the Heat -- the lack of competition is boring them, it seems -- the Pacers stand alone as the biggest threat to Miami's dynasty since the Celtics broke up. By the time the Heat engage the Pacers when it counts, in the postseason, they will need to have moved beyond hope and hyperbole and onto a solution to their defensive inconsistencies.
Wade presumably will be rested and ready to give it a go as Miami continues its homestand with the Lakers on Thursday night, followed by the Spurs on Sunday and the Thunder on Wednesday. Miami's defense? We shall see.
"It's a good test for us," James said. "... We're looking forward to seeing it. We're looking forward to playing against these three teams."
And the bored basketball public is looking forward to pushing the panic button if the Heat aren't up to the challenge.
Fredette's shoe is with the Chinese brand 361

There's been some weird things happening with Durant's social media accounts

Minnesota's first practice is set for this weekend
Dragic and Doncic lead Slovenia to their first EuroBasket title on Sunday

Curry was in London for the big Chelsea-Arsenal match on Sunday

The league also appears to be moving in a more technology-driven approach