Are the 76ers taking tanking too far?
After a year of awfulness, the Sixers are doing it again. Are they asking too much of a fanbase and risking setting themselves too far behind?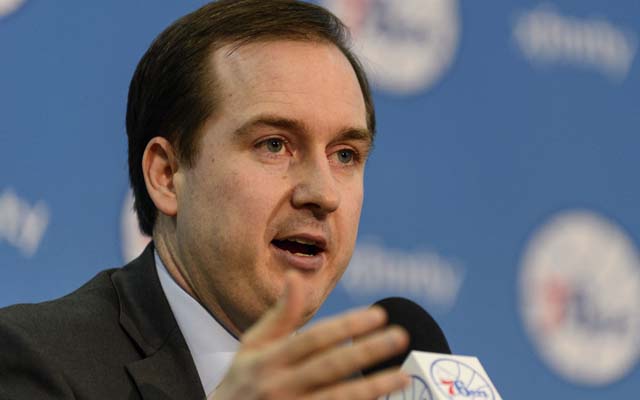 Offseason: Free Agency | Latest from Ken Berger | Rumors
It's rare that a front office is criticized for being too patient. Usually it's the opposite. New owners with big dreams in their eyes go full force, swinging for the fences with no regard for pitch count or score. (Say hi, Vivek Ranadive and Tom Gores!) The patient teams are the heroes, the ones with vision, with strategy, with consideration.
Yes, fans are short-sighted and typically don't care how the sausage gets made. They just want the wins. Any sort of shot-term damage caused by a true rebuild will be made up for when
But here we are with the Philadelphia 76ers, and the question of exactly how much one fanbase can take.
Most Sixers fans are hanging in there even after last year and what was a bad team that got worse as the year went on. In many ways, Sixers fans bathed in the awfulness because for a franchise that spent the greater part of a decade in NBA purgatory. After the Allen Iverson era, the Sixers were always "not terrible, not good." Several regimes furthered this mindset, and the Sixers just drifted along, with several good players no great ones.
Then, the Andrew Bynum situation happened, and that was the end of it. New ownership brought in Sam Hinkie and he cleaned house. He put together one of the worst teams in the league, so bad that it was apparent he was trying to get the No. 1 pick. But best plaid plans went awry and the Sixers finished with just enough wins to drop them to third. When Joel Embiid's injury happened and he dropped, so did the Sixers' chances of landing their target, Andrew Wiggins.
So the Sixers were faced with a tougher decision: Draft someone like Dante Exum, Aaron Gordon, Noah Vonleh, or Marcus Smart who would make them better now, or go with Joel Embiid. Embiid served two purposes. One, he very well could still wind up being the best player in this draft as he was projected to be before his medical red flags. If he rehabs and never has any problems, if the Sixers develop him much the same way they did Nerlens Noel physically and from a skills standpoint (they totally rebuilt Noel's shot in his year off), if he winds up as just even a good rotation player, they still drafted well. From where we stand, today (and more on that precarious position later), Embiid could simply have been the right choice.
There's also the second purpose: drafting someone who's not going to play for what could be an entire season means they're a lock to still be bad. Even if Michael Carter-Williams improves and Nerlens Noel is the player he looked like in Summer League, they're going to be pretty bad. Adding another good, not great player risks their ability to land "the guy." If Aaron Gordon was a productive rebounder and defender, if Dante Exum was good enough to force them to trade MCW (which they'd been rumored to be considering for months), netting them a good return, if Noah Vonleh complimented Noel in an inside-out game with two extremely long defenders, or if Julius Randle beasted with Noel there to help with weak-side rotations, the Sixers might have wound up with say, 28 wins.
And that means they might miss out again next year. The Sixers want "the guy." And neither Noel nor Williams have shown themselves to be that. So they drafted the guy who could be that guy, and if he's not, he allows them the opportunity to try again next season.
To be clear, this is not some sort of wrist slap against tanking. I love tanking. It take foresight, boldness, and a clear path. It's a decision. I'll take a team deciding to tank a million times over some desperate, sad effort to make the 8th seed and get wiped off the map. The Sixers' masterminding an effort to create two top-ten picks last season? Brilliant. 
But not only did they essentially punt with the No. 3 overall pick, they did the same with the No. 10, Dario Saric. Saric is signed to play overseas for the next two seasons. With two top-ten picks in what is considered the deepest and best draft at least since 2010, the Sixers basically looked at the options and said "pass."
Here's where the prisoner of the moment issue comes in. In five years, their starting core could be a Rondo-like MCW, a shooter of unknown identity, Saric, Embiid, and Noel. Throw in the fact that they may or may not have agreed to a trade for Anthony Bennett who showed great growth over the past six months and you've got a pretty freaking good young core. It's just that so many of those entities are unknown, and if you stick in Exum, Gordon, Vonleh, Randle, or Smart, that team might look better still, and if you throw in McDermott, James Young, Gary Harris or any number of other options at No. 10, perhaps better given that they'll develop in the Sixers' system faster. 
Even if you look at the talent and give the edge to the guys the Sixers drafted, at least you know there's a significantly higher chance the other guys will actually play this season. Actually suiting up has to count for something, right? Like getting points for filling in your name on the test sheet?
However, there's no way to know that, right? We just don't know. So what's the point here?
The point is that after telling Sixers fans to be patient and sit through one of the most painful rebuilding seasons you're going to find, after promising a young core that was going to be exciting, the Sixers are now asking their fans... to do it again.
Fans dealing with a team being bad for multiple seasons isn't rare... ask the Kings or Bobcats (Hornets!) fans. But typically the route from a rebuild is:
1. "Be horrible one year while players are hurt/you're finishing out a regime." That would be the 2012-2013 season for Philly.
2. "Draft young, start to rebuild, finding the coaches and staff you want." That's last year.
3. "Build around your superstar and start moving forward with a flexible, young, athletic roster." That would be this year.
Instead, the Sixers aren't just spinning their wheels... they might honestly be worse. Bear in mind that the Sixers' win total was inflated last year in the first half of the season due to the play of veterans like Thaddeus Young, Spencer Hawes, and Evan Turner. Those last two players you might scoff at, but the reality is that veterans win more games than young teams do in this league. Look what happened after those guys were traded. Nerlens Noel can be a stud and still too young to make an impact. See: Drummond, Andre in Detroit.
Is it fair to put that kind of burden on Sixers fans? Worse yet, what happens if this gamble goes wrong? The projected No.1 overall pick next year is Jahlil Okafor... a center. And if Embiid and Saric don't work out, then the Sixers will have basically turned off the lights on a franchise only to wind up with a low-wattage bulb.
Isn't there a middle ground? Isn't there somewhere between rushing towards a mediocre present and building for a future that may never come like you're stockpiling big men for a basketball armageddon? 
But then, bad things that end seasons before they begin happen to every team eventually.  Best laid plans go awry, that's what happens. It just seems like at some point, Philadelphia has to quit waiting for the mood to be right to start moving forward. Sometimes you just have to decide it's time to move. But for Sixers fans this year, all they can hope is that the wheels are pretty while they spin in place.
(Note: The Sixers will now magically make the eighth seed and I wil rue this column for a full year.)
CBS Sports HQ Daily Newsletter
Get the best highlights and stories - yeah, just the good stuff handpicked by our team to start your day.
Please check the opt-in box to acknowledge that you would like to subscribe.
Thanks for signing up!
Keep an eye on your inbox for the latest sports news.
Sorry!
There was an error processing your subscription.
The Red Hot Chili Peppers' frontman was seen yelling and flipping the bird on the floor after...

Carmelo Anthony was seen suspensions for fighting be a lot longer than two games

The Raptors, meanwhile, look like the best team in the Eastern Conference through one week
Young finished with 35 points on 13-of-23 shooting, and also added 11 assists

Ingram, Rondo and CP3 all earned multi-game suspensions for their role in the Saturday night...

The former MVP will not be under any minutes restriction