Are the Clippers in turmoil?
The 'L.A. Times' has some interesting information on the inner workings of the team which suggest it's not all sunshine and happiness inside the Clippers locker room.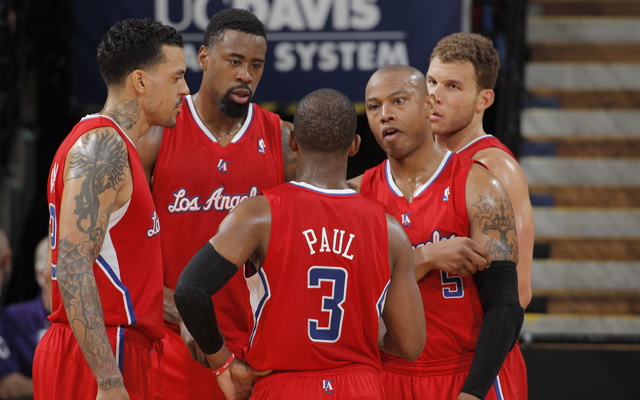 On the surface, what a season for the Los Angeles Clippers. Closing in on their first division title, 50 wins for the first time in franchise history and a team poised to contend for a championship, which if you'll recall the organization's history, sounds like a late April Fools' joke.
But is it not as it appears? Is Lob City more like Sob City (I'm sorry, that was terrible)? The L.A. Times has some interesting information on the inner workings of the team that suggests it's not all sunshine and happiness inside the Clippers locker room.
The feel-good Clippers are gone, with DeAndre Jordan and Blake Griffin's immaturity dragging the team down. Jordan wants nothing to do with Coach Vinny Del Negro because he blames Del Negro for burying him on the bench.

Yet Jordan's inability to play consistently or make free throws, thereby turning the ball over to the opposition much like a turnover, makes him a liability in close games. Jordan sees it differently, and he has for the last two seasons, maintaining he would be more productive if allowed to play more.
It's not just Jordan, though, according to the piece. It also singles out poster boy Blake Griffin for the appearance of an attitude problem.
The other night in Sacramento, Griffin and Jordan exchanged words on the bench. Griffin told Jordan he best never again stare him down as he did when Griffin failed to give Jordan a good pass for a dunk.

Everyone else was left to sit there while waiting for the kids to stop bickering. The pair have also grown tired of Chris Paul's voice, which is understandable at times.
Chemistry for an NBA team is an easy buzzword and often dismissed. But in basketball, liking the guy you're passing to is important. Or at least respecting him.
The article makes some pretty big jumps to conclusions and no anonymous sources are even quoted or used for background, but unless the reporting is actually more assumption than actual fact -- which it could be -- it does sound like the fun-loving Clippers have issues.
There are some very strong voices on that team with CP3, along with Grant Hill and Chauncey Billups. And sometimes, for young guys like Eric Bledsoe, Griffin and Jordan, hearing things from five different places gets old.
One of the Clippers' biggest apparent strengths is their depth, but along with that comes the expecation of playing time. And although Del Negro has done a solid job of managing minutes, when the playoffs arrive, rotations often get shorter. And how will the team respond to that? A plentiful bench is always a plus, but it has to be one with guys who are willing to sacrifice time and role.
Again, the information in the article isn't exactly cited, so who knows? Are the Clippers bickering? Maybe. But remember: Some of the best NBA teams ever didn't completely like each other. Chemistry is key, but a lack of it is always covered up by success. The Clippers are good, better than they've ever been. Which is something.
Tensions between refs and players have been high this season, so it was time for a sit-dow...

Irving is known for his controversial flat-Earth comments

George will be an unrestricted free agent in the summer
Durant said playing good basketball is more important than ending up with the best record

Follow along with all the news, notes and highlights from All-Star Saturday night

The 13 finalists will find out if they have been selected on March 31