Are the Pacers positioned to reign in the East?
With shrewd cap management and an influx of young, talented stars, the Pacers might be the team in the best position to rule the East after the Heat pass the torch.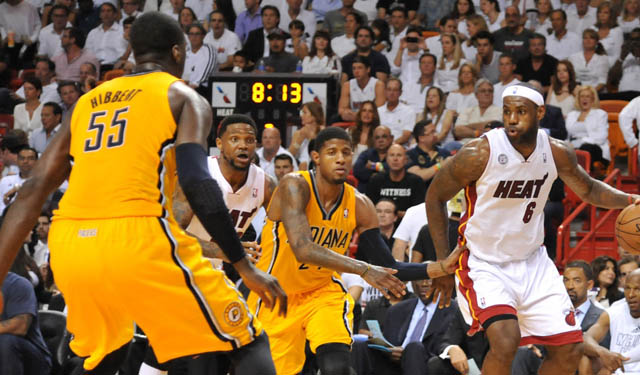 We all remember the moment. Game 2 of the Eastern Conference finals, Paul George throws down a vicious and-1 dunk, then LeBron James returns the favor with a 30-foot buzzer beater to end the third quarter. 
LeBron then walks over and gives George a little tap as kind of a "I see you" type of thing. A cool moment within a big important game, but also taken as the moment that LeBron welcomed George into the superstar club.
But with the Pacers going on to win Game 2, a lot of it behind George's heroics, that was also the night they, as a team, were welcomed into the contender club. Bouncing back from a soul-crushing Game 1 defeat, the Pacers took Game 2, fell flat in Game 3, took Game 4, couldn't stay with Miami in Game 5, got even in Game 6 and then just ran out of gas in Game 7 as the Heat advanced. But it was obvious: The Pacers were for real. They went from an up-and-coming team to a holy-crap-they-might-be-good-enough-right-now team. 
With George saying this week that it was a lock for him to sign an extension with the Pacers, it's opened the door for some investigation as to what this roster has to offer going forward. They have an elite big man on a max deal in Roy Hibbert, 26 years old and very clearly still improving. They have capable veterans in David West, Luis Scola and George Hill. They get Danny Granger back and have training camp and the preseason to figure out how he fits (or they could trade him). They have a wild-card talent in Lance Stephenson. 
And assuming it goes as planned, they'll have George for the long-term, a 23-year-old defensive stopper that can score, pass and shoot. George is coming off a postseason where he outplayed Carmelo Anthony, then went toe-to-toe with LeBron. He's earned that money, and his new status. The Pacers, though, don't have a traditional setup for a contender because Hibbert and George aren't top class superstars. They're max players, but not considered elite. (Yet.) But the roster makes sense, it has an identity and most importantly, there's a sustainable factor to it. 
Looking ahead to what the Pacers have on the books, they're just clear of the luxury tax for this season (about $2 million under the line), have $52 million committed to 10 players for the 2014-15 season, and just $41 million committed for 2015-16. There's plenty of room to work an extension for George into their cap, while still leaving room to re-sign Stephenson (he's a free agent after this season) or target a few high level free agents. 
Throw in Granger's potential trade value at the deadline to either bring in draft picks or something else, and the Pacers aren't just set up well right now, but for the foreseeable future as well. Because the dirty little secret in the NBA isn't just about the ugly luxury tax, it's about the even scarier repeater tax hidden within. It's basically a nuclear bomb stashed away in the payrolls of a lot of free-spending teams. In 2016, they're going to get a really unsavory surprise. So as some teams begin to discover what they've been doing is going to bite them in a few years, teams like the Pacers that have planned will be in a much better position. 
And in the Eastern Conference, maybe the best tactic to eventually overtake the Heat is just to wait them out. They're running on back-to-back titles right now, but their vulnerabilities were obvious in the postseason as the Pacers took them to seven games and the Spurs were within a made free throw or defensive rebound from unseating them. Dynasties are hard to build because there are so many factors to manage -- health, age, salary cap, other teams -- so maintaining that level for the Heat isn't entirely reasonable. Are they the next coming of Jordan's Bulls? Maybe so. But with Dwyane Wade's knees and age catching up to him along with a new NBA where the luxury tax (and repeater tax) is scary with free agency coming soon, Miami's run might be short-lived, opening a window for someone else to assume control. 
Now, LeBron's potential 2014 free agency could change everything. Wherever he goes, or doesn't go, will impact who's contending and who's not. If he stays in Miami, they're still the team to beat. If he stays in the East and goes to Brooklyn or Chicago, that's your favorite. But if he goes to the Western Conference, the door swings wide. 
Which leaves the Pacers, the Bulls, the Nets and maybe the Knicks in a position to assume control. The Nets' plan is obvious: They're going to spend. And if your plan is to just outspend them, you need a new plan. The Bulls are built around a single star and a premier coach, with a defensive identity to outlast. The Knicks have starpower and good players, but might get bit by free agency themselves. 
Which leaves the Pacers, a team that will -- again, assuming George gets the contract taken care of -- with two young building block stars, cap space and a terrific front office. 
Here's the thing many don't understand about sustainability, though. It's not just about putting solid, playoff-level teams on the floor each season so that you can win 50 games, cash those season ticket checks, make money and move on. It's about putting as many bullets in your gun as possible. It's simple math: The more chances you have, the better. And with the Eastern Conference set to possibly shift next summer, the Pacers have the best long-term roster built. 
But as they announced last postseason, it's not about 2015 or 2016 anymore. The Pacers are officially a contender and while the East got deeper and better this offseason, there's no question they're built to compete. The Pacers are in position for the present, the first of many bullets they've got to fire. 
McCollum hurled a clever insult at the French forward

Hosts Bill Reiter and Reid Forgrave are joined by Blazers guard CJ McCollum

Check back throughout the night for the latest updates from Monday's NBA games
Garnett has worked with Maker and says he is reminded of himself

It might be a good time to place a bet on the Boston Celtics

SportsLine's Mike McClure, a DFS pro with more than $1M in winnings, gives optimal lineup...