Are we taking LeBron James for granted?
While there is plenty of focus early on with the improving young players in the league, we're kind of forgetting that what LeBron James is doing is historical.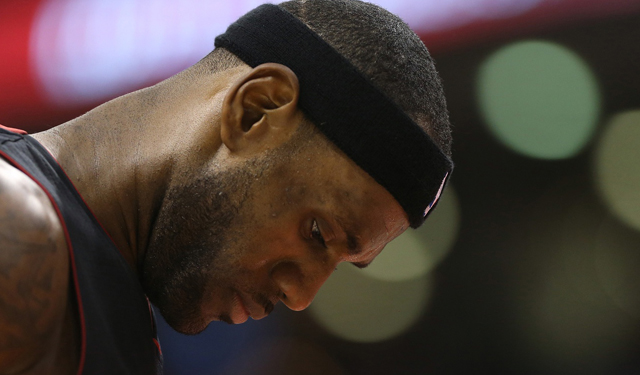 Warning: This is a post about being in awe of LeBron James.
Earlier this week, the NBA announced its players of the month for each conference in the month of October/November. To nobody's surprise Kevin Durant was selected as the Western Conference Player of the Month. They also rewarded Paul George with the Eastern Conference Player of the Month for his stretch of stellar play. The latter choice was one that didn't surprise me but it got me thinking about what we're currently valuing in the NBA when it comes to star players.
There is nothing wrong with what Paul George did in the month of October/November to earn the acknowledgement of a job well done. He averaged 23.6 points, 6.1 rebounds, 3.3 assists, 2.1 steals, and 2.7 turnovers. He also shot an impressive 47.3 percent from the field, 40.4 percent from 3-point range, and 82.2 percent from the free throw line. Those numbers for the first 16 games are just about as good as anybody, especially when you factor in that it really doesn't showcase just how important/good he's been on defense and it helped his team to a 15-1 start. 
Paul George was the best player on the best team in the Eastern Conference during the first month of the season and the NBA recognized his play.
However, it's hard for me to look at the first month of the season and not think about what LeBron James did for the Miami Heat in their 13-3 start. He averaged more points (26.1) and assists (6.4) than George. He had four fewer rebounds than George in the same amount of games. George did double the number of steals James had for the month but LeBron's historic shooting is truly what separates their games through the first leg of the season.
In the first 16 games, James shot 59.7 percent from the field, 48.9 percent from 3-point range, and 79.8 percent from the free throw line. That's given James a 69.0 true shooting percentage, compared to the true shooting percentage of 58.9 for George. One of those true shooting percentages is damn impressive; the other is historically insane.
Ultimately, this isn't about comparing James and George though, especially not for something as forgettable as the player of the month award. This just got me starting to think about how we're sort of taking LeBron James for granted in terms of the way he's playing. This in and of itself seems insane because he's the best player in the world and he's probably the most covered NBA entity outside of Kobe Bryant's Achilles' tendon.
People are much more concerned with where LeBron is heading in free agency in 2014 than they are at the fact that we're possibly seeing a season in NBA history we've never seen before. He's currently shooting percentages of 59.5 from the field, 47.4 from 3-point range, and 79.6 from the free throw line. Those are numbers we've never seen. James would be the first person in NBA history to have a true shooting percentage of 68.0 or better while having a usage rate of at least 29.0 percent. He could be establishing the first 60-40-80 club in NBA history. 
After two straight championships and one Game 7 title-clinching jumper, the drama of LeBron James has been reduced to where his next address will be. We've seemingly moved on to celebrating the newer toys in the toy chest because that's where the new excitement is. Paul George is more exciting to NBA fans because we're seeing an easier leap to digest than the leap LeBron James has made. We know LeBron is good so it's time to give adoration to the other players in the league. 
I'm fine with that but not at the expense of just brushing aside LeBron doing something we've never seen before. Someone like Paul George or Anthony Davis or Stephen Curry making the leap into being a great player is really fun and impressive. It's like watching a good young team finally break into the playoffs. You start wondering about the possibilities of what could be with them. With LeBron hitting such rarified air in his play, it's like watching a team go from title contender to a virtual lock to win it all.
Removing drama from the equation is dramatic in its own way. It's not that LeBron James deserves more coverage than he had before. I'm not even sure that's possible in terms of the world's bandwidth. I just don't think he needs less coverage than before or different coverage. He's increased his field goal percentage seven straight years and we're at the point in which it's becoming historically unfathomable. He makes the game look so easy right now and that should be the story at hand.
Perhaps the coverage over the years just fried our circuit board when it comes to LeBron James. The theater surrounding his game is only interesting when we feel like we don't know the ending. There's plenty of room to welcome new players into the superstar club as they show their improvements they've worked so hard to obtain. 
Let's just not forget that historical improvement should always trump improvement. Let's not let overhyping the story surrounding a player in the past lead to underhyping what may end up being one of the most impressive feats in NBA history.
We've got all the scores, highlights and news from all of Sunday's games

The Rockets beat the Warriors 116-108 on Saturday night

The Cavaliers gave up 148 points in their loss Saturday afternoon to the Thunder
Blatt made the comment before coaching in the All-Star Game in Turkey

Is this rock bottom for the Cavaliers because it sure feels like it is

Wade, as he's done so many times in his career, threw it up to LeBron for the thunderous f...