Arraignment for Lamar Odom on DUI charges postponed
Judge postpones case against former Lakers forward until October 10th, as reports surface his wife intends to file for divorce Monday.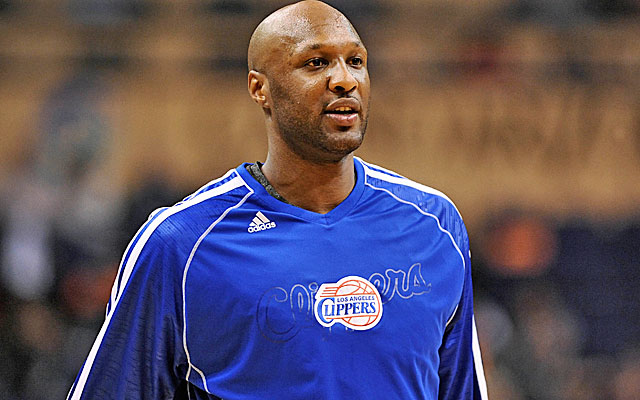 Former Lakers and Clippers forward Lamar Odom was arrested on Aug. 30 on DUI charges while rumors of a drug problem swirled around him for more than a month. Odom was due in court Friday on the DUI charge, but that's now been pushed back to Oct. 10. 
LOS ANGELES (AP) -- NBA star Lamar Odom had his arraignment rescheduled on Friday. He is charged with driving under the influence after being arrested last month.

Odom was not in court when a judge rescheduled the arraignment for Oct. 10. The 33-year-old free agent was arrested Aug. 30 after his Mercedes-Benz SUV was spotted weaving on a San Fernando Valley freeway in the early morning hours.

The DUI charge is a misdemeanor and includes an allegation that Odom refused to take a chemical test. He was released on $15,000 bail.

Friday marked the fourth anniversary for Odom and his wife, Khloe Kardashian, who this week dropped her married name from her Twitter account.
via Odom's arraignment on DUI charge postponed | NBA.com.
Star Magazine reports that Kardashian intends to file for divorce on Monday. It's a sad development and another sign that despite so many people wanting to help him, Odom continues to spiral out of control. 
The 33-year-old forward spent last season quietly with the Clippers, but has been racked by personal tragedy over the past few years. 
A report last week indicated Charlotte is looking to move Walker, along with one of its hefty...

Barea responds by claiming that none of Wall's teammates like him; the Wizards continue to...

Cousins finished with 44 points, 24 rebounds, and 10 assists
Love left Saturday's game, which the Cavs lost 148-124, due to illness

Kidd was fired by the Bucks on Monday afternoon

We've got all the scores, highlights and news from an NBA Monday