As Cavs position themselves for LeBron, the King remains silent
As the Cleveland Cavaliers prepare for a run at free-agent LeBron James, the King has remained silent. The idea that he's leading anyone on doesn't pass the truth test.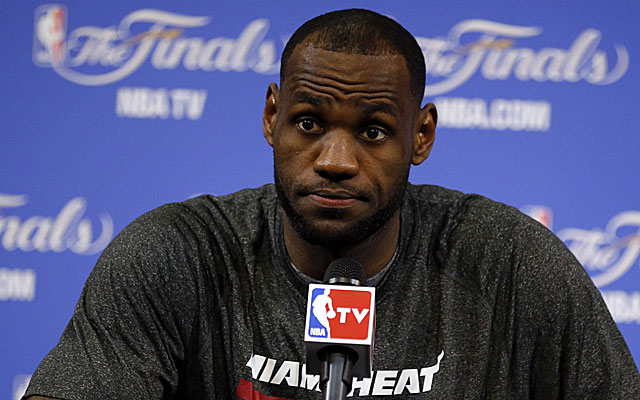 Doyel: LeBron owes Cleveland answer | Cavs pursuing Allen? | Latest FA news
The busiest team in NBA free agency has been the Cleveland Cavaliers, and everyone knows why.
While LeBron James and Carmelo Anthony have held up the rest of the league, the Cavs have been open for business. First, they locked up point guard Kyrie Irving with a five-year, $90 million extension. On Wednesday, they shed $9.5 million in salary in a three-team trade with Boston and Brooklyn that opened up a max salary slot.
Cleveland GM David Griffin is working with $21.7 million of room, and James' max next season is $20.7 million.
You don't have to do the math, because I already did. So did the Cavs.
So what now? James meets Wednesday with Heat president Pat Riley in Las Vegas, after which it should be known how James wants to proceed from here. In the meantime, the speculative winds are blowing from coast to coast with theories, predictions, percentages, odds and sheer buffoonery about where James will go with Decision 2.0.
If Twitter has become the lifeblood of the NBA's off-the-rails offseason, then it's also the Petrie dish for unfounded, unprovable theories about James' next move -- and what that move means, even though he hasn't made it yet. Already, social media is abuzz with proclamations about how many championships James would need to win in Cleveland vs. how many he'd have to win in Miami in order to secure his "legacy." Prevailing wisdom, if you can call it that, is that James would only need to win one title in New York to underscore his greatness, because the Knicks haven't won a championship in 41 years.
Says who? Can the man actually meet with a team first before we start projecting the rest of his career?
If James has made one misstep in this free-agency decision, it's simply that it's taken too long. Together, James and Anthony have crippled the NBA and prevented teams from conducting business that should be all but done by now. The New York Daily News reported Wednesday that, "barring a last-minute change of heart," Anthony would re-sign with the Knicks and have an announcement on Thursday. The Knicks have not yet been apprised that Anthony has made a decision.
Anyway, as we stumble through the ninth day of the free-agent negotiating period, with several of the top free agents still unsigned, the absurd amount of time it has taken James to evaluate his options and make a decision is a legitimate criticism.
But it's important to draw the line somewhere, and here is where it should be drawn: The notion that, if James decides not to go back to Cleveland, he's somehow torturing fans in his hometown and home state all over again, is a stretch.
Certainly, the Cavs have laid their plans bare by dumping assets and clearing cap room so their presumed meeting with James will include a legitimate max offer with no strings attached. They have no assurances that James will say yes -- just as all the teams that cleared cap room ("tanked," if you will) to lure LeBron away from Cleveland in 2010 had no assurances, either.
But the idea that James is leading anyone on, or forcing anyone to clear room for him in a quid pro quo for a promise of his services, isn't fair. James hasn't told any team anything about what he will do in the next 24, 48 or (gulp) 72 hours; not one word. 
His agent, Rich Paul, has spoken with the Cavs, Mavs, Rockets, Lakers and Suns. On Wednesday, James himself is speaking with Riley. The teams that Paul has spoken with have either done next to nothing in free agency as they await word on James' intentions, or -- in the Cavs' case -- have positioned themselves to have the best possible chance when the bell rings.
It's just business -- all of it. The tendency to make it personal is misguided.
If James goes back to Cleveland, the Cavs' dogged pursuit will be rewarded. If he doesn't, the team still has desirable young players, cap room to add free agents this summer (Chandler Parsons, for example) and payroll flexibility to continue adding to the roster over the next two summers and beyond. 
But James hasn't told the Cavs he's going back, just as he never told them he was leaving in 2010 -- and never told the Knicks, Nets, Bulls or Clippers he was signing with them, either.
If simply exploring and considering free-agent options is somehow dastardly or underhanded, then what, exactly, are free agents supposed to do? James could help everyone out and speed it up a bit, but this is his decision. The fans, as always, are just along for the ride.
The Lakers legend details why the NBA popularity will continue to rise

SportsLine's Mike McClure, a DFS pro with more than $1M in winnings, gives optimal lineup...

If the Thunder forward doesn't know the reason, he has a very short memory
The 76ers star doesn't see a bright future for Jon Snow

Valanciunas played professionally in Lithuania before joining the Toronto Raptors

SportsLine's advanced computer model simulated Tuesday's Cavaliers-Hawks game 10,000 times