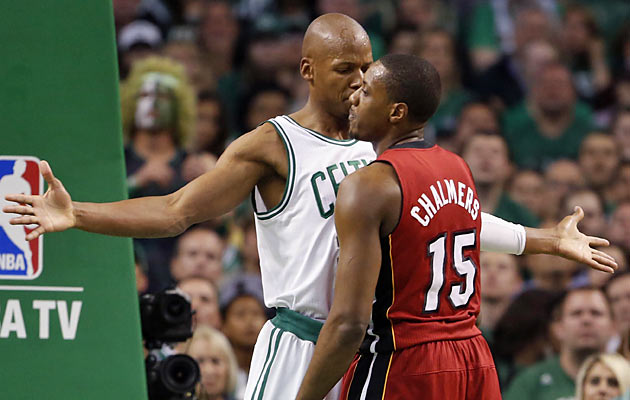 Will Ray Allen choose playing for the Heat after so many games as a bitter rival with the Celtics? (US Presswire)
When the clock strikes midnight -- or, more precisely, 12:01 a.m. ET Sunday -- everything about doing business in the NBA changes. How much things change, however, is a very open question.
It's the first full-fledged free-agent class since the new collective bargaining agreement was adopted, and agents and executives league-wide on Saturday were still crunching numbers, projecting payrolls and figuring out upon whom bad contracts are going to be dumped in this new world order.
The usual flurry of activity is expected, though the biggest free-agent fish, Deron Williams, won't come off the board until at least Monday, when he's scheduled to meet with both the Nets and Mavericks, his two key suitors. The Nets remain cautiously optimistic that they'll retain their star point guard, who has evidently attached Jason Kidd to his hip in this foray into free agency.
More on Free Agency
Related links
Brooklyn has the edge, and not just because Williams and Kidd are spending their weekend golfing in the Hamptons. Even if the Mavs amnestied Brendan Haywood, they still only would have about $18.5 million of room, meaning that after Williams' max deal starting at about $17.2 million, they would have very limited maneuverability to add other pieces -- plus would have to renounce all their free agents to sign Williams. Kidd, who turns 40 next season, has said he's willing to be a backup. But is he willing to do it in Dallas for the league minimum? Doubtful. The Nets can offer more.
If trading Shawn Marion is part of their plan, the Mavs can join a long list of teams trying to create payroll flexibility by moving bad contracts. In a new system that essentially creates a hard cap at $74 million with a more punitive luxury tax coming into play in 2013-14, good luck with that.
So when we all turn into pumpkins at midnight, what should we expect? First, expect the unexpected. The new rules have created a steep learning curve for executives, agents and players. The $4 million "apron" around the luxury tax -- meaning teams are considered tax-payers if using an exception pushes their payroll to $74 million or more -- has made free-agent spending flexibility a moving target and somewhat of a guessing game.
The Knicks, for example, technically have the full mid-level exception starting at $5 million available. But they're almost certain not to use it because signing and/or retaining other necessary players would push them against the "hard" cap threshold. So when the Knicks go shopping at midnight, they'll almost certainly be armed with only the taxpayer mid-level starting at $3.09 million. They will, however, be able to retain restricted free agent Jeremy Lin after Friday's settlement of the Bird rights arbitration case.
Here's what else to expect when the clock strikes midnight and the NBA's calendar year flips to 2012-13: 
•  With Kevin Garnett deciding to re-sign with the Celtics, Boston now must decide whether Hall of Fame shooting guard Ray Allen stays, too. The Heat will pursue Allen aggressively, but it's hard to envision a scenario in which the defending champions can offer more than the taxpayer mid-level of three years, $9.7 million. Will another team emerge and offer Allen the full mid-level, and if so, how much do the Celtics decide their 36-year-old sharpshooter is worth?
•  In addition to Lin, one of the most sought after restricted free agents will be Eric Gordon, who reportedly will attract strong interest from the Suns but ultimately is expected to stay with New Orleans, which will have three days to match any offer sheet.
•  In some ways, the restricted market will be more robust than the unrestricted market -- and it will move faster than ever before with a new three-day window for teams to match offer sheets. Alsop among the most sought-after restricted free agents will be Roy Hibbert (Pacers), Nicolas Batum (Trail Blazers), Omer Asik (Bulls), Ryan Anderson (Magic), George Hill (Pacers) and Brook Lopez (Nets). An unintended beneficiary of the full market of restricted centers will be Chris Kaman, who will get paid because he's an unrestricted center without the complications of the right of first refusal.
•  The Nets are planning an "aggressive" push to re-sign unrestricted free agent Gerald Wallace, who opted out of his $9.5 million contract for next season after the Nets traded the No. 6 pick in the draft to Portland for him. Brooklyn also will make a strong bid to sign Bosnian Mirza Teletovic, one of the top stretch-fours in Europe.
•  Steve Nash believes the Suns are ready to move on without him, and there's expected to be a waiting list to meet with the veteran point guard in New York when free agency begins. The Knicks and Raptors are among the most interested suitors.
•  Orlando GM Rob Hennigan has said re-signing free-agent point guard Jameer Nelson is a priority, but the market for Nelson will dictate how much of a priority that is. Could Nelson be included as a sign-and-trade piece as part of a Dwight Howard trade?
•  Speaking of Howard, Hennigan has to walk a fine line between getting the best deal for Howard and letting the saga drag through the summer -- and potentially into training camp. There is very little appetite in the Magic organization for the Howard drama to endure for any length of time, but Hennigan has been on the job only 10 days. He only filled out his front office Friday with the addition of Scott Perry and Matt Lloyd and has yet to hire a head coach, although Brian Shaw remains a strong favorite.
•  The Pacers have plenty of cap room and a creative deal-maker, GM Kevin Pritchard, poised to make big moves in conjunction with respected executive Donnie Walsh. Indy is expected to pursue Brandon Roy (drafted by Pritchard in Portland and on the comeback trail), O.J. Mayo (an unrestricted free agent after Memphis declined to extend a qualifying offer) and Jamal Crawford (the instant-offense combo guard who was once traded by Walsh in New York). Multiple teams are expected to be in the mix for Roy, a league source said.
•  Several teams will come right out of the gate at 12:01 a.m. Sunday with extension offers for their own eligible players set to become restricted free agents next summer. Among the very first calls will be from Clippers front-office executives to agent Sam Goldfeder, who represents Blake Griffin. The Clippers will offer a five-year "super" max extension worth upwards of $95 million. L.A. also plans to make an extension offer to point guard Chris Paul, although it has long been expected that Paul would play out the 2013-14 season and become eligible for a five-year max deal next July 1.
•  Among the other extension-eligible players expected to receive swift attention are the Thunder's James Harden, Serge Ibaka and Eric Maynor. The defending Western Conference champions, however, will be below the tax threshold for the sixth straight season in 2012-13, so they have to balance their priorities carefully heading into the new tax rules of 2013-14. Talks are expected to begin in the next week, but such extensions typically take some time to finalize.