As he enters his last playoff series, Shane Battier faces a familiar foe
Shane Battier knows how good the Spurs are; he's faced them more often in his 13-year career than any other team. He reflects as he starts his last series.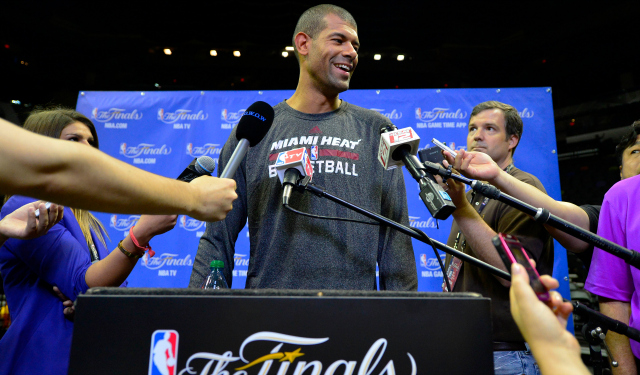 More postseason coverage: Playoff schedule, results | Latest news, notes
SAN ANTONIO -- In a move that should come as a surprise to absolutely no one, Shane Battier has, in fact, done the math.
On the eve of the first game of the last playoff series he'll ever play, the Miami Heat forward said he'd looked back and found that the one team he faced the most during his 13-year NBA career was the dynastic San Antonio Spurs. Tough competition.
"I was doing the math," Battier said with a grin Wednesday at Heat practice, "and I think I've played the Spurs more than any other team in the NBA. After ten years with the Rockets and Grizzlies, it's my fourth playoff series against the Spurs. I know the good people of San Antonio very well."
So what has he learned after so many battles with the silver and black through the years?
"It's been pretty consistent over 13 years. The way they play, their style, their culture. They've run the same plays for 13 years. I was laughing with some of our coaches, some of the sets they're running are the same ones I was learning when I was a rookie. There's amazing continuity.
"One thing that's been consistent is their excellence. It's rare that you see a San Antonio team beat themselves. When you play this team you know you have to have a big game and you have to go and beat them."
Quite ironic that Battier would say the Spurs rarely beat themselves, as it was a breakdown in both coaching by leaving Tim Duncan off the floor, and in execution in not obtaining the defensive rebound in Game 6 last year that lead to Ray Allen's infamous shot that paved the way for the Heat's second title.
But the respect is clear from Battier, who scoffed at the idea that it would be surprising that this rematch would occur.
"You're never surprised to see San Antonio near the top of the standings," he said. "I'd be more surprised if they weren't here."
Headed into last year's Finals, Battier said it was a relief to be into a series that was more about basketball than physicality, given the rough-and-tumble nature of their series vs. Indiana in 2013. But Battier says this year, he's aware of how this series figures to be even more exhausting, based on the intensity of each possession between the two best teams in the NBA.
"The grind is completely different. It's completely mental and it's exhausting. You look at the numbers, [last year's series had] something like 50 lead changes, 60 ties, the margin of points scored was within five or six points throughout the course of the series. Every possession means so much, it's cliché, but especially against these guys. Especially because we don't have home court. We'll be exhausted when it's over."
Battier is set to retire after the season, having reportedly agreed to a multi-year deal with ESPN. He's long said this was his last hurrah, and he sounded like it on Wednesday, ready to ride off into the sunset and satisfied with the decision that brought him to Miami, even while admitting not even he thought it would turn out like this.
"Well, I'm in the NBA Finals. If you're not excited about being in the NBA Finals, something's wrong with you. It's been a great 13 years. This is why I came to Miami, to have a chance to do something like this. I didn't think I would do it three years, to be honest with you, in a row."
Battier said he's not feeling any nostalgia as his career comes to a close.
"I've never lived my life that way. I've enjoyed the moment, given the best I can given the hand I've been dealt, and move on to the next thing."
But he has got one more thing in front of him, a familiar foe that represents the biggest challenge he can face. He knows that, of course.
He has done the math.
Trail Blazers guards Damian Lillard and C.J. McCollum have been pushing for Anthony to join...

Anthony reportedly gave the Knicks an expanded list of teams he'd waive his no-trade clause...

The Suns will also receive a second-round pick in the deal
Kerr noted Warriors are deeper than the NBA championship team of last season

The Dubs will make a decision as a team on visiting the White House, but Steph would vote...

Wolves are an up-and-coming NBA squad, but this region knows heartache too well