As Kobe passes Wilt, the milestone that matters remains in jeopardy
As Kobe Bryant passed Wilt Chamberlain for fourth in the NBA's career scoring list Saturday night, the milestone that really matters -- his sixth championship -- has never seemed more unattainable.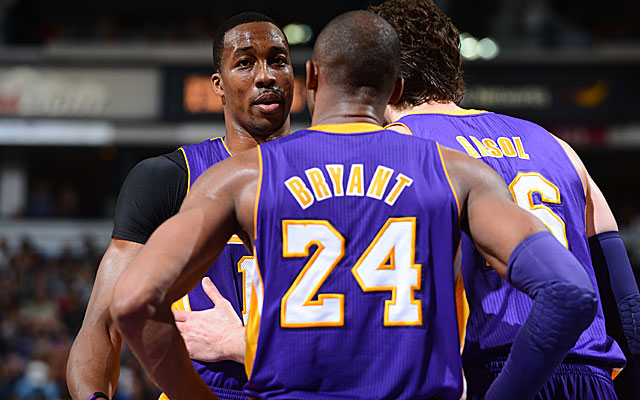 UPDATED 12:31 a.m. ET, March 31
With a fury and a flourish, Kobe Bryant drove to the free-throw line, pulled up, launched a jumper and held his right hand extended -- bent so delicately at the wrist -- as the ball went in.
For an instant, he was Michael Jordan without the pushoff against Bryon Russell in the 1998 NBA Finals. In that moment, Saturday night in Sacramento, as he quite obviously and unsurprisingly knew, Bryant had passed the last immortal standing between him and Jordan on the NBA's career scoring list -- Wilton Norman Chamberlain, who hails from Bryant's Philadelphia.
With that basket, Bryant -- 17 seasons almost in the books, bum ankle and all -- became the fourth-leading scorer in the history of the National Basketball Association in the second quarter against the Kings.
The milestone ultimately will be meaningful to him, because we understand how Bryant appreciates the game's history -- appreciates the legacy of Chamberlain, out of Overbrook High School, down the road along Philadelphia's Main Line from Bryant's Lower Merion.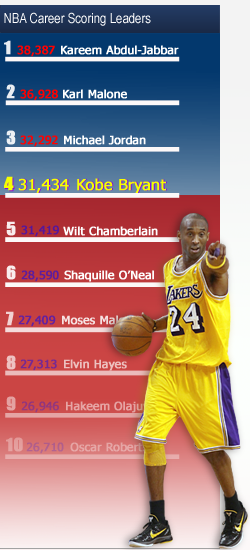 Bryant's desire to pass Jordan for third, which he will do around the midway point of next season -- perhaps his last as a Laker and in the NBA -- will not detract from his appreciation of passing Chamberlain. He's a man of the world, a global icon. But on nights like this, Bryant's mind wanders back to those days in basketball-rich Philadelphia, where his basketball habits, cunning ways and winning instincts were ingrained.
Somehow, it was fitting that Bryant's milestone basket came as the Lakers awakened from another episode of doldrums as they continued to limp along in their pursuit of an elusive playoff berth. And Bryant's onward climb up the pages and lists of basketball history coinciding with such a monumental competitive struggle could end up being emblematic of his final months and year(s) in pro basketball.
Will Bryant ride off into the sunset chasing a championship, or merely numbers?
There in Sacramento, an NBA city living on fumes and clinging to hope, the Lakers battled for an all-important 103-98 victory on Saturday night in their pursuit of the eighth playoff spot in the West. The Mavs won, and the Jazz thumped the Nets, and these Lakers -- propelled forward by Bryant's indomitable drive to compete -- forged ahead without Steve Nash (done for the night with a hamstring injury) and Metta World Peace (done for the year after knee surgery). 
With nine games left, the Lakers find themselves one game ahead of Dallas and tied with the Jazz, who hold the tiebreaker with a 2-1 head-to-head edge. Now that the Heat's 27-game winning streak is over, the Lakers' pursuit of admission to the postseason -- against the backdrop of all their ill-fitting star power and Bryant's relentless pursuit of a sixth championship to equal Jordan -- has become the focal point of fascination in these usually tepid late-March days in the NBA grind.
You didn't have to wait for the outcome or the postgame media scrum to know what Bryant really wants. Just rewind to the night in Philly last February, when Bryant passed Shaquille O'Neal for fifth on the scoring list. That night, when asked to put the milestone in perspective, Bryant said, "I just want No. 6, man. I'm not asking too much. Just get me that sixth one, damn it."
When the Lakers got Nash and Dwight Howard last summer, the sixth one seemed pre-ordained -- or, at the very least, within reach. Not this year. Not now for Bryant and these Lakers, even if they hold off the Mavs and Jazz for the eighth spot.
Barring a more debilitating injury than the litany that Bryant has incomparably played through for years, he will eclipse Jordan sometime after the 2014 All-Star break. On the scoring list, that is. But as much as he will embrace that accomplishment, it is not what Bryant wants. That is not why he plays. That is not why he ignores severely sprained ankles and bone spurs and a laundry list of ailments that would've caused lesser competitors (i.e. everyone) to pack it in.
He doesn't want No. 4 or No. 3 on the scoring list. He wants No. 6. And, as the Lakers find themselves locked in a needlessly, unpredictably difficult pursuit of a simple playoff berth here in the 11th hour of Bryant's 17th season, the milestone that truly matters to him has, in many ways, never seemed more unattainable.
The Blazers guard was a guest on the Sirius XM radio show 'Sway in the Morning'

L.A. reached a three-year jersey ad patch deal with Wish, a San Francisco-based e-commerce...

John Paxson doesn't intend to buy Wade out without some sort of compromise from the 3-time...
Lonzo's signature shoes have a sleek, all-black design and will be available in November

Durant recently apologized for tweets criticizing the Thunder and Billy Donovan

Jackson says he has 'no respect' for Durant after KD created fake Twitter pages