As LeBron's free-agent frenzy heats up, he remains in complete control
While his agent meets with teams and Pat Riley schemes to upgrade the Heat roster, LeBron James has stayed out of the fray. Unlike 2010, James is in complete control of his future.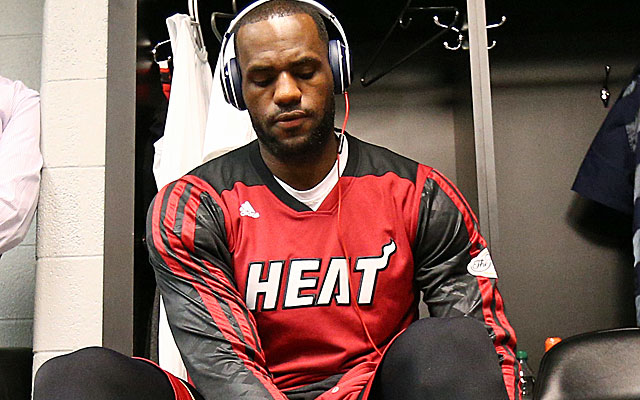 More Offseason Analysis: Coaching changes, news | Free Agency | Draft
It may have seemed as though LeBron James' free agency went off the rails on Thursday, but it didn't. 
This isn't 2010.
Eventually, there will be a decision ... a decision with a lower-case "d."
James has been vacationing with his family during the July 4th week, like a grown adult might do. His agent, Rich Paul, has been handling his business -- as an agent is supposed to.
James has been neither seen nor heard. He knows what he wants, and understands this time around what information he needs. Paul is collecting that information and reporting back to his boss.
It's simple, really.
On one hand, it could've been this simple four years ago. But given that it was James' first foray into free agency and that he was 26 years old at the time, it couldn't have been this way at all.
James is involved now in the big-boy version of free agency -- the grown-up version. And everyone wants to know what it means that his agent has been speaking with the Rockets, Mavs, Suns and Cavs while James himself has been on vacation. Some of those meetings, at least preliminarily, took place on the phone, according to one team executive involved in the conversations.
Others happened in person. Mavs owner Mark Cuban was photographed in downtown Cleveland on Thursday, and told ESPN, "I was there for a 'Shark Tank' commitment."
So to speak.
Next up, the Lakers, as ESPN.com's Ramona Shelburne reported that GM Mitch Kupchak was flying to Cleveland to meet with Paul.
The Mavs actually believe they are in a good spot in their pursuit of James, which should tell you everything you need to know about where they are in their pursuit of Knicks free agent Carmelo Anthony. A person familiar with the dynamics of Anthony's free-agent tour told CBSSports.com that Anthony seemed to be enjoying all the attention from the Bulls, Rockets, Mavs and Lakers in the past three days, but was still unlikely to resist the allure of New York and the Knicks' max offer.
There isn't as much of a friendship between Anthony and Lakers star Kobe Bryant as has been portrayed, according to a person who knows both players well. And besides, with Phil Jackson and Derek Fisher in New York, along with Spaniard Jose Calderon, there is hope that Lakers free agent Pau Gasol might opt to switch coasts and join Anthony rather than continue toiling in the wildly competitive West. For financial and other reasons, the Bulls and Thunder remain compelling options for Gasol.
Kupchak venturing to Cleveland to have an audience with James' agent -- immediately on the heels of his sitdown with Anthony -- speaks to a confidence from the Lakers that they are in the mix for both.
As for James, he is staying above the noise, even though the noise -- as always -- is engulfing him. Four years ago, he didn't know what he wanted, and he allowed every team that had cap room and a dream to walk into a room and make its case. He doesn't want that circus now; doesn't need it.
James is a man at the height of his powers who knows exactly what he wants and what information he needs. That information is being gathered for him, while pressure and leverage are being carefully applied to Heat president Pat Riley, who thus far has struck out in his efforts to answer some of James' most pressing questions about what the roster and future will look like in Miami.
There was never a realistic chance for Riley to land a top-flight free-agent point guard like Kyle Lowry, or a rim protector like Marcin Gortat. Riley is now looking at the likes of Anthony Morrow, Vince Carter, Shawn Marion, and the faint hope of luring Gasol or Luol Deng at cut-rate deals.
Matters have been further clouded by the failure of James' other Big Three members, Dwyane Wade and Chris Bosh, to agree on how their contracts will be structured to return to Miami with James. After working in concert to come together in 2010, the Big Three are now three individuals, navigating the uncertainty of free agency.
Every man for himself.
There remains the possibility that the Big Three will go their separate ways after four straight Finals appearances and two championships. There also is the wild card of Riley, whose championship resume and creativity forged this super team in the first place -- and who is hellbent on keeping it together.
There is much information still unknown -- to all of us, and most importantly, to James himself. The difference between now and 2010 is that, while the rest of us still zig and zag and convulse with every juicy tweet, the man who has the most skin in the game just sits back and waits for the returns to come in.
So while James' free agency may have seemed to careen out of control on Thursday, it didn't. There is no drama, nothing to match the volatility of the social media onslaught that will depict every twist and turn of this saga -- details and tidbits that will be forgotten by the end of the holiday weekend.
LeBron James is a man in full control of his destiny, in complete command of his future.
It is up to everyone else to just give the man what he wants.
Kevin Durant says he doesn't agree with what President Donald Trump agrees with

Evaluating where the future Hall of Famer might land up if he is freed from Chicago's rebuilding...

Adam Silver said his piece with the schedule out; we address that and what the slate looks...
The Hawks and Sharecare reportedly agreed to terms on a five-year deal

A look at the context of the schedule and who plays who when, and how far they travel during...

Durant took on rapper Lil Dicky and actually might have lost