Asik scenarios emerge with self-imposed deadline looming
As the Rockets extract offers for disgruntled center Omer Asik before a self-imposed Thursday deadline, one scenario that has emerged has Asik going to Boston in a three-team deal with Philadelphia as the facilitating team, league sources told CBSSports.com.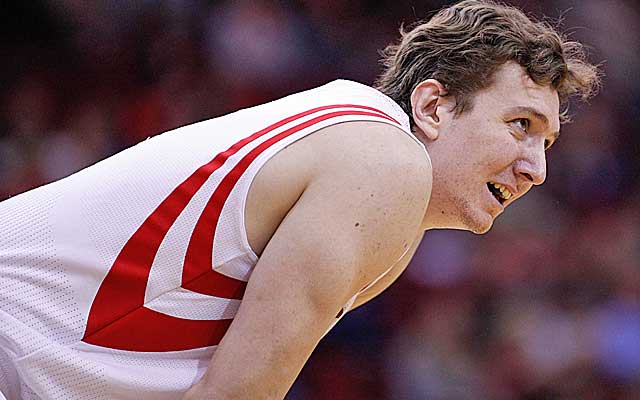 UPDATED 5:10 p.m. ET
With the Rockets extracting offers for Omer Asik before a self-imposed Thursday deadline, the Celtics and Sixers have emerged as realistic landing spots for the Turkish center, league sources told CBSSports.com.
One scenario that emerged Wednesday would send Brandon Bass, Courtney Lee and a first-round pick from Boston to Houston for the disgruntled center, league sources confirmed. But that potential exchange struck rival GMs as strange, considering the lack of market there would be for Bass and Lee in future trades. Houston wants to fulfill Asik's trade request by Thursday so any players taken back could be repackaged in other deals before the Feb. 20 deadline.
"No one wants Lee or Bass on a third team or later deal," one executive said. "They make more than their skill set."
Bass, who played in the frontcourt with Dwight Howard in Orlando, is on the books for $6.9 million next season. Lee makes $11.1 million over the next two seasons.
While Celtics GM Danny Ainge no doubt would like to unload those to players, it's unclear whether acquiring Asik and paying his cash salary of $15 million next season to be marginally better would fit with the top-to-bottom rebuilding plan he embarked on when he traded Kevin Garnett and Paul Pierce to Brooklyn and let Doc Rivers out of his contract to coach the Clippers.
Thus, the Rockets continue working to get a third team involved, and the Sixers remain in the running to be that team, league sources said. Atlanta is not out of the mix for Asik and can offer Paul Millsap (a better fit and value than Bass). But the Hawks' own first-round pick won't be in the lottery, and their other potential pick -- from Houston via Brooklyn -- is top-14 protected.
Hawks GM Danny Ferry has taken a guarded approach to the so-called Asik "sweepstakes," and for good reason. He is said to be among the executives wary of Houston's attempt to overvalue Asik and create what another executive called a "false market."
Cleveland has yet to engage in serious discussions with Houston about Asik because the Rockets asked for Anderson Varejao and the Cavs aren't willing to part with him in an Asik trade, league sources said.
Multiple league executives also said the Rockets are open to packaging Jeremy Lin with Asik, but that scenario appears unlikely as well. As one executive said of Lin, "I'm not sure there are many, if any, takers for him right now."
Rockets GM Daryl Morey scored a coup in 2012 by landing Asik from the Bulls and Lin from the Knicks as restricted free agents with creatively structured deals in which the actual payments to the players balloon to $15 million in the third year of the contracts in 2014-15. As the Rockets embarked on their ultimately successful free-agent pursuit of Howard this past summer, they quietly made both Asik and Lin available in trade scenarios that never came to fruition.
Two people briefed on the talks told CBSSports.com that Asik will be dealt Thursday. It remains to be seen whether potential trade partners will view Thursday as a true deadline or a negotiating ploy.
"You're going to trade for a guy just to trade him again in two months?" one executive said. "Better to just do a three-way."
Steve Kerr opens up about his back issues and more

OJ Mayo, banned from the NBA for positive drug test, is considering playing overseas

The King? 'LeBron, it turns out, is Aquaman,' or so the account via Dwyane Wade's wife goe...
From Penny to Thunder Dan to Pistol Pete to Agent Zero, guys who would be better in 2017

Griffin said recently he thinks it's more likely that LeBron James goes to New York than L...

Mayo was suspended for two years last summer for violating the league's anti-drug program