Asik staying put for now and more NBA trade buzz
With the NBA trade deadline less than seven weeks away, the latest trade buzz around the league has Omer Asik and Pau Gasol staying put for now, Doc Rivers looking for frontcourt help, and more.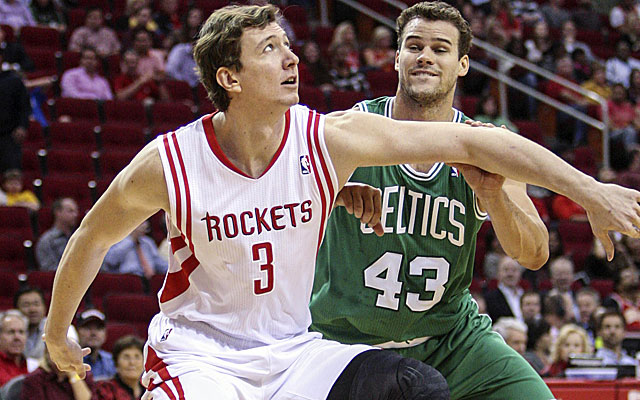 With the passage of the New Year comes the countdown to the Feb. 20 trade deadline. Here's the latest buzz from around the league: 
• Word is the Rockets now expect to keep center Omer Asik past next month's deadline and beyond. The team ramped up efforts to create a market for Asik last month because it believed that was the most realistic window to get a deal done. Now, Houston is caught in a bit of a no-man's land.
"Teams that are tanking don't want him to make them better and winning teams want to steal him," one rival GM said.
Plus, teams with room in 2015, when Asik will be a free agent, can sign him anyway -- to a more reasonable contract. Asik's deal, which balloons to a $15 million cash payout next season, becomes more of a trade impediment the closer it gets to the deadline. A  new team acquiring Asik before Dec. 15 would've owed him an average salary of $10.5 million over two years. At next month's deadline, with more of his cheaper $8.4 million salary absorbed by the Rockets, that figure would jump to about $12.5 million.
• Things can always change in Lakerland, but for now, the team intends to keep Pau Gasol and ride it out with the group it has. In fact, league sources say the Lakers lodged an inquiry with Toronto about a deal for Kyle Lowry to stabilize their injury-ravaged point guard position. The talks didn't go anywhere. Nonetheless, with Kobe Bryant trying to come back from a second significant injury in eight months, the incentive -- and temptation -- to dump salary and avert a date with the dreaded repeater tax will remain. Especially if LA remains on the outside of the playoff chase in the West. 
• As Doc Rivers begins to conclude that the Clippers' roster has more holes than he initially thought, league sources say LA is looking for frontcourt help on the trade market. The most attractive chip in such a pursuit would have been Eric Bledsoe, but the Clips opted to move Bledsoe in the three-team deal that yielded J.J. Redick and Jared Dudley. The Timberwolves, last in the league in opponent field goal percentage (.475), also are looking for frontcourt help in the form of an athletic rim protector, sources say.
• Speaking of Bledsoe, Suns coach Jeff Hornacek -- easily the early favorite for coach of the year -- has done a masterful job finding enough space and opportunity for Bledsoe and Goran Dragic to co-pilot Phoenix's offense, which is tied for ninth in offensive efficiency with 105.2 points per 100 possessions. (See my colleague Matt Moore's interview with Hornacek here.) But league sources say the pairing of Bledsoe and Dragic in the backcourt is not expected to be a long-term solution for the Suns. The growing belief among league executives is that Dragic will opt out of his contract following the 2014-15 season, potentially ramping up the pressure on GM Ryan McDonough to pursue a trade. Ditto for Utah's Gordon Hayward, whose price may prove too high for the Jazz when he hits restricted free agency this summer after not agreeing to an extension by the Oct. 31 deadline.
• The Cavaliers and Kings have been among the most aggressive teams in pursuit of trades, league sources say. On the heels of acquiring Rudy Gay from Toronto, the Kings are "swinging for the fences" on the trade market, one rival executive said. One top priority is shoring up the point guard position, with Andre Miller jumping to the top of the list after his falling out with Nuggets coach Brian Shaw and ensuing two-game suspension. But Kings GM Pete D'Alessandro's true long-term target is said to be Warriors sharpshooter Klay Thompson, who will be a restricted free agent after next season. With the Lakers having cooled on the idea of a Gasol-for-Andrew Bynum swap, the Cavs are now exploring other ways to end their experiment with the 7-footer before his $12.25 million salary for this season becomes fully guaranteed on Tuesday.
• In addition to the Lakers, Knicks and Nets, the Timberwolves, Warriors and Celtics are among the teams that have inquired about a deal with the Raptors for Lowry, league sources say. Raptors GM Masai Ujiri has been encouraged by the team's recent play, as Toronto has gone 9-3 since the trade with two of the losses coming against the Spurs But despite the Raptors' fourth-place status in the pitiful East, Ujiri is determined to take the long-term view. With the deadline less than seven weeks away, Ujiri is said to have multiple deals he could do for Lowry that would involve receiving an expiring contract in return or slotting him into another team's trade exception.  Taking back future salary would come at a high price, i.e. a first-round pick.
• With trade talks heating up, team executives will converge on Reno, Nev., starting Sunday for the annual D-League Showcase, which has evolved into a scouting combine and unofficial pre-deadline winter meetings. In addition to talking trades in person, teams can begin signing players to 10-day contracts on Monday. Among the top prospects competing at the Showcase are Pierre Jackson of Idaho (whose rights are owned by New Orleans); Manny Harris of the LA Defenders; Arinze Onuaku of Canton; Dewayne Dedmon of Santa Cruz; and Devin Ebanks of Texas.
• Response has been mixed around the league to a proposal to replace the current draft lottery with a so-called "lottery wheel" that would lock in every team's draft position for 30 years. While many executives view it as a creative, viable way to finally choke off tanking, league sources say the plan is likely to serve simply as a starting point for other remedies. For example, there is support among some GMs for a straight lottery with all 14 non-playoff teams getting an equal shot at the No. 1 pick. Such a plan would allow teams to strategically plan their rebuilding without going overboard and blatantly losing on purpose for better odds at a premium pick. Other execs view such proposals as little more than "Internet fodder" that won't pass muster with owners who want to control their investments. As one GM said, "Maybe if teams had a little more integrity and actually tried to win games, we wouldn't need the fodder." That GM clearly is in the wrong business.
Tensions between refs and players have been high this season, so it was time for a sit-dow...

Irving is known for his controversial flat-Earth comments

George will be an unrestricted free agent in the summer
Durant said playing good basketball is more important than ending up with the best record

Follow along with all the news, notes and highlights from All-Star Saturday night

The 13 finalists will find out if they have been selected on March 31